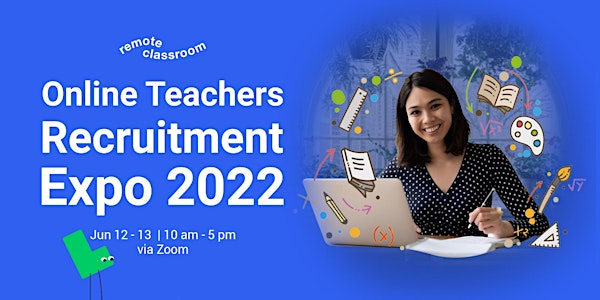 Online Teachers Recruitment Expo 2022
Participants' names need to be displayed
About this event
Looking for an online job this year? Online Teachers Recruitment Expo 2022 goes live on Sunday and Monday, 12-13 June 2022 between 9 AM to 5 PM. This FREE online jobs fair will be sponsored by Remote Classroom and will provide job seekers with real opportunities to find new employment in remote teaching. Apply for the latest jobs!
Join our teaching community!
Teach Remotely!
Signup 👉 https://remoteclassroom.com/teach/
Please follow @remoteclass
Send us a message.
📧 jenni@remoteclassroom.com
📱 m.me/remoteclass
#remoteclassroom
#remotelearning
#remoteclassroomau
#homeschoolingaustralia
#recruitmentexpo2022
#recruitmentexpo
#expo2022
#remoteteacher
#onlineteaching
#training
#onlineteaching
#onlinetutor
#filipinoteachers
#onlineteachersph
#eslteachers
#distancelearning
#onlinework
#workfromhome
#onlineschool
#mathteacher
#englishteacher
#coding
#tutoringservices
#onlinetutoring
#english
#math
#science
#teachersfollowteachers
#onlinelearningplatform