Online Talk: "On-Chain Analytics: How to Actually Make Sense of Blockchain Data" by Anyblock
About this event
WHY DO WE DO ONLINE TALKS? CORONA.
Blockchain and community building. This is our mission. The Corona virus did not make things easier for us, but we will now move our business online to help education and dissemination in the blockchain area.
You want to become our speaker? We aim at 200+ video conference participants per talk. Write to: team@disrupt-network.io
DATE & TIME
Date: Thursday, March 26, 2020
Time: 9h00-9h45
Mode: online talk via Zoom; Zoom dial-in URL will be sent previous to the online talk
TOPIC
On-Chain Analytics: How to Actually Make Sense of Blockchain Data
By analyzing the live blockchain data of "Fizzy" (flight delay insurance by AXA) and "Smart contract cover" (smart contract insurance by Nexus Mutual), we'll discuss why reading from the blockchain is hard and show how to solve it. With a few clicks and simple SQL, the data is put into dashboards with easy to understand KPI charts. This enables management to gain insights, generate trust through transparency for users and fulfill monitoring requirements of auditors and regulators.
SPEAKER
Freddy Zwanzger, Anyblock
Freddy is Co-Founder & Chief Data Officer at Anyblock Analytics GmbH (https://www.anyblockanalytics.com/) and responsible for Product Development, Marketing & Consulting. Prior to founding his latest venture, he worked for more than 20 years as a business unit manager in various digital agencies for SME and corporates and helped to scale them.
He also enjoyed teaching and consulting as a PMP- and Scrum certified director of project management. Since 2015, Freddy is excited about the potential of blockchains for various aspects of life and around the globe also deeply believing that data insights will be a crucial element to adoption. The Anyblock Index data platform enables cross-chain and real-time blockchain analytics, alerting and application monitoring on any public Ethereum blockchain as well as private enterprise networks.
MORE ONLINE TALKS
We do online talks 2x per week; see here our schedule for the next weeks and register
LANGUAGE
This talk will be held in English.
CONTACT
Mail: team@disrupt-network.io
LinkedIn: https://www.linkedin.com/company/disrupt-network/
DATA PROTECTION
Through participating in this meetup (that is, through ordering a free ticket with Eventbrite), the participant gives his consent that Disrupt Network UG and Regus Management GmbH (1) saves his name and contact data (i.e. email), (2) is later on allowed to send emails to the participant, and (3) is allowed to take photos and videos during the meetup that might be published online and that might include the participant. If the participant does not agree to points (1), (2) and (3), he or she should not order a ticket for the meetup.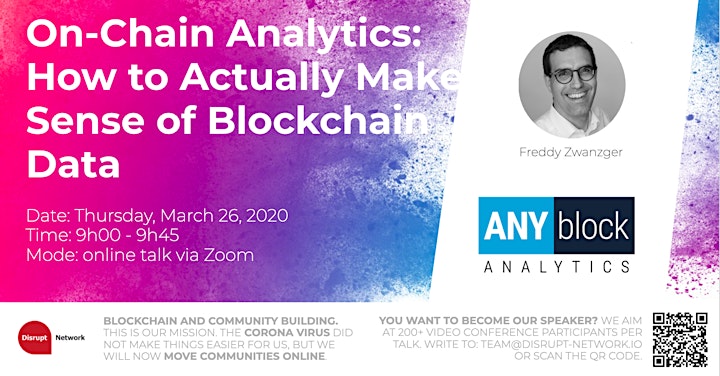 Organiser of Online Talk: "On-Chain Analytics: How to Make Sense of Blockchain Data"