Refund policy
Contact the organizer to request a refund.
Eventbrite's fee is nonrefundable.
Order the optional sushi kit before the live streaming class, have it delivered to your home, make beautiful looking sushi.
About this event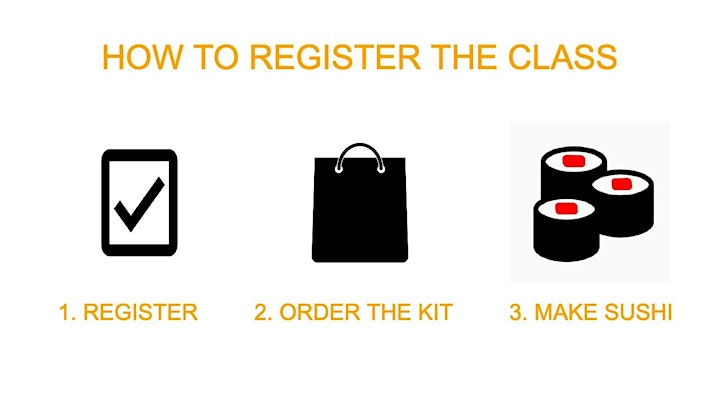 Make Beautiful Sushi at Home While Watching the Live Streaming Class!
Order the Sushi Kit (sold separately) before the class, and make beautiful looking sushi while attending this live streaming online class.
To find out the approximate cost of the class including the kit and shipping cost, please review this map.
Pick up or shipped to 50 US States.
For California delivery address, order from San Francisco vendor.
For Non-California States, order from New Jersey.
Fish, Vegetables, Sauces, Dry Goods, Rolling Mat
*Please make sure to mention the class date when ordering
About the Class
What kind of rice should you use to make sushi rice?
How should you cut cucumber for your California roll?
Should you use the freshest fish to make your sushi?
Why do you find cooking sushi rice to be such a mystery?
If you ever wondered any of these questions, Kaz Matsune, the founder of Breakthrough Sushi can help you give you the answers you've been searching for in the sushi class he has been teaching since 2008.
In this class, you will learn how to handle sushi rice so that you can make beautiful rolls like Rainbow roll. You will also learn some sushi knife techniques and the reasons why. You will learn some science behind the sushi, which will help you solve the mystery behind cooking rice.
The hands-on class can give you fundamental tools to help you understand the making of sushi, as well as an opportunity to appreciate the art of sushi.
The class comes with a digital recipe.
Menu
• Salmon Avocado Roll
• Rainbow Roll
• Temaki/Hand Roll
• Seaweed Out Roll
What you will learn
• Knife Handling
• How to make sushi rice
• How to make inside out roll
• How to make Hand Roll
• Where to get Sushi Ingredients and fish
Other Details
• The ticket is good only for the date of the class. If you miss the class, there will be no transfer or refund.
• 7-day cancellation policy. No refund or transfer after 7 days to the class.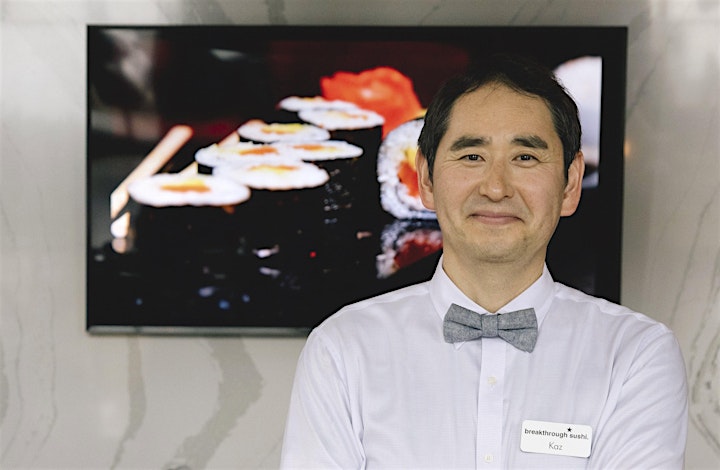 About the Instructor
Kaz Matsune, Founder, Breakthrough Sushi
Kaz Matsune was born with a love for cooking. His passion led him to be a diligent student and a skilled sushi chef at restaurants such as Ozumo, and the famed Fort Mason restaurant Greens. Today Kaz teaches corporate teams and sushi lovers of all stripes his craft with Breakthrough Sushi - the first and only sustainable team building sushi company in the US.
Over the course of his 21-year professional culinary career, Kaz has served top celebrities and some of the Bay Area's top companies, including Google, Facebook, Oracle, Intel, Hewlett-Packard, Verizon Wireless, and Citibank. He has taught over 15,000 sushi lovers and held lessons at the Culinary Institute of America at Copia.
He's appeared in videos for Grammarly and SurveyMonkey, as well as ad campaigns for Adobe and Eventbrite. Kaz's writing is featured on Quora, The Huffington Post, Slate and Apple News and he has published three books on sushi. The most recent, How I Became a Sushi Chef, is a memoir of his culinary journey.