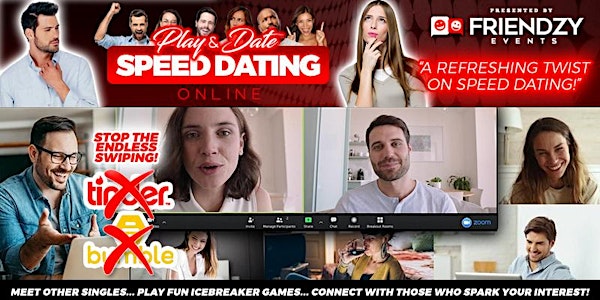 Online Speed Dating For Toronto Singles
* THIS EVENT IS FOR SINGLES IN THE TORONTO AREA *
When and where
Location
Toronto Toronto ONLINE Toronto, ON M6G Canada
Refund Policy
Contact the organizer to request a refund.
Eventbrite's fee is nonrefundable.
About this event
1 hour 30 minutes

Mobile eTicket
Grab some snacks and maybe even a cocktail and enjoy this revolutionary new way to meet other fun singles from the comfort of your own home on Zoom. It's an exciting new twist on online speed dating! Let's face it, we're all tired of swiping over and over again on people who may or may not look like or be like the person they're portraying on the apps. A Play & Date online speed dating event is a much better way to meet someone because you actually get to talk to someone on video before committing to a real life date. This is the safest and best way to meet someone!
Our friendly host will welcome everyone and then you'll be grouped off into breakout rooms where you'll get to meet, chat with and play fun social games with other singles. At the end of the event you'll be able to indicate people you'd like to talk to again in the future through our matching system. If they're also interested in you we'll give you each other's contact information. Find out why this event has been called, "The absolute best way to meet quality singles in the modern age". No more endless swiping on dating apps!
WHAT MAKES THIS EVENT DIFFERENT?
This is entirely new and revolutionary type of speed dating event! We love the idea of traditional speed dating but sometimes it's hard to come up with things to talk about. That's why at a Play & Date speed dating event you'll have fun, easy games to play to get to know everyone instead of dealing with the usual dating "job interview" type questions. We find that it's a much better way to get to know someone! You'll be put in Zoom breakout rooms with a small group of singles and you'll play fun icebreaker style games that will help you get to know each other. Essentially you'll work with the other people as a team and compare answers with the other teams (we explain the games in more detail below). Throughout the game we'll switch up the groups/teams so you'll get to meet all of the singles in attendance from your city.
* At each event we'll have a few different cities in attendance and sometimes mix in some singles from different cities into your group... but don't worry... we'll make sure you get to meet all the singles in attendance from your city **
HOW THE MATCHING WORKS:
We have a unique and safe matching system so you'll get to match with people you're interested in seeing again. Throughout the event you'll get to know the other singles in attendance and through our matching system we'll make sure you'll be able to get in touch with the people you'd like to see again (assuming they're also interested in seeing you again). After the event you can contact them and/or they'll contact you and you can set up a real life date with them!
WE DO THESE EVENTS EVERY COUPLE OF MONTHS OR SO AND WE SLIGHTLY CHANGE UP THE AGE RANGE FOR EACH EVENT. THE AGE RANGES ARE ONLY "SUGGESTED" SO IF YOU'RE WITHIN A FEW YEARS OF THE SUGGESTED AGES FOR AN EVENT YOU'RE STILL WELCOME TO ATTEND. CHECK OUR UPCOMING SCHEDULE BELOW TO SEE THE AGE RANGES FOR EACH EVENT DATE.
-------------------------------------------------------
SCHEDULE:
THURSDAY, FEBRUARY 23rd - Ages 20s, 30s & 40s
THURSDAY, APRIL 20th - AGES 25 to 39
-------------------------------------------------------
WHAT KIND OF GAMES WILL WE BE PLAYING?
The fun games are set up to break the ice, help you gauge compatibility and make quality connections. An example game we like to play is "Dating Feud" which is similar to the popular prime time TV show we all know. In this game you and your dates will be asked fun relationship style questions like, "Name a gift that women love men to give them". You will work together with a small group of singles to come up with what you think is the most popular answer and then you'll find out if you got the top answer. Another game we play is "Would You Rather" where we ask you fun questions like "Would you rather live the rest of your life without ever being able to watch and movie/TV show or would you rather never be able to listen to any song/music again?". You answer the question and then you have to try and pick the most popular answer. You're then brought back from the breakout room into the main room to hear how everyone else answered the question. It's so much fun!
Thousands of people have met at our events and we've witnessed countless relationships formed. In fact, because you really get to know people during the games, the chances of meeting someone at Play & Date speed dating events are much higher than online dating apps or traditional speed dating events.
MORE DETAILS:
* Once you sign up, you'll be given a link to join a group of other people via video on Zoom. All you need is a laptop, phone or tablet to take part in the event. You'll enjoy an evening of meeting new people, fun social interactions and games. Our friendly host will be with you live via video orchestrating the event and even making introductions among the group so you'll get to know the other people attending. It's so much fun!
WHAT PEOPLE ARE SAYING ABOUT THE EVENT:
"As a busy professional, I just don't have time to get out and meet people as much as I'd like so this event was like a Godsend for me. It was a refreshingly fantastic experience." - Jennifer S.
"The games are the perfect way to tell if you have chemistry with the the other people." - Emma D.
"What a fabulous concept. I met some great people and I started dating one of the guys I met during the event." - Hannah M.
"That was an absolute blast!" - Laura D.
"I loved the games because it takes the pressure off having to come up with things to talk about so there is no time for awkward silences. It's makes a great ice breaker." - Gavin B.
WHY THIS EVENT WORKS!
For many years we organized in person traditional speed dating events. While waiting for everyone to show up, the host would do some icebreaker style games to "kill time" until everyone arrived. We noticed something fascinating begin to happen. People got to know each other better and made more connections during the games than they did during the actual speed dating rounds! The games sparked so much conversation and laughs that we thought, "Wow, we should make an entire event like this!". And that is how our Play & Date online speed dating events were born.
QUICK NOTE: THESE EVENTS WILL LIKELY SELL OUT BY EVENT TIME AND WE HAVE LIMITED SPOTS AVAILABLE AT EACH EVENT SO GRAB YOUR TICKET ASAP!
FAQ:
IF I ATTENDED A PAST EVENT PLAY & DATE SPEED DATING, CAN I SIGN UP FOR THIS ONE?
Yes, In fact we never use repeat questions and we always change up the games so feel free to sign up with as many of our upcoming events as you'd like and meet more people!
HOW DO I JOIN THE EVENT?
After you sign up on to Eventbrite we will send you a Zoom link with an invitation to join the event. We'll send you that link by the day of the event. If for some reason you don't see an email from us by the event date, make sure to check your spam folder in case it ended up there by accident.
HOW MANY WILL BE PARTICIPATING?
We expect between 6 and 15 people from your city in attendance (it varies from event to event but we do our best to get a good amount of people and keep the genders fairly balanced). We do not exactly gender balance the events so sometimes we have a few more women than men and other times we have a few more men than women. We have several cities participating and you'll also meet some singles from other cities at each event but we make sure you get to meet all the singles in your city.
HOW DO I ACCESS THE EVENT?
We will email you the link to the Zoom event on the day of the event.
WHAT DO I NEED TO ATTEND?
All you need is your computer or your smart phone or tablet (Computer or tablet is recommended over a phone)
HOW STRICT IS THE LISTED AGE RANGE?
The age range listed is a suggestion. If you're within a few of years older or younger than the listed age range, you're welcome to attend.
IS THERE A REFUND POLICY?
If you need to cancel, please email us and we can transfer you to a future event. However we do not offer transfers if you cancel on the day of the event or don't show up.
****************************************************
ADVERTISEMENT: What colognes do women like most on men? See the colognes that women voted their favorites at: https://www.pocketbombscolognes.com/collections/inspired-series
****************************************************