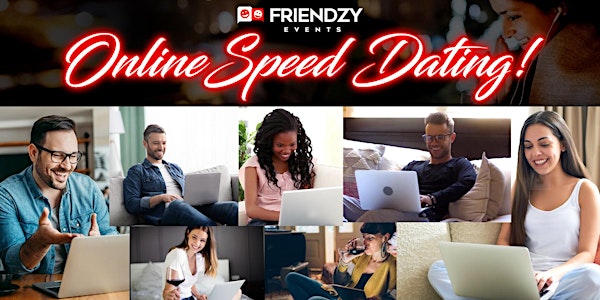 Online Speed Dating For Charlotte, North Carolina Singles
Location
Charlotte
Charlotte
ONLINE
Charlotte, NC 28269
Refund policy
Contact the organizer to request a refund.
Eventbrite's fee is nonrefundable.
* THIS EVENT IS FOR SINGLES IN THE CHARLOTTE, NORTH CAROLINA AREA *
About this event
MAKE SURE TO CHECK OUR UPCOMING SCHEDULE BELOW SO YOU SIGN UP FOR THE CORRECT AGE RANGE...
Grab a snack or maybe even a cocktail and get ready for a fun night of dates from the comfort of your own home! Stop the endless swiping on dating apps! Let's face it, we're all tired of swiping over and over again on people who may or may not look like or be like the person they're portraying on the apps. Our online speed dating events are a much better way to meet someone because you actually get to talk to someone on video before committing to a real life date.
This is the safest and best way to meet someone! Our friendly host will welcome everyone and then you'll go on a series of live 1 on 1 video dates on Zoom. A new dater will show up on your screen every 5 minutes or so until you meet everyone. At the end of the event you'll be able to select those you'd like to see again. If they mutually matched with you, our host will send you each others' email addresses within 24 hours of the event. Find out why this event has been called, "The absolute best way to meet quality singles in the modern age".
----------------------------------------------
----------------------------------------------
SCHEDULE:
SEPTEMBER 15th - Ages 27 to 39
OCTOBER 13th - Ages 30s & 40s
NOVEMBER 10th - Ages 20s & 30s
----------------------------------------------
----------------------------------------------
* Ticket price will be going up as event time approaches and we have very limited spots available so please sign up as soon as possible.
"As a busy professional, I just don't have time to get out and meet people as much as I'd like so this event was like a Godsend for me. It was a refreshingly fantastic experience!" - Jennifer S.
"What a fabulous concept. I met some great people and I started dating one of the guys I met at the event." - Hannah M.
OH, HERE'S ANOTHER GREAT THING ABOUT THE EVENT!
During each of your mini dates, we'll give you a unique compatibility question that you can both answer. These questions have been carefully crafted to help you gauge chemistry, test compatibility and get an idea about your date's character. In fact, because of these questions, people have said they feel more comfortable coming to our events, are able to learn more about their date and lead to more successful relationships than traditional speed dating events. (Of course you can choose to just chat with your date without the questions if you'd prefer to).
"The compatibility questions are the perfect way to tell if you have chemistry with the the other dater." - Emma D.
"I loved the questions because it takes the pressure off having to come up with something new to talk about with each person. It's makes a great ice breaker." - Gavin B.
An example of some of our unique compatibility questions:
* If you had a time machine - where would you take it to? Would you stay there?
* Do you usually follow your heart or your head?
* Would you rather live for one year on an island by yourself or for one year in a small apartment with 7 strangers?
* Would you grow a mohawk for a year if it meant that $20,000 would go to a good charity?
* What is one thing you've always wanted to cross off your bucket list, but haven't yet?
//// EVENT PRICE WILL GO UP AS EVENT TIME APPROACHES AND MAY SELL OUT ////
*****************************************************************
ADVERTISEMENT: Check out 2 Amazing Hair Products: Gorilla Grow for Rapid Hair Growth and WamBam Hair Powder For Extreme Volume At www.GetAmazingHair.com
*****************************************************************
FAQ:
HOW DO I ACCESS THE EVENT?
We will email you the link to the Zoom event on the day of the event.
HOW MANY PEOPLE WILL I MEET?
You will have video dates with between 6 and 15 singles (The average is usually about 10 dates. Amounts vary from event to event)
HOW LONG ARE THE VIDEO DATES?
Each mini date lasts about 5 minutes (We lengthen the date time to 6 minutes each when we have less people and shorten the date time to 4 minutes when we have more people)
WHAT DO I NEED TO ATTEND?
All you need is your computer or your smart phone or tablet.
HOW STRICT IS THE LISTED AGE RANGE?
If you're within a couple of years older or younger than the listed age range, you're welcome to attend.
IS THERE A REFUND POLICY?
If you need to cancel, please email us and we can transfer you to a future event. However we do not offer transfers if you cancel on the day of the event or don't show up.