Online Sound Healing Training - Level 1 - July 2022 Cohort
Inner Sounds Level 1 is a two-day "live" online sound healing training course. Learn how to facilitate sound baths with complete confidence.
By Inner Sounds Meditation
Date and time
July 30, 2022 · 10:30am - July 31, 2022 · 5:30pm PDT
About this event
Inner Sounds Level 1 Online Sound Healing Practitioner Training is a two-day online "live" immersion.
Our course is designed to give you a ROCK SOLID FOUNDATION and develop the NECESSARY SKILLS, so you can lead Sound Healing Experiences for yourself or loved ones WITH COMPLETE CONFIDENCE.
NO Instruments needed for Level 1
Lifetime Access to all live recordings PLUS bonus content
This is a "LIVE"online course, as in no self-paced modules. Expect breakout groups, listening exercises, scenarios, and all sorts of fun in this highly interactive course.
One foot in woo-woo and one in science, you will gain a deeper understanding of sound healing through WESTERN NEUROSCIENCE and EASTERN ENERGETICS, why it works, how it works, and what it means as a practitioner.
Once you have the fundamentals in place, you can apply it to any instrument whether it be crystal bowls, tuning forks, metal bowls, or a rain stick- the foundation is still the same.
YOU ARE GONNA LEARN SO MUCH:
Sound and the Nervous System: how it works, why it works
Fundamentals of Playing Crystal Bowls, Ocean Wave Drum, Koshi Chimes, & an Intro to Gongs & Tibetan Bowls
What a Sound Bath is and Various Types of Sound Baths
Anatomy of a Sound Bath - What to use when?
The Science & History of Sound Healing
The Difference between Facilitators & Performers
Sound Psyche: The Energetic Effects of Sound  
What to Choose and Why? Understanding the Various Instruments and When to Use them
Pairings: Basics of Pairing Sounds & Instruments
Preventing Burn Out: Grounding & Self-Care Practices 
The Art of Deep Listening: Playing from a Present & Engaged State

Plus...

3 Months of Membership to our Online Platform ($75 value)
Access to our How to Play A Crystal Bowl Course ($199 value)
Sound healing has grown over 35% in recent years and we are seeing more and more inexperienced healers conducting experiences that do not align with the nervous system and end up hurting the modality as a whole.
With this immersion, you will walk away with the necessary foundation, resources, and knowledge to begin working with sound, knowing with 100% confidence that you are 100% supporting and benefiting your clients/yourself.
********
Do you need instruments? NO
This training gives you the fundamental knowledge and a survey of the main instruments used in sound healing. Once you've completed the course you will know what is a hells yes and what is a hells no. PLUS - You have lifetime access with this course and all of the recordings. There is plenty of time to buy exactly the instrument you need.
Whether you are an inexperienced beginner with no instruments, someone who has a crystal bowl but no idea what to do with it, or a fairly versed professional looking to hone up on your skills AND get certified, this is the course for you! 
SPEAKING OF CERTIFICATION....
For those of you who want to play professionally and use sound as a wellness revenue stream we offer a CERTIFICATE PROGRAM that comes office hours for coaching and questions, a practicum, educational test of knowledge, and minimum practice hours + sound baths. Once you've passed the playing practicum and educational test, you will receive a certificate of completion and be a part of our referral community.
LIMITED CLASS SIZE
Class size is LIMITED to assure each person will get a chance to ask questions and personally get to know each other. We are a community!
****************************************
THIS COURSE IS FOR YOU IF:
You are curious about sound & have an open mind.
You, your partner, child, or loved one are stressed, anxious, depressed, have insomnia, chronic pain or other stress related issues and seek a viable wellness alternative.
You are a Musician, Yoga Instructor, Therapist, Coach, Teacher, etc and would like to compliment your vocation with sound healing.
You really want to start giving sound baths for yourself or loved ones but are worried you'll hurt someone or scared you'll do it improperly
BONUS CONTENT!
This training includes a BONUS course- "How to Play a Crystal Bowl" ($199 value) AND 3 months of On-Demand Healing ($75 value).
This BONUS course is SO friggin detailed, I go through every possible aspect of playing a crystal bowl, tips, tricks, and drills. You will get access to this course for a year (valued at $199).
3 months of Membership and On-demand healing ($75 value)
*********************************
NO REFUNDS POLICY:
Refunds are not available. All Sales are Final.
To receive certification and be eligible for Level 2, live attendance is mandatory.
If more than 1 hour of Level 1 training is missed without two weeks prior notice student will need to pass a $100 examination to demonstrate a mastery of materials in order to move unto Level 2 and certification.
If anything is unclear please ask us prior to making payment. Your registration and payment for any training with Inner Sounds Meditation implies your complete agreement with these policies.  All policies apply regardless of individual circumstances. If you do not follow the policies your participation in the training may be canceled without refund. We reserve the right to refuse service to anyone.  
Transfers are discouraged. One Time Transfers requests are subject to availability with 30 days notice and a $100 fee.
This introductory class is focused on: crystal bowls, ocean wave drum, koshi chimes, and basic of Gongs. We will do a small intro to Tibetan Bowls and Tuning Forks.
BIPOC Scholarships available: Email trainings@innersoundsmeditation.com
********************************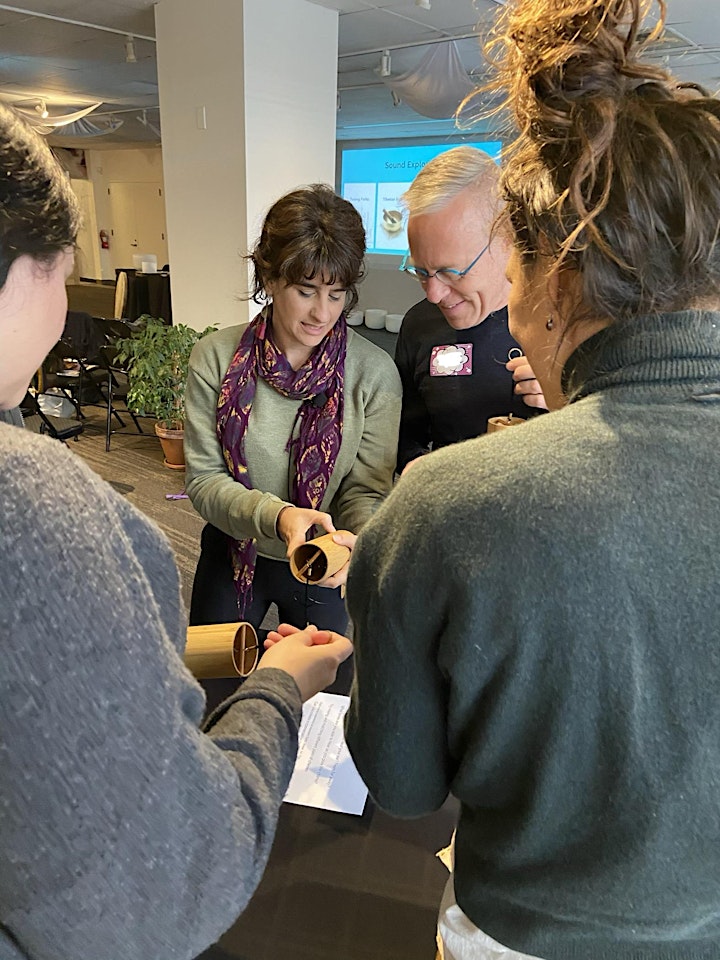 Let's talk about TRACTION
Right now we see sound healing gaining A LOT of traction in the news, sound healing is EVERYWHERE. Throw a rock and you'll hit a sound healer.  Literally, I just found out that two doors down from me is another sound healer! I kid you not.
YES, it is relatively easy to buy a curated set a bowls and start playing, BUT, their is a growing danger of a lot of inexperienced, untrained people administering sounds without knowing the impact they are having on their students and we are seeing A LOT of negative feedback.
It took many years of personal experience, with plenty of mistakes, to learn how to cultivate the awareness and sensitivity required to create a safe space for healing. 
This introductory class is focused on developing the necessary foundation, resources, and knowledge to begin working with sound so you can know with 100% confidence that you are 100% supporting and benefiting your clients/students.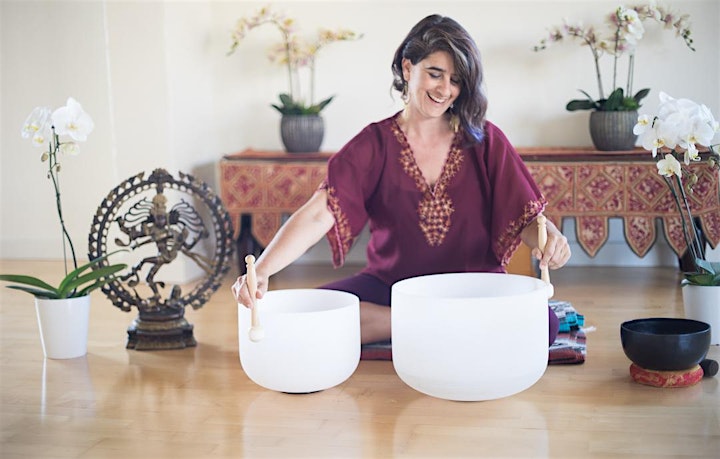 WHY TRAIN WITH US? Your team Melissa & Jason
Melissa began her journey with sound by healing herself of anxiety and depression with sound. When she started ten years ago there wasn't a lot of research on sound healing nor trainings. She has gathered all of her years of experience and research to create this comprehensive course.
Melissa is an 800 hr certified yoga therapist with a master thesis on sound and the nervous system. She also shares a keen interest in eastern philosophy, energetics, chakras and intuitive sonic readings, which are also included in this course.
Melissa has ten years of experience as a sound practitioner and has conducted literally thousands of sound baths for thousands of people.
Jason has 25 years of music experience, he has produced albums, studied theory, other bomb stuff. He is our resident musician who provides scope on how music and sound are different, how to pair bowls and gongs for harmony or dissonance.
Jason is a Gemini Sun/ Virgo Rising Projector so he loves giving quizes, assimilating and integrating information, which means you get rock solid materials and hand outs. We've spent a huge amount of time editing out and whittling this course down to bite-sized lessons that are clear and focused.
Melissa is Libra Sun/Aries Rising Manifest Generator and couldn't do this course without Jason's magical organization skills​.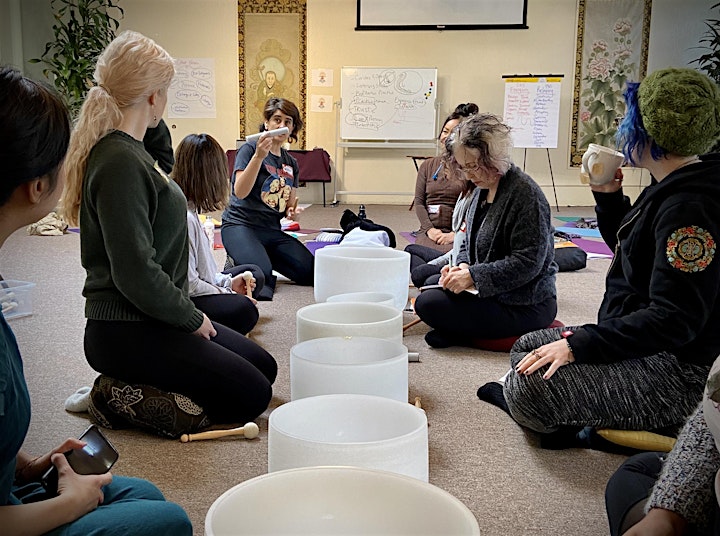 WHY WE NEED YOU:
On average, there are 123 suicides per day. Suicide is the 10th leading cause of death in the U.S., and the 2nd leading cause of death for people aged 10–34.
Anxiety, Depression, & Mental Illness affects over 46 million adults each year. During covid, numbers of depression skyrocketed by 33%.
Of that number, only 41% of adults with a mental illness received mental health services in the past year. 
100 million Americans are living with Chronic Pain
Need I go on?
With rising health care costs, we are in desperate need of non-invasive, natural, affordable healing therapies that compliment traditional medicines. 
Experience a deep inner calm through a quiet mind
Release muscular tension 
Explore a path of self-discovery and enhance your intuition
Metabolize and release your emotions without effort
Restore your nervous system by nourishing the rest and digest and decreasing fight or flight
Enter meditative states with ease
Feel an elevated mood through boosting of natural opiates
Deeply rest in the Delta brainwave state and receive an equivalent to a good night's sleep
Journey inward with colorful visuals and dreamlike states.
Feel a sense of harmony and wholeness 
We look forward to sharing this powerful healing modality with you! Questions? Please email Melissa directly.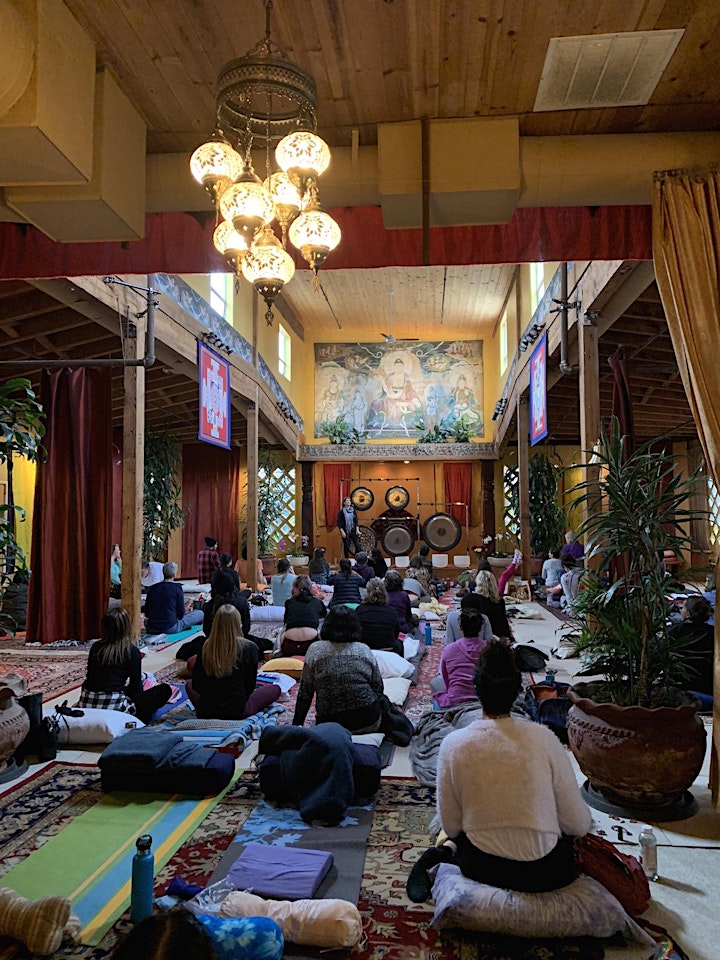 About the organizer
Melissa Felsenstein, founder of Inner Sounds Meditation, is a professional sound practitioner and educator with over ten years of experience. Melissa offers transformational digital sound baths and workshops through her wellness institute and sound healing platform, learn more on her website www.innersoundsmeditation.com