Master Lecture & Online Roundtable Discussion - Zaha Hadid Architects: Vertical Urbanism - The current practice in Asia and its future
About this event
Online Roundtable Discussion 網上論壇環節
24 March 2022, Thursday
5:00pm HKT | 9am GMT - Master Lecture
5:30 – 6:30pm HKT | 9:30 – 10:30am GMT - Roundtable Discussion
Keynote Speaker:
 Mr. Patrik Schumacher, Principal of Zaha Hadid Architects
Roundtable Discussion Panelists
Mr. Patrik Schumacher, Principal of Zaha Hadid Architects
Ms. Florence Chan, President of AIA Hong Kong Chapter. Director at KPF
Ar. Donald Choi, President, The Hong Kong Institute of Architects. President, Hong Kong Institute of Urban Design. Executive Director and CEO, Chinachem Group
Mr. Dennis Ho, ARUP Director & East Asia Regional Design Lead - Architecture, Urban Design and Landscape Architecture. Co-Chair Education and CPD Subcommittee, RIBA Hong Kong Chapter.
Mr. Anderson Lee, Founder, Index Architecture Limited. Associate Professor of Practice, Department of Architecture, The University of Hong Kong
Ms. Shirley Surya, Curator, Design and Architecture, M+
Prof. Hendrik Tieben, Director, School of Architecture, The Chinese University of Hong Kong 
Mr. Simon Yu, Director of Zaha Hadid Architects
Moderators
Mr. Michael Chan, Head of Academic Development, Hong Kong Design Institute (HKDI)
Mr. Henry Chan, Programme Leader of the Higher Diploma in Architectural Design Programme, Hong Kong Design Institute (HKDI)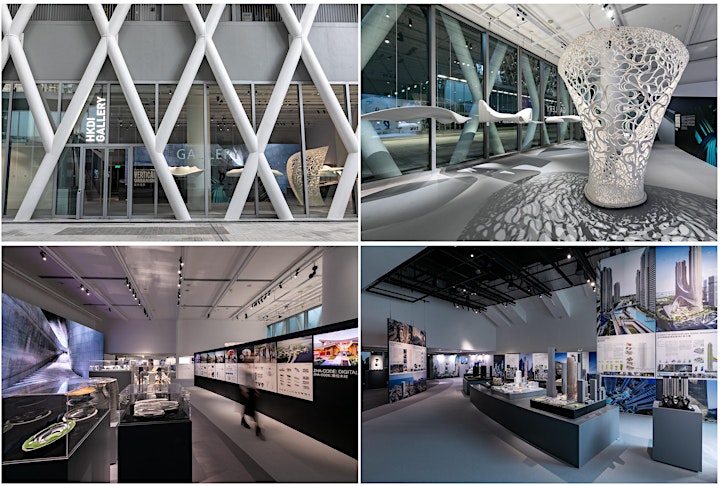 關於展覽
Zaha Hadid Architects(ZHA)延續扎哈.哈迪德(Zaha Hadid)的探索精神於不同的建築項目。是次ZHA為香港知專設計學院(HKDI)策「Zaha Hadi Architects:城市境築」展覽,向觀眾現在人口稠密的大都會裡,如何以不同策略開闢充滿生機且符合可持續發展社區理念的城市空間,開啟廿一世紀都市主義為題的對話。
展覽概述ZHA現正進行的研究及發展計劃,包括與知名科研機構合作,開發機械人、人工智能及數位製造等技術範疇,並把相應科技運用到建築設計方案上。展覽包含大型投影及建築模型,展示ZHA在文化、體育、運輸、園區及總部、以及總體規劃等範疇的重要項目。
展覽重點將聚焦於 ZHA 過去十五年所設計的高樓大廈項目,深度剖析與城市環境息息相關的設計策略,探討它們如何從建築密度、地面交界、中庭與連廊、建築幕牆和可持續發展等方面,在以垂直高樓為主的空間裡,建立起可持續發展的活力大都會。網上互動展覽:https://my.matterport.com/show/?m=pfxNcitC78X
About this Exhibition
The investigative spirit on which Zaha Hadid based her career continues in Zaha Hadid Architects' ground-breaking work around the world. 'Vertical Urbanism', curated by Zaha Hadid Architects (ZHA) for the Hong Kong Design Institute, showcases this exploration on the theme of urbanism by presenting a range of design strategies taken by ZHA to create vibrant and sustainable community orientated spaces within dense urban conditions, opening up a dialogue around urbanism in the 21st century.
The exhibition begins with an overview of the ongoing research and development within the studio, often incorporating collaborations with renowned scientific institutions developing innovations in robotics, artificial intelligence, and digital fabrication which in turn informs the studio's design process. A selection of key projects by ZHA is then presented via a large-scale projection. The presentation reveals series of architectural models, highlighting the studio's range of work across culture, sport, transport, campus + headquarters, and masterplan projects.
The exhibition culminates with an in-depth presentation of tall buildings designed by ZHA over the past 15 years. Design strategies related to the urban context are highlighted as ways in which to facilitate a more sustainable and vibrant urbanism for the vertical city: density, ground interface, atria + bridges, façade, and sustainability. 3D Virtual Exhibition: https://my.matterport.com/show/?m=pfxNcitC78X
HKDI Gallery at Hong Kong Design Institute
香港知專設計學院 HKDI Gallery