A virtual 3-day conference + retreat for entrepreneurs who need a reset & level-up in business + life
About this event
Shift your paradigms, reconnect with yourself, and leave inspired.
The RELOAD Conference + Summit...
is an online conference unlike any other. This exclusive, 3 full days of programming is built around the theme of RELOAD: a multi disciplinary experience that encourages perspective, stillness, and growth.
Explore a deeper connection to what it means to run a successful, fulfilling, intentional and meaningful business. We'll dive into a deeper connection within ourselves and our business.
Get ready for a lineup of some of the greatest thinkers and leaders in entrepreneurship, consciousness, health, and mindfulness, who will take you behind the scenes of their expertise with real-world application.
Does this sound familiar?
You want to show up as a leader in your business and in your life, but it feels like there are a million things to do and never enough time.
You have been working hard to grow your business, but deep down you know there are beliefs, thoughts, fears, and emotions holding you back from leveling up even more.
You want to form positive habits in your everyday life and start becoming the entrepreneur and person you want to be.
Whether you want to...
Discover shifting breakthroughs in your business that will allow you to level up
Work on your inner self, find your energy, recover your balance, and live differently
Build a legacy business that leaves you feeling fulfilled and happy every single day
Or simply to develop into a better version of you... You're in the right place.
Who is this conference + retreat for?
New and experienced entrepreneurs
Whether you're a new-ish entrepreneur or a seasoned entrepreneur, whether you are a service-based business or a product-based business, this conference + retreat is designed with both in mind.
If you're looking reset and level-up in your business and life, then this conference + retreat will help you get there faster and with ease.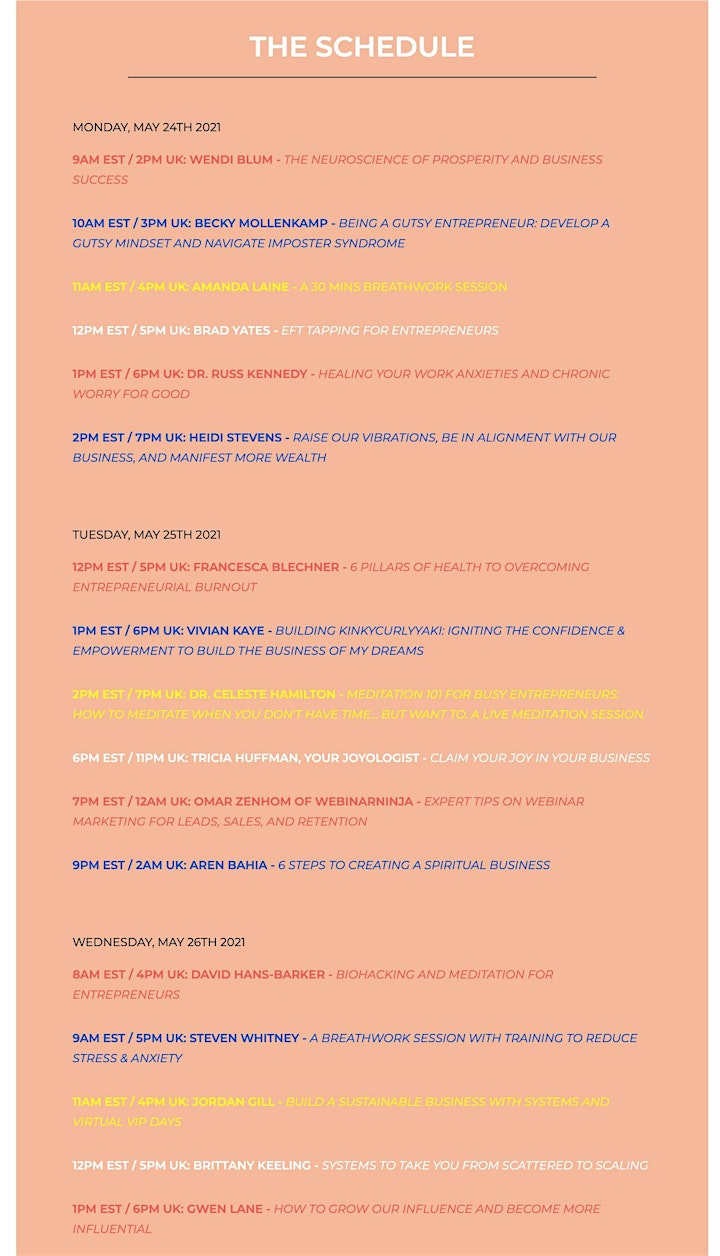 FREQUENTLY ASKED QUESTIONS
What if I can't attend live? Can I watch the online conference + retreat later?
On-demand access is based on the tier of your ticket. The free general admission ticket will have 24 hour access after each session airs. The Premium 1-Week Pass will have access until May 30th 2021 at 23:59 pm Eastern Time. VIP Lifetime Pass will have on-demand lifetime access. You'll be able to access the sessions anytime you wish once the conference + retreat ends.
What is included in this online conference + retreat?
RELOAD is an online conference + retreat created to inspire online entrepreneurs to build successful businesses with intention and alignment of business + mindset + health. You can attend this event virtually from anywhere in the world.
For 3 days, we bring together experts and leaders across a variety of expertise, with one common goal: to help you reset and level-up your business and life.
Expect a life-changing experience because this is unlike any other conferences, online or in-person.
This is NOT a business or marketing conference, this is NOT a personal development conference, and this is NOT a health retreat. This IS a combination of the different aspects of holistic entrepreneurship.
Why is it an online conference AND a retreat?
You will find sessions on business, mind, and health where you will be taking down notes while being inspired. This is the conference part.
You will also experience hands-on practical sessions where you'll work on releasing your stress, finding your energy, recovering your balance, and more. This is the retreat part.
Organizer of [Online] RELOAD Conference + Retreat For Entrepreneurs & Business Owners