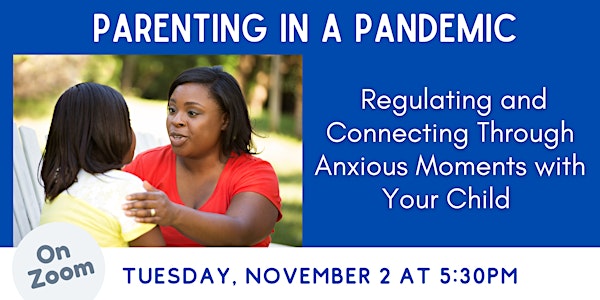 ONLINE: Regulating and Connecting Through Anxious Moments with Your Child
Learn new ways to connect with and support your kids during stressful times.
About this event
This class will take place online on Zoom. Please see the FAQ below for more information.
Join Kamini Verma, LCSW-S, RPT-S, of the Samaritan Center to learn about supporting kids through these challenging times!
Participants will learn how to recognize, connect and support their child(ren) during stressful moments by gaining a basic understanding of anxious behavioral patterns in children and self, stress/trauma responses, and parenting strategies with approaches for self-care. This workshop offers practical tools for anyone who lives or works with children.
ABOUT THE FACILITATOR – Kamini Verma, LCSW-S, RPT-S
Kamini Verma is a Licensed Clinical Social Worker- Supervisor and a Registered Play Therapist- Supervisor. She obtained her master's degree in clinical social work from University of Texas Steve Hicks School of Social Work and her undergraduate degree in Psychology and English from Southwestern University in Georgetown, TX. Kamini is also a Trust Based Relational Intervention® Certified Educator. She has attended level one training for Theraplay interventions and is working towards Trauma-Focused Cognitive Behavioral Therapy Certification.
Kamini is a compassionate advocate for those in need. Kamini is enthusiastic about assisting children and their families through periods of healing, development and growth. She worked for eight years as an advocate for children in the Texas foster care system before transitioning to helping children in residential care with neurobehavioral concerns. Kamini's diversified skill set includes expertise in children ages 5 and up. Her experience includes providing individual, family and group therapies on issues related to healing from trauma, creating home stability, adoption/foster care, attachment, ADHD, depression and anxiety. Kamini's focus is providing person-centered, trauma informed care utilizing prescriptive modalities that include, but are not limited to, child-centered play, synergetic play therapy, solution focused therapy and cognitive behavioral therapy.
Currently, Kamini offers individual therapy to children and adolescents aged 5-16, as well as parenting workshops. Kamini also provides board approved supervision for LMSWs and those seeking a Registered Play Therapy Credential. She utilizes a relational, trauma-informed, strengths-based, and integrated development model of supervision.
FAQ:
Will I get a certificate for attending the class?
Yes. We will email certificates within a few days of your class. If you don't receive a certificate within a few days, please email registration@georgetownproject.org.
How do I use Zoom?
Please read our Zoom Info & Tips sheet here.
How will I get the Zoom link?
Eventbrite will send a confirmation message and reminder messages that include the link to the online event page. You will be able to start the Zoom workshop by clicking the link.
Other questions?
Feel free to email registration@georgetownproject.org. We're happy to help!