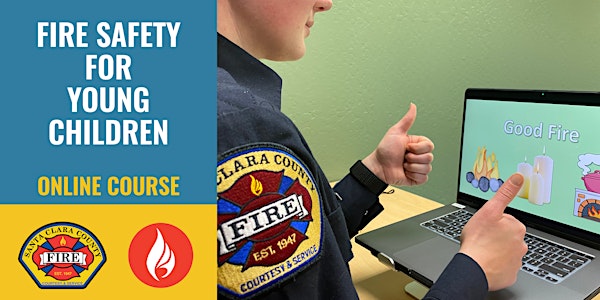 ONLINE PROGRAM Fire Safety for Young Children - Come Learn with Us! - 2022
Fire Safety For Young Children Program
About this event
Come Learn Fire Safety with Us!
Join us for a LIVE, online, and interactive fire safety program geared specifically for young children, ages 3 to 6 years old. This program includes an imaginative and adventurous story time to reinforce important fire safety lessons.
During this interactive program, young children will learn about:
Fire safety - recognize the difference between good fire and bad fire
Matches and lighters safety - tools for adults, not toys for children
Smoke alarms - what to do when you hear the beep, crawl low and stay outside
Participants will also watch a firefighter put on their gear and learn what firefighters look and sound like when wearing their protective clothing and breathing apparatus. And we will have time for questions and answers too!
Register your child today!
__________________________________________________________________
This interactive class is open to young children who live within the communities served by Santa Clara County Fire Department: Campbell, Cupertino, Los Gatos, Los Altos, Los Altos Hills, Monte Sereno, Saratoga and the unincorporated surrounding areas.
__________________________________________________________________
Follow Santa Clara County Fire Department on Eventbrite to stay informed about upcoming safety classes and community events: http://sccfd.eventbrite.com