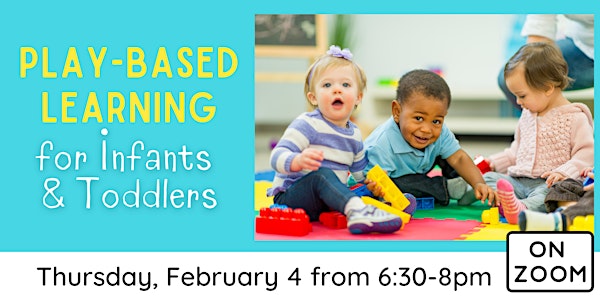 Online: Play-Based Learning for Infants & Toddlers
Learn how to help young children grow and develop through play-based learning.
About this event
This class will take place online on Zoom. Please see the FAQ below for more information.
Join Bonnie Hahn, M.Ed, Parent Educator, to learn about play-based learning for little ones!
Research shows that by supporting a child's development through play-based learning, we are supporting the healthy development of the child. This workshop will cover the multi-faceted development of the first 17 months of a child's life, the connection between developmental and relational models of learning, early brain development, and how to incorporate play-based experiences in your classroom or home.
**Pre-registration is required! Please click "register" to reserve a free ticket*
FAQ:
Will I get a certificate for attending the class?
Yes. We will email certificates within a few days of your class. If you don't receive a certificate within a few days, please email registration@georgetownproject.org.
How do I use Zoom?
Please read our Zoom Info & Tips sheet here.
How will I get the Zoom link?
Eventbrite will send a confirmation message and reminder messages that include the link to the online event page. You will be able to start the Zoom workshop by clicking the link.
Other questions?
Feel free to email registration@georgetownproject.org. We're happy to help!