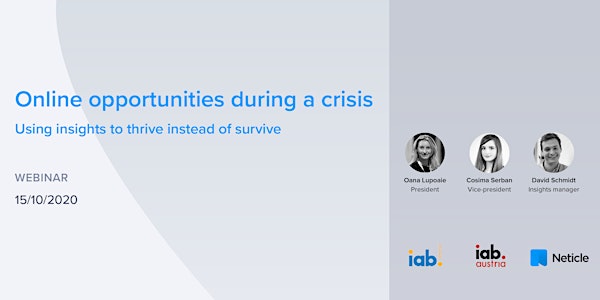 Online opportunities during a crisis - Using insights to thrive
IAB Austria, IAB Romania and Neticle is going to analyse how the COVID-19 pandemic affects media consumption, online shopping and HR.
About this event
In this very first international collaboration of IAB Austria, IAB Romania and Neticle the speakers will share their experience from the past month and suggest a path forward.
In the areas of media, marketing, e-commerce and HR, some valuable lessons have already been learned regarding the continuing pandemic. With the right communication, it is possible to not only survive but to thrive despite the current conditions. This is the kind of knowledge that the Austrian and Romanian associations of the Interactive Advertising Bureau (IAB), and media- and text analytics company Neticle are aiming to provide in their first joint online event.
The main questions you will get answers to:
IAB Romania research: The perception of the crisis compared to 2008
How did the media consumption change in the region? How it affected the media budget?
Neticle research: How different industries reacted to the pandemic in the region?
How did the acceptance of video conferences and virtual contact change?
What impact did the crisis have on HR processes and decisions?
Why join us?
If you are a marketer, analyst, data scientist, marketing manager, researcher or you'd just hear about how to use insights in adaptation, you should definitely join our discussion!
The event is international and will be presented in English.
Speakers
Cosima Serban, IAB Austria, vice-president
Oana Lupoaie, IAB Romania, president
David Schmidt, Neticle, insights manager
Channel: zoom.us - unique webinar links will be sent after registration
Hope to see you join!