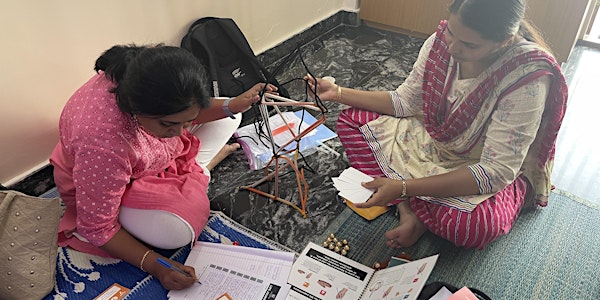 Online Open House for NEP-aligned Preschool Teacher Training Program (free)
This is an open house for prospective participants of the training program being held from Feb 27th - Apr 15th 2023.
About this event
Are you an aspiring or in-service pre-school teacher and/or a change-maker looking to do one or more of the following:
Teach in a preschool classroom with play based methods aligned with the National Educational Policy (NEP) 2020?
Design affordable, play-based and child-centric preschool programs?
Create a holistic learning environment for the development of cognitive skills, foundational literacy (English), numeracy, spoken language skills, social-emotional skills, motor skills and creativity in children?
Increase learning engagement of children in a preschool classroom by evoking the joy of learning in them?
Make sure every child in the classroom progresses in learning of essential skills during the academic year?
During this open house event, you'll find out more about a 7-week-long preschool teacher training program that Tejasvita will be conducting for aspiring teachers, change-makers and in-service preschool teachers. The training program will be held from Feb 27th - April 15th 2023 in Bangalore and will have a combination of in-person and online sessions.
The objective of the training program is to give the participants first-hand experience and the tools and resources they will need in order to build the skills to be effective teachers, focused on young children's holistic learning needs. The program will center on equipping the participants to design and develop NEP-aligned joyful and learning-focused classroom environments for 3-6 year old children.
Click here to find out more about the training programWhatsApp +91 9741349993 or email tejasvita.org@gmail.com.
The open-house will be held online and we request you to register for this event by buying a free ticket on EventBrite
Tejasvita Trust has developed this 100-hour long training program based on 7 years of extensive work in preschool classrooms in low-income communities. During these years, we've partnered with a few Affordable Private Schools (APS) in Bangalore and experimented with a variety of play-based hands-on activities and research-based pedagogies. Our year-long model preschool programs in APSs have been proven to significantly increase children's attention span, interest in learning, social-emotional skills, English spoken language skills and pre-skills needed for literacy and numeracy.
Click below for a glimpse of Tejasvita's preschool program in action :