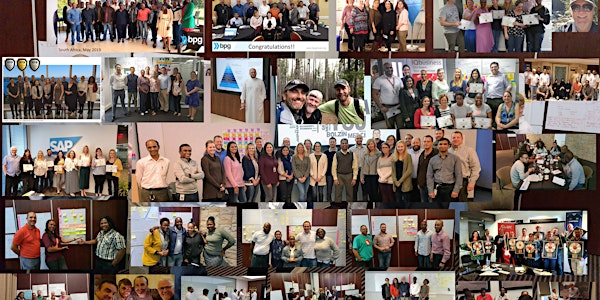 Online OI2020 Vision AMERICA workshops (6 sessions over 6 weeks each 3 hrs)
Refund Policy
Refunds up to 30 days before event
Description
Dear friend,
I'll be teaching an ONLINE NORTH AND SOUTH AMERICA Outside-In 2020 Vision Workshop starting in April with SIX sessions over SIX weeks, and then a Bonus seventh session.
This training will be held online in a live weekly interactive video class. You'll get your questions answered, see live-action, and practice with others. Each week will be about 3 hours.

** If you've attended the Accredited CX or Certified CPP Training, you can now learn the advanced Outside-In material too **
Explore Deeper Outside-In
This will be an opportunity for people already using the CEMMethod to go farther and to systematically explore significant areas of process and customer experience transformation. Working together as a group we can learn from and be inspired by each other, as well as gain from Steve's experience.

We will learn…
New Outside-In principles.

New methods and formats.

Learn more about advanced Outside-In practices.

How to deal with challenges we've encountered – in our own work and with the people in our organisations.

Learn and begin to deploy the Outside-In Customer Performance Landscape. This is a powerful tool that literally connects the dots of everyone and everything an enterprise does.

How to integrate the different approaches and formats into a single approach.
Woven into the teaching, we'll have the opportunity to explore unexpected aspects of Outside-In and the CEMMethod as they emerge.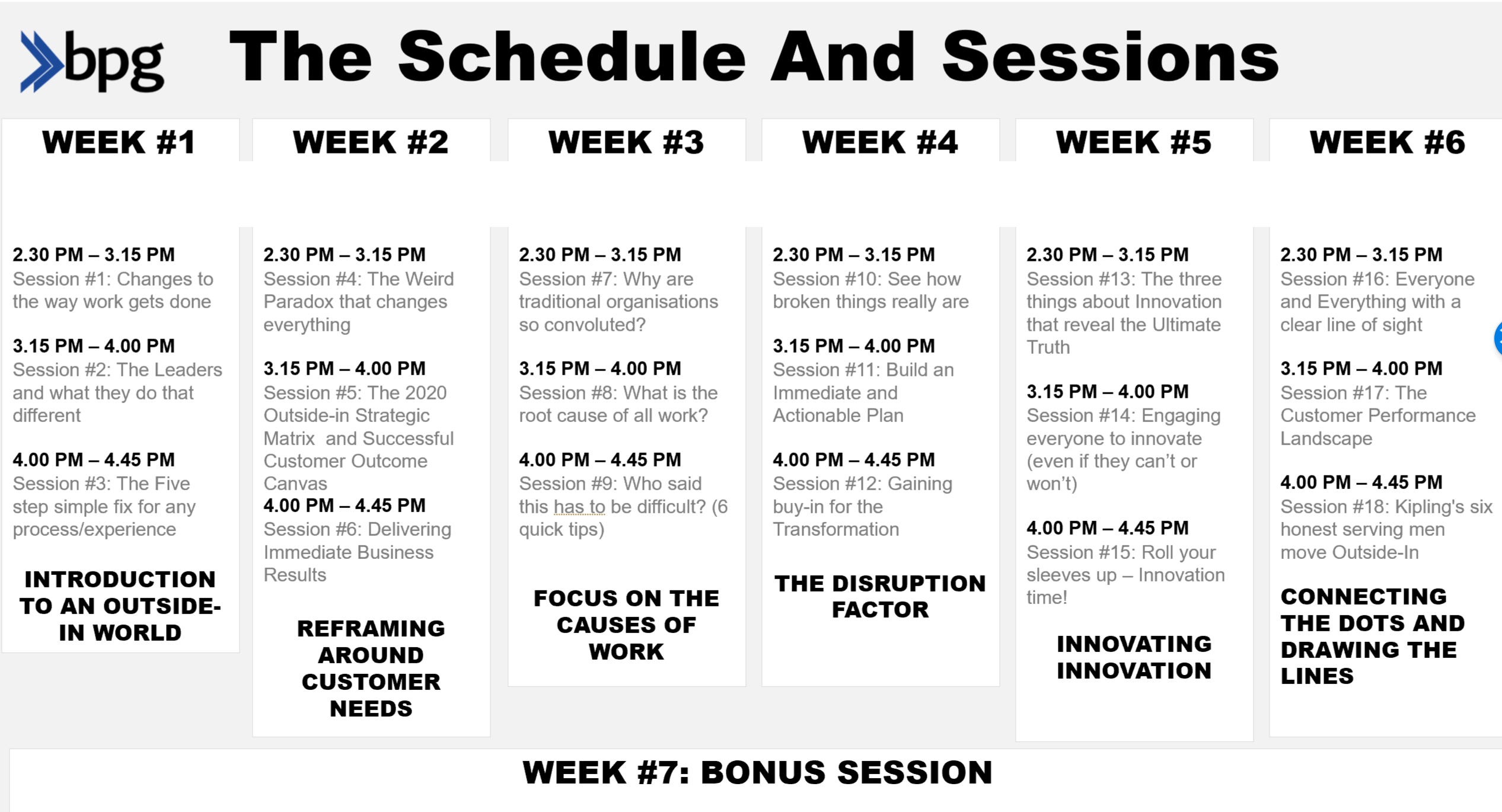 Because this work is operating on a different level than most of us are accustomed to, frequently small (or big) "misunderstandings" on the part of the unconscious mind can hold us back — until our system "gets it." We will explore how to identify these "misunderstandings" and how to create new insights and "aha" moments.

My personal interest in teaching this
From my experience so far, I believe thinking and practising Outside-In has the potential to guide each of us individually on a path that is transformative. And because it brings more wisdom, clarity, compassion, and humour, it can bring needed healing and transformation to our world.

I would like to support those wanting this deep transformation, and those wanting to coach others, to have the skills and experience that will make this possible. That's the purpose of this Advanced Outside-In Training for 2020.

I'll be including as much as I can fit in of what I've learned over the past two decades exploring this work in my own life.

Live Online Video Training
This will be an online course, so you can participate from any location. We'll have interactive video, so it will be much like in-person training — except you won't have any travel costs.

A big benefit from this course will be participating in the paired exercises with coaching available. Each exercise will take us into different Outside-In territory.

Training Dates & Times
We'll meet approximately 3 hours, once a week, for 6 sessions.
After the training, there will be a bonus coaching session to help integrate the learnings from this program.

Dates for the Six Sessions
WEDNESDAY: April 8, 15, 22, 29 May 6,13
Time: Each session will be held at 11 am - 2 pm MST (Denver) time
9 am-Noon EST (New York) Noon - 3pm (Los Angeles)

Dates & Times for the BONUS Group Coaching
WEDNESDAY: May 20th, Beginning 11 am (Denver), and meeting for 1.5 to 2 hours.

How this Online Training Will Work
The training will happen LIVE online through Zoom.


This will be an extended training, meeting approximately 3 hours, once a week, for 6 sessions. Each session we'll learn at least one new format. As with the live training, I'll demonstrate each new method, you'll be able to practice each method, and we'll have time for discussion afterwards.


We'll be able to include everyone's video feed so that we can see and hear each other. When I'm talking you'll see and hear me. Then when I do a demonstration, you'll be able to see me and the work I am doing. When there's a discussion, we'll be able to see who is sharing.


We'll be able to do exercises in pairs, by using Zoom's "room" feature. Each pair will have their own "video room" to do the exercise, and you'll be able to raise your hand and call me into your room if you want coaching assistance. Once the exercise is done we'll return to the meeting as a group.

Recordings You Can Review
Each training session will be recorded, and you'll have the opportunity to view the recording as many times as you like in between sessions. If you have to miss a session, you can catch up by viewing the video. The recordings will remain available (to training participants only), until 2 weeks after the last training session.

Extra Support
Included in this training, I'm offering a follow-up group coaching session, (meeting online and recorded), just for participants in this training. The intention of this coaching session is to support you in integrating your new learnings about Outside-In, in your life and your ongoing practice. You'll be able to share how things are going and ask questions about challenges, or anything else.

Who is Eligible
Those who have taken as a minimum the 2-day Certified Process Professional or 1-day Accredited Customer Experience training with the BP Group or one of its partners are eligible to attend. Of course, if you have gone on further to become a Master or Champion this training will help you be even more effective. Check with us if you have any questions.

Technical Requirements
To participate you'll need access to the internet, and have a computer or laptop with a webcam. We'll ask you to participate in a very brief set up a meeting ahead of time, to make sure you can log into the meeting successfully.

Investment: $297 EARLY BIRD - $597 FULL PRICE -
This includes...
the online course of 6 sessions,

the 1 follow-up coaching session, and

access to video recordings during the training period

an advanced copy of my new book 'Outside-In 2020 vision'

access to a dedicated and exclusive WhatsApp Outside-In group
Because this is an extended training, after each session if you have suggestions or questions you'd like me to address at the next meeting, you can email them to me.

Group Size: We'll be limiting the group size, so register soon if you want to be sure to have a seat at the table.

If you've already found value in Outside-In, and want to go farther, I hope you join this training.
I am very much looking forward to it,

Steve Towers
Dates for the Six Sessions
WEDNESDAY: April 8, 15, 22, 29 May 6,13
Time: Each session will be held at 11 am - 2 pm MST (Denver) time
9 am-Noon EST (New York) Noon - 3 pm (Los Angeles)

Dates & Times for the BONUS Group Coaching
WEDNESDAY: May 20th, Beginning 11 am (Denver), and meeting for 1.5 to 2 hours.
--------------------------------------------------------------------------------------------------------------------------------------------------
We are sometimes asked about the small print:
Here it is just in case.
BP Group reserves the right to postpone or cancel an event, and/or to change the location of an event. In the event that BP Group postpones a conference, delegate payments at the postponement date will be credited towards the rescheduled date. If the delegate is unable to attend the rescheduled event, the delegate will receive 100% credit representing payments made towards a future BP Group event or you may send a replacement. This offer is valid for a period of 12 months from the date of the postponement. No refunds will be available for cancellations or postponements.
BP Group is not responsible for any loss or damage as a result of substitution, alteration, postponement, or cancellation of an event due to causes beyond its control including without limitation, acts of God, natural disasters, sabotage, accident, trade or industrial disputes, terrorism or hostilities.
Copyright (c) 1992-2020 The BP Group
TESTIMONIALS
You have impacted the lives of many of us in the Business Process Management community, in a big way in our career journey. Our success can be attributed to your insights on Outside-In Thinking and Customer Experience, among others.
Mashaba Mulaudzi, Manager Process Innovation, South Africa
What an amazing journey to Accredited ACX Coach,
this experience has completely transformed how we measure, collaborate, communicate and innovate with the customer in mind. Keen to guide the next willing souls on this journey.
Durrel Ramrathan, ACX Master Coach
A year after CPP training in London just wanted to shoot a note of my continued gratitude. Hope to remain involved in the CX events and work with you again..that training was beyond invaluable.
Juliana Coates - Member Services, University of Albany, New York

I'm writing to endorse BPGroups Certified Process Professional Masters program. It completely changed the way I think about a process.
Steve Towers and the BPGroup taught us amazing secret techniques of process improvement.
The program provided me with the ability to apply all the learnings immediately after the training. Very effective training with a wealth of knowledge to share. This is a must training for everyone who's interested in making a process better!
Maria T Ferreira AVP - Client Experience Process Improvement at Citi

Thanks for your time and the fantastic course, delivered in Auckland recently.
Looking forward to attending the CPP Masters in June - will see if I can bring some colleagues!!
Neal Ross, Chief Information Officer at Konica Minolta Business Solutions New Zealand Limited
The detail was very relevant and extremely well presented.
Steve is a great communicator and spoke extremely well.
Paul Botes, Standard Bank
Brilliant Workshop. The speaker was awesome and gave great guidance on matters I am finding in the workplace.
Design & Quality Manager, X-Pose Holdings
The workshop is highly recommended for anyone who wishes to simplify and expedite processes thereby enhancing customer satisfaction. The speaker is immensely knowledgeable and demonstrates vast experience in the subject.
David Mulovhedzi, DPSA (South Africa)
I did the CPP Masters 2 weeks ago and it completely changed my world. Since then things are going really fast within our organisation. The rest of the guys in our executive team are completely sold on the concept.
I am now taking the rest of the staff through some sessions. We plan to work on and optimise 6-10 key processes in the near future.
We are also:
• Revamping our organisation structure to go to the "customer inclusive" model.
• We are going away this weekend to re-think our business plan (which was based on old thinking)
• We are actively considering getting rid of all our titles and silos in the organisation and only having "the business we really are in" on the business cards.
• We are completely changing the KPI model to only focus only on and rewarding for an increase in revenue, cost savings, good service and most of all successful customer outcomes.
• We have appointed a staff member to begin talking to clients and to start understanding and managing their expectations.

To be honest I did not think it would happen that quick.
Nachiket Gole, Chief Information Officer - PowerNET Computer Consultants

...you've fundamentally changed the way I think about every process.
And inspired me to try Outside-In (OI) in all walks of life.
The first two levels should be included in educational curriculums (yes, even at the junior levels).
If everyone started applying OI, the world would be... where it should be.
Mahesh Mirchandani, CEO at BhumiTech
If you are looking to improve your own professional skills in business process management and
business process improvement, then I would recommend the Advanced Business Process Methods and
Techniques of the Business Process Professional programme by BP Group.
Stephen Nicholson, Certified Process Professional – Master, BPM Systems (see blog)
Excellent presentation, clear and concise. Absolutely Gripping
Devendra Maisnam, Business Analyst, National E-Health Transition Authority
"Thanks to you for a fantastic mentoring programme … I am an Outside-In fan now !"
Jimmy Cuadra, Director of Information Management, Akzo Nobel Paints, Singapore
"I was struck with awe on the versatile yet practical experience that you shared.
Thanks for the wonderful session on CPP this week"
Syed Raashid, Specialist, RasGas Co Ltd. UAE
"Thanks again for the fantastic course and insights you provided."
Sean Schurmann,
Business Process Architect, Queensland Building Services Authority, Australia.
"Just a short note to say thanks again for the course. It was a truly mind-blowing experience and I will never think about process the same way again."
Craig Reid, Senior Business Analyst, Gen-I
"I wanted to tell you how much I enjoyed the book! It really helped tie together various concepts and practices I have been evolving towards over a number of years, crystallizing them into a simple but powerful framework."
Steve Melville, Director, Oracle, USA.
"I would like to thank you for a wonderful experience for me to know the nuances of ABPM. Taking us to a new level on how to view processes & implement by way of sharing your wealth of experience and enlightening us with the case studies & exercises."
Director Quality Management Group, 3i Infotech Ltd., India
"Exceptional and life-transforming. This training should be on every corporate agenda"
CIO Pharmaceutical, Florida
"Simple and different concepts which is path-breaking and easy to understand and deploy" Director Business Consulting, Chennai
"Excellent - he is a very good leader"
Senior Quality Analyst, AEC, Saudi Arabia
"I want to thank you for the great content and coaching that you provided, the concepts resonated even more clearly when presented with your enthusiasm and experience."
Director, H&R Block, USA
"I really enjoyed last week and really learned a lot. I feel I had a Eureka moment yesterday when the whole process diagnostics suddenly clicked into place. I remember you saying that once you grasp this then you will never look at processes in any other way. I am now actively evangelizing the CEM approach with our team.
Senior Analyst, Investment Bank, London
"Steve led the best training sessions I have ever taken in my 20+ years as a professional. After those sessions, I was able to have an immediate impact on my organization. Steve is a very sharp, personable, interesting individual, and a real pleasure to work with. I continue to remain in regular contact with Steve and consider him an invaluable resource on BPM and on change management in general."
Mark Barnett, Director of Global Process Practice, ACN, Inc.
"Steve is an inspiring global thought leader in the Business Process Management (BPM) space. He is a creative visionary, working on the edge of breakthrough business change."
Kenneth Mortimer, Principal, MBA & Associates Ltd
"Having had a chance to read through all of the delegate feedback forms in full it has become apparent that your workshops, in particular, were amongst the most well regarded, so thank you once more."
VP EMEA GDS International
"I took BPM training back in December, and Steve Towers was the instructor. The training was simply fantastic because Steve has that rare ability to connect with his trainees. Not only did I walk away from the training with a new perspective on Business Process Management, but I walked away with an invaluable analysis tool."
Senior Systems Analyst, Barclays Bank
"We have collated the scores from the event and you came out as the most highly regarded."
Conference Producer, IIR International

"Excellent owned the knowledge, made the presentations fun, a wealth of knowledge and practical examples. Upbeat, well-paced."
Booz Allen Hamilton, Washington

"Steve presents the whole arena of transformation in a lucid and pragmatic way. I can not overstate how much these insights and profound new understanding will change our organization and its approach to the market. Do you want my endorsement? You get it gazillion times over. Thanks."
COO, Fortune 500 Company, Washington DC

"You are the tops! Everyone in the field should be exposed to the techniques experienced in this course."
Director - Process Management

"...was so helpful. The ability to ask questions/having a discussion after the day's end was extremely good. I really appreciated the professional approach"
Telco Director, now CIO of CEU, Hungary

"Steve is a true guru and mentor in the field of Business Process Management. What I've learned from Steve and The BP Group in a short space of time has greatly benefited my understanding of advanced process management. Always accessible for advice, always campaigning to change how organizations view how they operate, Steve is a real asset to the BPM community and long may it continue."
Theo Priestley, Head of Business Process Management, Psingularity
"Steve is one of the most tireless leaders in the field of business process management. While there are lots of technical folks and vested interests in the field, Steve's leadership rises above the crowd. As co-founder of the not-for-profit Business Process Group, Steve has travelled the world spreading the BPM message to business leaders and front-line workers, alike."
Peter Fingar, Industry Guru and author of many top-selling Business books

"Transforming the planet, one person, one process, one organization at a time"