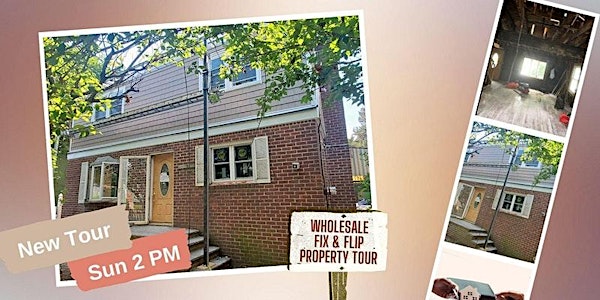 Online NY Wholesale & Flip Property Tour
NY Property Tour to showcase a wholesale deal that was flipped to another local real estate investor in Elmont, NY.
About this event
Starting the New Year with a BANG!
On Sunday, we are hosting a Live Property Tour of a Wholesale deal located in Elmont, New York.
This deal was put together with NO Money for a Nice Profit!
Learn some Key Tips and Tricks about Wholesaling that many people Wished they Knew about to do this strategy efficiently. The property has now been Fix & Flipped by a Local NY Investor. We can't wait to WOW you with the Finished Product. The property is Immaculate and already Under Contract!
Again, this will be streamed Online from Elmont, NY via zoom for your Safety during these Challenging times. You will have the ability to view from the Comfort of your Home via Computer or Phone and be sure to Ask Questions during the tour!
Come check it out and allow our Local NY Investors to showcase How we do real estate and help show that YOU can do this Too!
Learn How the property was Acquired, Funded and our own Analysis of the Numbers....from the Purchase Price, Repair & Holding Costs, and most importantly...THE PROFIT! Be a part of the Excitement!
Awesome event to come and network with other real estate Investors, Entrepreneurs, and Professionals!
Register ASAP!!