White Belt Training | $1599 USD
About this Event
Certify in Nia's Whitebelt training online!
Focus: Art of Sensation | Intent: To embody the foundation of Nia
הכשרת חגורה לבנה בשיטת ניה| ימי שבת 19:00-21:00 שעון ישראל
עם דורית נובל
799.50 דולר
תאריך ושעה
Saturday March 27 2021
every Saturday for 16 weeks (except two weeks in June for the in -person training
19:00-21:00 שעון ישראל
מיקום - אונליין
הכשרת חגורה לבנה | 1599 דולר
על האירוע
מיקוד: אמנות התחושתיות | התכוונות - לגלם בגופנו את היסודות של ניה
קחו את הצעד הראשון אל תוך הכשרת חגורה לבנה בשיטת ניה אונליין עם מאמנת ניה דורית נובל!
ההכשרה האינטראקטיבית הזו שמתקיימת כולה בצורה מקוונת תאפשר לך להישאר בבטחה, בנוחיות ובפרטיות של ביתך, בזמן שתקבלי שיעורים סומאטיים (מבוססי גוף) משני החיים של הכשרת החגורה הלבנה של שיטת ניה.
הגרסה המעודכנת של הכשרת החגורה הלבנה של ניה היא הרמה הראשונה של מסלול הלימוד גוף+חיים של ניה, ותיקח אותך למסע דרך אמנות התחושתיות בדרך שלא נעשתה מעולם בעבר.
במהלך 16 שבועות תלמדו:
לחוות עונג מוגבר בגוף.
להשתמש בתנועה מודעת לשיפור הבריאות והרווחה הכללית.
לחיות את החיים בחדווה מוגברת, אם אהבה וכבוד עמוקים לגוף.
פרטי ההכשרה
ההכשרה בת 16 השבועות תתקיים בימי שבת
בכל שבוע יתקיים מפגש באמצעות זום. המפגשים יתקיימו בימי שבת בין 21:00 -19.00 שעון ישראל.
בכל שבוע, בין המפגשים, תקבלו שיעורי בית אופציונליים ותרגילים שיעמיקו את ההבנה של העקרונות והרעיונות שהוצגו באותו שבוע.
הכשרת בונוס במפגש פיזי בישראל
דורית תציע הכשרה בת 3.5 ימים במפגש פיזי בישראל כאשר מגבלות הקורונה יוסרו.
ההכשרה הפיזית כלולה בעלות, והיא אופציונלית לחלוטין. אין לה השפעה על ההסמכה - אותה תקבלו בסיום הקורס המקוון. אם תוכלו להגיע, מדובר בבונוס עצום. תאריך משוער תחילת יוני 2021. המפגשים יתקיימו כפי הנראה בכפר סבא.
לאחר סיום ההרשמה, תקבלו את פרטי הגישה למפגשי הזום עם לוח זמנים מפורט.
כל אחת ואחד יכולים לעשות את הכשרת החגורה הלבנה. אין צורך בניסיון קודם. אם תרצו לחלוק את החדווה של ניה כמורה של השיטה, תלמדו גם את הכלים והמיומנויות שיכינו אתכם לחלוק את ניה עם העולם. כדי לעסוק בהוראת ניה, לאחר השלמת החגורה הלבנה, עליכם להצטרף למסלול חברות מורות ניה בעלות שנתית של 396 דולר. החברות מקנה לכם רישיון הוראה וחומרי למידה המאפשרים העברת שיעורי ניה.
מדיניות תשלומים
כל ההכשרות יאושרו 30 יום לפני תאריך תחילתם.
העלות של הכשרת חגורה לבנה בשיטת ניה הינה 1599 דולר אמריקאי בתוספת מס היכן שתוספת זו חלה.
עלות ההכשרה מחולקת לשני תשלומים - דמי רישום, ודמי הכשרה למאמנת.
כדי לשמור את מקומכם בהכשרה יש לשלם דמי רישום של 799.50 דולר אמריקאי ישירות למטה ניה בע"מ. (הירשמו כאן בעמוד של EVENTBRITE)
מאמנת ההכשרה שלכם תוציא חשבונית עבור דמי ההכשרה בגובה 799.50 דולר וכל מס שחל 30 יום לפני תחילת ההכשרה.
מדיניות חזרה על הכשרות
כל בוגרי החגורות יכולים לחזור על ההכשרה בעלות של 99 דולר דמי הרשמה למטה ניה. יש ליצור קשר עם המאמנות לבדוק אם יש מקום ולבדיקת עלות דמי ההכשרה באותה עת.
dorit.noble@nianow.com
מדיניות ביטול והעברת תשלום להכשרה אחרת
דמי רישום ודמי הכשרה לא יוחזרו. במידה ותבטלו את הרשמתכם עד 30 יום לפני מועד ההכשרה, דמי הרישום ייזקפו לזכותכם בחשבון ניה שלכם. ביטול ההרשמה מאוחר מכך כרוך בדמי ביטול של 250 דולר שינוכו מדמי הרישום ששולמו. היתרה תיזקף לזכותכם בחשבון ניה שלכם.
מדיניות הביטול של דמי ההכשרה משתנים ממאמנת למאמנת. צרו קשר עם המאמנת שלכם לעוד פרטים.
הכשרות מרוכזות שנרכשו במחיר מבצע אינם ברי החזר או העברה. מי שאינם יכולים להשתתף בהכשרה המרוכזת אותו רכשו במבצע יכולים להשתמש בסכום ששולם בהכשרה אחרת ויידרשו לשלם את ההפרש.
דורית מציעה הכשרות באנגלית ובעברית.
Step-in to the Nia White Belt Training ONLINE with Nia Faculty Trainer Dorit Noble
This fully online, interactive course will allow you to stay in the safety, convenience, and privacy of your home, while receiving the life-changing somatic lessons of the Nia White Belt Training.
The newly updated Nia White Belt Training is the first level of Nia Body + Life Education, taking you on a journey through The Art of Sensation like never before.Over 16 weeks, you will learn to:
Experience greater pleasure in your body and life.
Use conscious movement for health and well-being.
Live life with greater joy, deep love and respect of your body.
Training Details
This 16-week training will run on Saturdays from 27 March for 16 weeks (excluding 2 weeks in June if I'm able to give the trainings face to face in Israel for 3.5 days
One 2-hour LIVE session will be held via ZOOM each week. Sessions will be held on Saturdays from 5-7pm.
Each week you will receive optional homework and activities to deepen your understanding of the concepts and principles presented that you will complete between sessions.
Israel in person top up training
Dorit will be offering an in-person 3.5 day top up training in Israel when COVID restrictions are lifted. This is included in the cost of the training, is completely optional and does not affect your online certification at all. It is purely optional. If you are not able to attend this will have no bearing on your online whitebelt training. If you are able to come it is a bonus add-on for you.
Upon registration, you will receive your ZOOM access and login information along with a detailed schedule.
Anyone can take the Nia White Belt; no experience is required. If you desire to share the joy of Nia as a Nia Teacher, you will also learn the tools and skills that will prepare you to share Nia with the world. To be a teacher, after completing the Nia White Belt, you must enroll in the Nia Teacher Membership, which is an annual fee of USD $396. Teacher Membership gives you a teaching license and materials to learn how to teach the Nia class.
Payment Policy
All trainings will be confirmed 30 days prior to the event start date.
The price of the Nia White Belt Training is $1,599 (USD) plus tax where applicable. The fee for the training is split into two payments, a Registration Fee and an Instruction Fee. To reserve your spot in a training, you must pay a Registration Fee ($799.50 USD) directly to Nia Technique, Inc. (Register on this page at Eventbrite). The Trainer of your event will invoice you for the Instruction Fee and any applicable tax 30 days prior to the training start date.
Retake + Audit Policy
Any belt graduate may retake a training they have previously complete for $99 USD registration fee paid to Nia HQ. We ask that you contact the trainer to see if they have space and you may request their retake fee as this time: dorit.noble@nianow.com
Cancellation + Transfer Policy
Registration and instruction fees are non-refundable. Should you cancel your registration more than 30 days prior to the training start date, the registration fee will be credited to your Nia account. Should you cancel your registration less than 30 days prior to the training start date, you will incur a cancellation fee of $250 which will be deducted from your registration fee. The remaining balance will be credited to your Nia account.
The cancellation policy regarding your instruction fee varies by trainer. Please contact your trainer for more information.
Intensive trainings purchased at sale prices are not transferable or refundable. Trainees who are unable to attend the purchased sale intensive may apply their credited funds toward another training and pay the difference in price.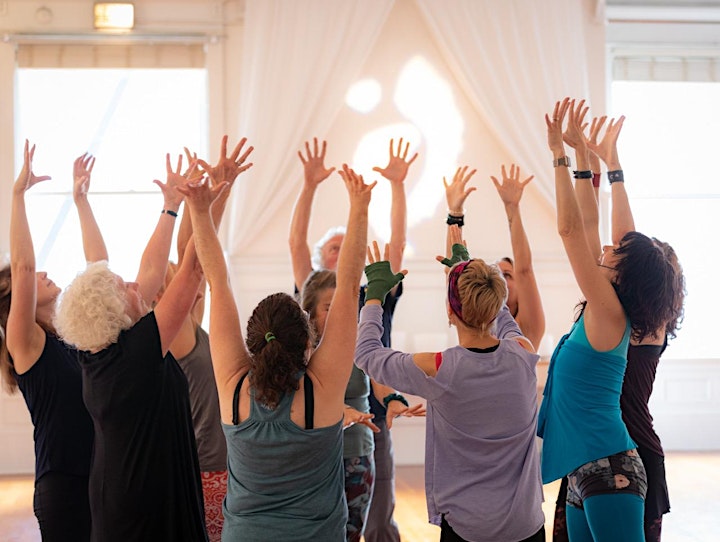 Dorit offers nia Whitebelt trainings in English and Hebrew