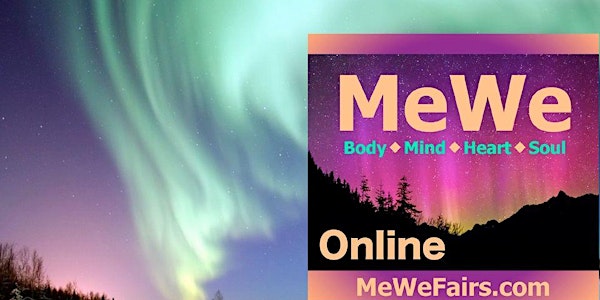 Online MeWe Fair for Energizing Body Mind Heart Soul (Sliding Scale)
Refund policy
Contact the organizer to request a refund.
Eventbrite's fee is nonrefundable.
Come experience different metaphysical, intuitive & alternative health Practitioners sharing wisdom, guidance & more.
About this event
Enjoy ~15 Readers, Healers, Coaches & Vendors at our ONLINE MeWe Metaphysics & Wellness, Body Mind Heart Soul Fair! All are Welcome!
This event is posted in many places, so signups here do not indicate likely attendance.
Come experience a sampling of different metaphysical, intuitive and alternative health Practitioners sharing wisdom, guidance and more - very similar to a live event in person, but we meet online!
We'll start off together in the Main Room, then attendees will be able to move through Practitioner/Vendor Breakout Rooms (like Booths at a Fair) connecting with as many Practitioners & Vendors and listening to as many Talks, Group Healings/Readings etc. as they like! Private Sessions will happen in separate Session Breakout Rooms (just like the more private space at the back of a booth). Talks & Group events will get announced on the screen so everyone knows what is happening and when, wherever they are.
Everything is included unless a Practitioner/Vendor promptly clarifies that it has a separate fee.
Every Fair includes a different set of practitioners offering a wide range of modalities. See the list of Practitioners, Vendors & Talks for this Fair below.
We meet online at JoinTheFair.com.
Intuition • Spiritual Counseling • Psychic Readings • Channeling • Shamanic Healing • Sound Healing • Akashic Records • Tarot • Mediumship • Dream Readings • Life Coaching • Intuitive Eye Reading • Medical Intuition • Reiki • Theta Healing • Bodywork • Archangels • Oracles • Spirits and Guides • Astrology • Hypnotherapy • Health Coaching • Dating Advice and much more!
**Please support us to continue having these events by purchasing sessions, classes and products with our Practitioners & Vendors. Most offer their Sessions are at special lower prices for the Fair. You may do them at the Fair in private rooms or sometimes purchase them now and schedule them for later.**
Free free to drop in at any time during the event and stay as long or as short as you'd like. If you arrive in the middle of the event, it may seem very quiet because everyone is in the Breakout Rooms. The admin staff in the Main Room (e.g., Laureli, Anissa, Geo) will get you all set up and into the flow.
Enjoy these Talks:
(coming soon)
Experience these Practitioners:
(coming soon)
WHAT: Online MeWe Fair
WHEN: Saturday August 13 from 5-9pm PT (8pm-12am ET)
WHERE: Join the Fair online at JoinTheFair.com - simply click on the big button. You'll go to https://zoom.us/j/845224889?pwd=QVh0a2hTV0MwZlVUUGFETTZYZTVCdz09 (Meeting ID: 845224889 & Password: 058314)
HOW MUCH: Sliding Scale
General Admission: $5
Pay as You Can: $4-Free
HOW TO PAY: PayPal at https://www.paypal.com/paypalme/laurelishimayo (or to laureli@thrive-wise.com) or Venmo @LaureliShimayo or https://www.eventbrite.com/e/online-mewe-metaphysics-wellness-fair-for-energizing-body-mind-heart-soul-tickets-224959980357
5.4% of Profits on this event are also paid to Real Rent Duwamish - https://www.realrentduwamish.org/
The beginning of all Fairs is now being recorded and shared in places such as Facebook Live, so by attending a Fair you are giving us permission to use this recording in publicizing this and future MeWe Fairs or individual Practitioner/Vendor offerings. If you prefer privacy, keep your video off or join by phone, etc. If you want to ask a question of our practitioners with privacy, chat with them in a Breakout Room and/or book a Session!
Please note that this event is not a therapeutic setting, and we are not here in the role of counselors. If you have needs that would best be served by a mental health professional, do not consider this event as a substitute for such care.
This event is on Facebook at: https://www.facebook.com/events/603501107570661
Practitioners, if you'd like to share your work in this or a future online event, click on the Get a Booth button and fill out the form at https://www.mewefairs.com/get-a-booth
For Practitioners & Vendors who are new to the Online Fairs or simply want to learn how to share their work online, we have a set of training videos on using zoom. Email Geo@thrive-wise.com to get all the info on our events. Our Practitioners & Vendors FB Group is at https://www.facebook.com/groups/MeWePractitionersVendors/
The MeWe Fairs are produced by Laureli Shimayo, an Intuitive Eye Reader, Body Psychology Coach & Matchmaker. The Fairs began in Laureli's home in 2014 with 6 practitioners and have grown to be 1 and 2-day events in 4 cities in WA & OR plus online, with up to 75 practitioners and vendors offering their work simultaneously. We now have events Online as well that include Practitioners and attendees from 4+ continents. See all that's happening at https://www.mewefairs.com/