Online Meditation Course via Zoom: The Buddhist Path of Awakening
Join us for a buddhist online course, studying the Buddhist book "The Profound Treasury of the Ocean of Dharma" by Chögyam Trungpa Rinpoche
About this event
Join our online Buddhist Course every Tuesday on Zoom for Group Meditation, Presentation & Discussion (livestreamed via Zoom)
Drop-ins Welcome!
Please note: Rather than registering through Eventbrite please go to our website here to register and learn how to attend this course.
ABOUT THE COURSE
In the eleventh century AD the Muslim invasion removed Buddhism from India, but by this time it had already spread to Southeast Asia, China, Korea and Japan. Buddhism did not travel to Tibet until the 7th-8th Centuries AD and later throughout the centuries, and since it evolved continuously in India from the time of the Buddha, the Tibetan transmission was by far the most complete. Further, led by many great Tibetan practitioners, Buddhism kept evolving in Tibet right up to the present, and today it presents in three main divisions: the Hinayana, Mahayana, and Vajrayana. This is the rich and profound tradition that the great Tibetan teacher and meditation master, Chögyam Trungpa Rinpoche, brought to the U.S. in 1970.
Starting in 1973 Trungpa Rinpoche began taking his students away each fall for a three-month retreat, presenting the teachings of these three divisions. He continued to do this for thirteen years, and the teachings he gave have been transcribed and digested into the three volumes of The Profound Treasury of the Ocean of Dharma. The teachings are based in part on the writings of the great 19th-20th century Tibetan teacher, Jamgön Kongtrül Lodrö Thaye, writings which Trungpa Rinpoche had studied in Tibet and which he used as inspiration for his talks here in the U.S.
These volumes are one of the very finest ways to immerse oneself in the teachings of Tibetan Tantric Buddhism, presented by one of the most accomplished expositors of Buddhism ever to arrive in the West. Trungpa Rinpoche loved Western language and culture, and he presented the teachings in American idiom, translating the often culturally unfamiliar images beautifully into English language and culture. Please join us for a feast of dharma (teachings).
Led by meditation teachers John Baker, Barry Cunningham and Laura Read
Tuesday Zoom Schedule:
6:45 - 7:00 PM ET: Social Conversation
7:00 - 7:30 PM ET: Meditation (You may join the meditation at any time or just come for class)
7:35 - 9:00 PM ET: Class & Discussion
John, Barry or Laura will give a presentation from a chapter of Chögyam Trungpa Rinpoche's The Profound Treasury of the Ocean of Dharma, Volume One followed by a Q&A from the attendees.
--
HOW TO JOIN OUR LIVE ZOOM MEDITATION CLASS ON TUESDAYS
Go to our website here and follow instructions.
For any questions, please contact us here.
You may purchase the book in paper or in Kindle edition at Amazon or at the Shambhala Publications website. https://www.shambhala.com/profoundtreasury.html
Class video recordings will be posted on our website a few days later to review or if missed a class.
Free or by $10 suggested donation. A donation can be made on our website after class.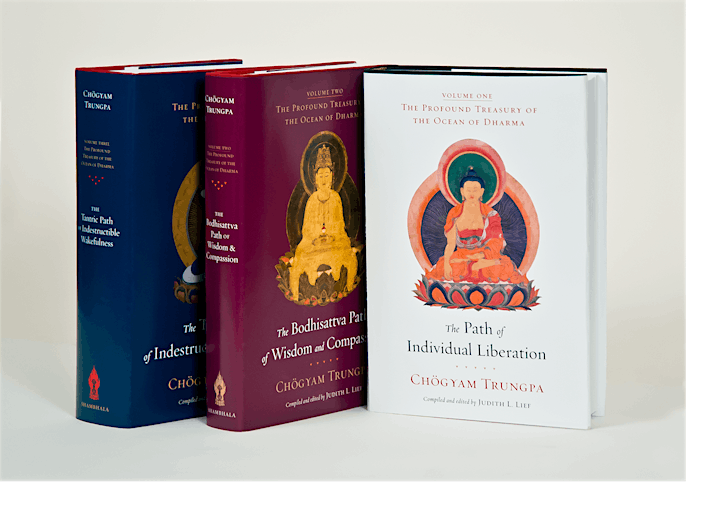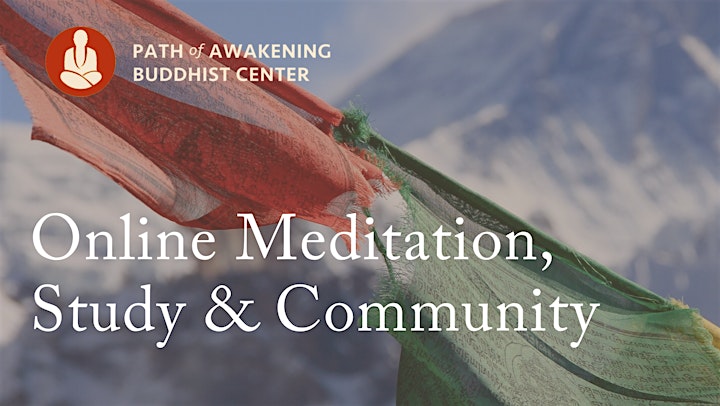 Missed a class? Video recordings of the presentation will be posted a few days after each class on our website. Go to our website to learn how to attend the course: www.pathofawakeningbuddhistcenter.org
Organizer of Online Meditation Course via Zoom: The Buddhist Path of Awakening
Path of Awakening Buddhist Center (formerly New York Buddha Dharma) meet for Daily Morning Meditation via Zoom at 9:00-10:15 AM ET as well as 30 minutes of Evening Meditation from 7 PM to 7:30 PM ET. Join us anytime. Meditation instruction upon request at our morning meditation meeting. We also offer a Buddhist study course on Tuesday evenings after evening meditation at 7:35 PM ET. Drop-ins welcome. All our meetings are by donation. No pre-registration required to attend our online meditation meetings. View schedule and how to join us on Zoom here.