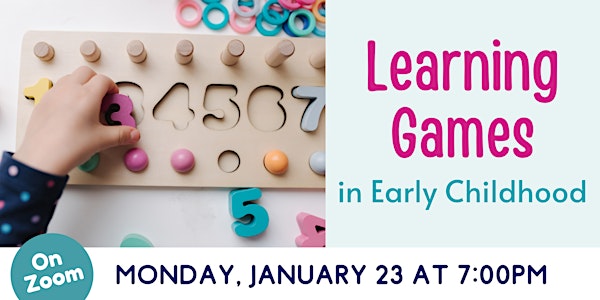 ONLINE: Learning Games in Early Childhood
Learn how to use games to promote learning in the early childhood classroom.
About this event
NOTE: This workshop was rescheduled from December 12.
NEW DATE: JANUARY 23, 2023.
This class will take place online on Zoom. Please see the FAQ below for more information.
Join Kristin Miller, M. Ed., to learn how to use games to teach skills to young children!
Make preschool time FUN time!! The foundation for learning in education is through opportunities of play and real-life scenarios. During this training, participants will gain insight and identify scenarios on incorporating play-based games throughout their preschool program environment and routines. We will also have fun together creating game-based learning activities for participants to take back with them and use with their students. This training is ideal for the preschool and Pre-K classroom teacher! Together we will learn how to make learning time meaningful and engaging for the children we teach!
FAQ:
Will I get a certificate for attending the class?
Yes. We will email certificates within a few days of your class. If you don't receive a certificate within a few days, please email registration@georgetownproject.org.
How do I use Zoom?
Please read our Zoom Info & Tips sheet here.
How will I get the Zoom link?
Eventbrite will send a confirmation message and reminder messages that include the link to the online event page. You will be able to start the Zoom workshop by clicking the link.
Other questions?
Feel free to email registration@georgetownproject.org. We're happy to help!