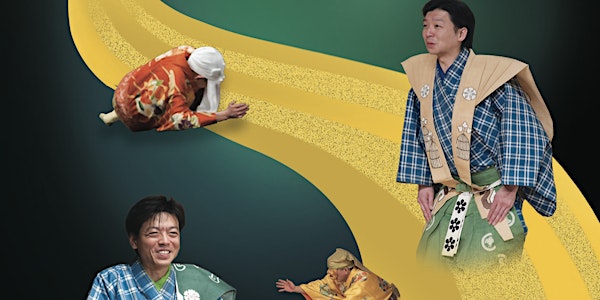 Online KYOGEN - 400 YEARS OF LAUGHTER IN KYOTO
KYŌGEN-400 YEARS OF LAUGHTER IN KYOTO which was postponed due to the pandemic has been scheduled as an online event on March 10th, 8 pm (EST
About this event
We will be welcoming the Ōkura school Kyogen actor, Shigeyama Ippei. Active both in Japan and internationally, he is known not only for his Kyogen performances but also for his appearances in theatre and TV. He will introduce the history of Kyogen and give some pointers on how to enjoy its distinctive qualities, followed by performances of "Kakiyamabushi" (The persimmon Thief) and "Susugigawa" (The Washing River).
"Kakiyamabushi" is a traditional play while "Susugigawa" is an adaptation of a medieval French farce, "Le Cuvier", written by Iizawa Tadasu in 1952.We will be bringing you, from Kyoto!, the distinctive Kyogen of the Shigeyama family, which both preserves a long and illustrious heritage and also takes on the new and innovative!After the performances, there will be a Q&A session where Shigeyama Ippei will directly answer your questions.
We look forward to having you join us for this exciting event.
This program is supported by THE TOKYO CLUB and Crédit Agricole CIB.
オンライン配信
「狂言〜京都400年の笑い」
3月10日午後8時(米国東部標準時)
コロナ禍により昨年延期しました「狂言〜京都400年の笑い」を、3月10日午後8時(米国東部標準時)よりオンライン配信にて開催いたします。
本企画では、京都を拠点に400年間「笑い」を一途に追求してきた茂山家より、大蔵流狂言師・茂山逸平氏をお迎えします。国内外の狂言公演だけでなく現代劇やテレビなどでも活躍する茂山逸平氏による狂言解説の後、本企画のため京都金剛能楽堂にて収録の「柿山伏」(古典狂言)と「濯ぎ川」(新作狂言)を鑑賞いただきます。
長い歴史の中で古典を伝承し、現代に新作も発信し続ける茂山家の狂言の魅力を京都からライブでお届けします。質疑応答では茂山氏が皆様のご質問にお答えしますので、奮ってご参加下さい。
古典から現代へと繋ぐ京都400年の笑いをどうぞお楽しみください。
本企画は一般社団法人 東京倶楽部とクレディ・アグリコル・CIB の支援を受けて開催いたします。