Online KSD / KMPi Certified Kanban System Design Training
Kanban System Design (KMPi), Accredited by Kanban University - Recognized globally as the leading certifying body for Kanban professionals.
About this event
Schedule
This online class will be conducted in 4 consecutive days.
Each day for 4 hours.
If dates do not match your schedule, feel free to contact us for alternative options.
Also, there is option to conduct this class during mornings (9:00 CET - 12:00 CET or 13:00 CET - 16:00 CET)
There are other timings available if the your time zone do not match. Please contact me to learn more.
Online Course Outlines
The Kanban System Design (KSD) online course is designed, so you have time to study at your paced and also interact with the trainer and other students daily. Therefore a typical two days KSD class is going to be extended to 4 days. Each day we will spend three hours together online to go over some of the concept and practice, and you will have time to do self-study and complete assignments for the next day.
To learn more about this course, please see this page: https://www.learnkanban.cz/kanban-system-design-ksd
Prerequisites
There is no prerequisite.
But, it is highly recommend to read Kanban Blue book by David J Anderson or Essential Kanban Condensed. (You will receive a physical copy of both books when you attend the class.)
Kanban University® Credential
After completion of Kanban System Design (KSD/KMPi) and Kanban Management Professional (KSI/KMPii) classes, participants will receive internationally recognized Kanban Management Professional (KMP) credential.
Participants Receive
Certificate of Completion of Lean Kanban University Certified Kanban Training, digital format.
Membership in Lean Kanban University and a listing in the LKU Alumni Directory.
This is the first of two steps to the KMP credential. Order with the KMP II course, Kanban Cadences and receive a 10% discount on the second course.
Learn more about extra bonuses and benefits here: https://www.learnkanban.cz/kanban-system-design-ksd
Policies
Substitutions of participants are allowed anytime until the start of the class
Refunds are provided as follows: 35 days or more, 100%; 15 days or more, 50%
The organizer reserves the right to cancel classes if registrations are insufficient.
The organizer reserves the right to change the location of the class.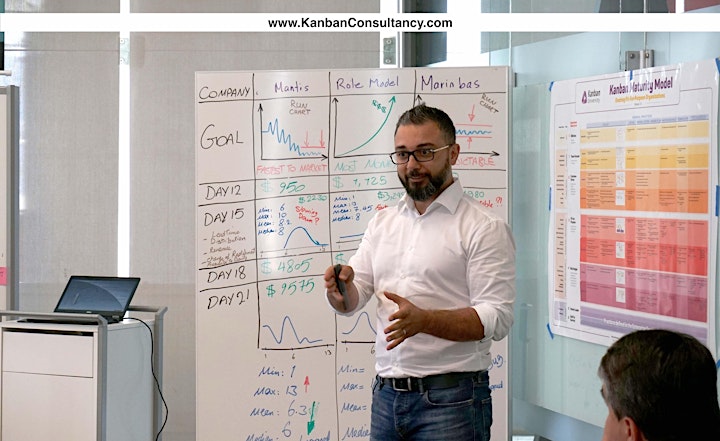 Organizer of Online KSD / KMPi Certified Kanban System Design Training