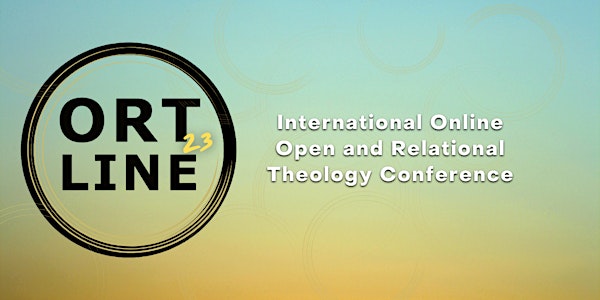 Online International Open and Relational Theology Conference
Sign up for this two-day, international, online event exploring the latest ideas in open and relational theology!
Refund Policy
Contact the organizer to request a refund.
Eventbrite's fee is nonrefundable.
About this event
1 day 9 hours

Mobile eTicket
This two-day online zoom conference features authors recently published in the field of open and relational theology. Authors confirmed to date include Gabriel Atchison, Chad Bahl, Michael Berra, Joseph Bracken, John Buchanon, Anna Case-Winters, Ilia Delio, Bruce Epperly, Jonathan Foster, Greg Hoover, Michael Lodahl, Brian McLaren, Thomas Jay Oord, Russell Pregeant, Ian Todd, Keith Ward, and Randy Woodley.
Get in early on the price!
We realize conference attendees may not be able to participate every hour of the conference. So audio recordings will be available to conference registrants to download for 90 days after the conference.
Hosted by Thomas Jay Oord, Jonathan Foster, and Brian Felushko. Emails will be added to respective newsletters. You, of course, will be welcome to unsubscribe if you need.
-------------------------------------------
Schedule:
Friday, February 10
8am Pacific Time: Keith Ward, Personal Idealism – Panelists: Tim Miller, Lina Langby, Matt Huffman, Fidel Arnecillo
9am Pacific: Michael Berra, Towards a Theology of Relationship – Panelists: Donn Peters, Ryan Lambros, Natalya Cherry, Matthias Wenk
10am Pacific: Thomas Oord, Pluriform Love – Panelists: Carol Kingston-Smith, Beth Hayward, Wendy Francisco, Dan Rosado
11 am Pacific: John Buchanan, Processing Reality – Panelists: Pam Buzalka, Karl Forehand, Roger Wolsey, Sheri Kling
Midday Break
1pm Pacific: Gabriel Atchison, Are You the Unchurched? – Panelists: Mark Umstot, Mike Brennan, Libby Tedder Hugus, Aimee Hein
2pm Pacific: Randy Woodley, Indigenous Theology and the Western Worldview – Panelists: Chris Hoklotubbe ; Danny Zacharias, Melissa Stewart, Jessica Stonecypher
3pm Pacific: Anna Case-Winters, God Will Be All in All – Panelists: Chris Baker, Andy Stanton-Henry, Karen Winslow, Kelley Weber
4pm Pacific: Chad Bahl, God Unbound – Panelists: Amanda Oster, Vikki Randall, Brandon Brown, Dan Kent
Saturday, February 11
8am Pacific: Ian Todd, Why Are You Here? – Panelists: Tracy Tucker, Bob Riggles, Zack Allen, Maribeth Trueblood
9am Pacific: Russell Pregeant, Mystery Without Magic – Panelists: Josh Patterson, Shaleen Kendrick, Ulrick Dam, Tori Owens
10am Pacific: Ilia Delio, The Hours of the Universe – Panelists: John Pohl, Bethany Sollereder, Philip Averay, Maynard Moore
11am Pacific: Jonathan Foster, Theology of Consent – Panelists: Rebecca Adams, Adam Ericksen, Katelynn Carver, Jay McDaniel
Midday Break
1pm Pacific: Joe Bracken, Reciprocal Causality in an Event-Filled World – Panelists: Tripp Fuller, Thomas Estes, Donna Bowman, Philip Clayton,
2pm Pacific: Brian McLaren, Should I Stay Christian? – Panelists: Rodger Rushing, Steve Watson, Kristin Kaminski, Brian Felushko
3pm Pacific: Greg Hoover, The Pain Killer – Panelists: Donna Ward, Eric Hughes, Shawn Ryan, Kyle Russell, Max Johnson
4pm Pacific: Michael Lodahl, Matthew Matters – Panelists: Kalie Hargrove, Jared Byas, Russ Preagant, Chris Jorgensen
5pm Pacific: Bruce Epperly, The Elephant is Running – Panelists: Travis Keller, Andrew Schwartz, Kat Reeves, Scott Klepach