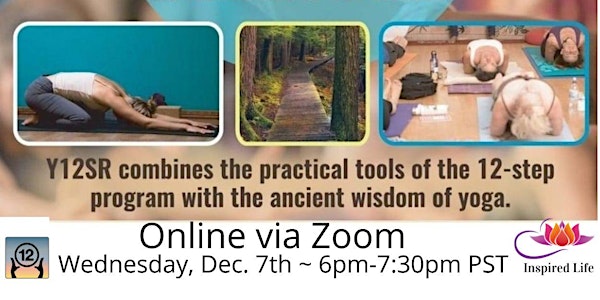 ONLINE: Inspired Life Y12SR Yoga and Recovery with Susan Watkins
Y12SR is a 12-step based sharing circle and yoga practice open to anyone dealing with their own addictive behavior or the behavior of others
About this event
Welcome to Inspired Life Yoga of 12-Step Recovery with Susan Watkins offered online via Zoom!
You are invited to come join us as we "connect the dots" and "release the issues that live in our tissues" through combining the practical tools of the 12-step recovery program with the ancient wisdom and somatic approach of yoga.
Modeled from the meetings of 12-step programs, our time together will begin with a 12-step recovery based group sharing circle where participants will be able to share experience, strength, and hope. We will follow the group sharing circle with a trauma-informed Gentle Yoga Practice designed to help release the issues in our tissues.
All levels of recovery and yoga are welcome! Our meetings are open to anyone dealing with their own addictive behavior or affected by the addictive behaviors in others. Y12SR is not a replacement for meetings, sponsor or any part of the 12-step program. Y12SR deepens any work participants may be currently doing or jumpstart the journey of self-discovery.
We will meet online, via Zoom, the 1st and 3rd (5th if applicable) Wednesday of the month from 6:00pm - 7:30pm PT
This event is by sliding-scale donation.
Suggested donation amounts:
$ 30 (I can pay a little more)
$ 24 (I can pay the full amount)
$ 12 (I can pay this much)
$ You choose the amount - You can't keep what you have without giving some away
$ 0 (No one will be turned away for lack of payment; you are more important than your money)
A portion of the proceeds from this meeting will benefit the Y12SR Community Outreach Initiative, a project of The Giveback Yoga Foundation — a 501(c)(3) entity — helping bring the healing principles of Y12SR into 100 under-resourced treatment centers.
Please register in advance for this event.
I look forward to sharing and holding this space.
Many Blessings,
- Susan