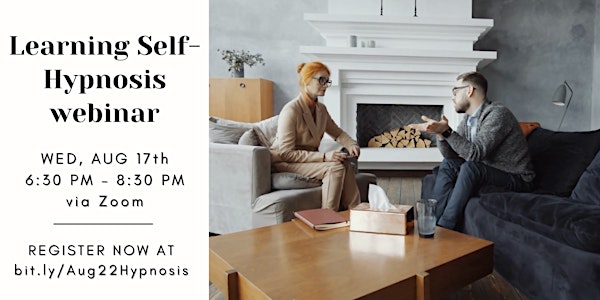 Online Hypnosis Webinar: Learning Self-Hypnosis
Learn the art of Self-Hypnosis!
About this event
In this 2-hour webinar, you will learn the basics of self-hypnosis, a dynamic tool that will enable YOU to make changes in YOUR life, and that has been used by some of the world's most successful people - a tool that can be beneficial in all different areas of your life!
Self-hypnosis has been dubbed the new mindfulness, and can be seen by many as the next step in managing well-being - instead of clearing your mind, it's all about developing it.
In this workshop you will learn the difference between hypnosis and pure meditation, how to enter a hypnotic state, and autosuggestion techniques. Your thoughts are powerful - learn how to harness them!
The cost of this online group hypnosis session is $40.00 per person. You can sign up here on Eventbrite, or through Acuity. Questions? You can contact me at 919.696.5264 or integrativehealinginc@gmail.com!