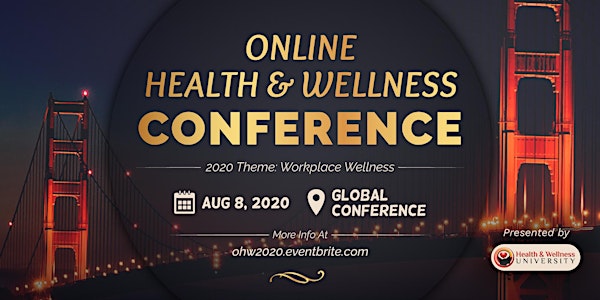 Online Health and Wellness Conference
Online Health and Wellness Conference on 8.8.2020!
About this event
Welcome to the Online Health and Wellness Conference!
Join us on Saturday August 8, 2020 for the one-day Online Health and Wellness Conference that will include workshops focused on health and wellness topics and where you will have the opportunity to implement the skills you are learning throughout the day.
You can expect to learn from top-notch presenters including TEDx speakers, successful entrepreneurs, attorneys, and best-selling authors and you will have immediate access to them. See the line-up of our awesome speakers below!
No other conference brings together this group of professionals, speakers, and entrepreneurs, don't miss it!
Professionals, executives, entrepreneurs, business owners, and undergraduate and graduate students attend each year!
All attendees seek to enhance their health and wellness and the Conference is an incredible opportunity to learn from other like-minded professionals and entrepreneurs!
The video conferencing information will be provided closer to the event!
We look forward to seeing you virtually at the Online Health and Wellness Conference Conference on August 8, 2020!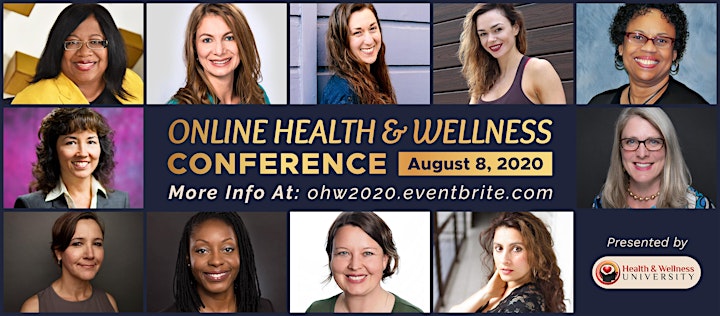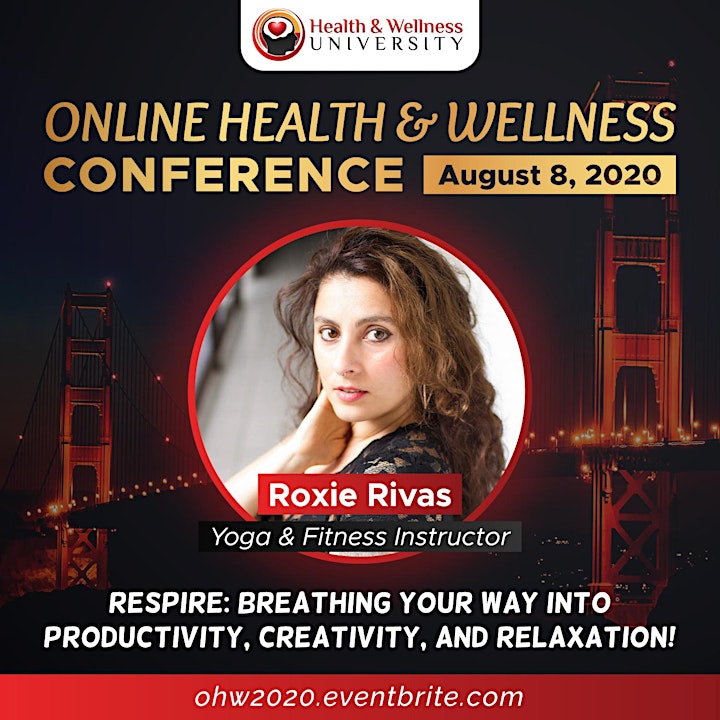 Roxanne (Roxie) Rivas is Yoga Instructor and she will be leading us in breathing exercises and meditations that will keep us strong throughout our day. Roxie will provide three segments (morning, mid-day, and afternoon) that will focus on breathing and meditative techniques that will help you get through your workday more empowered.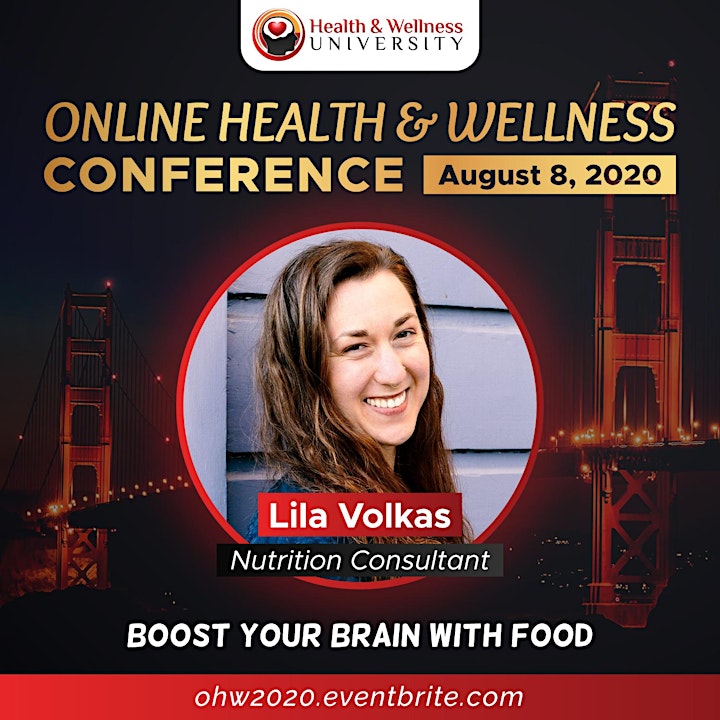 Do you struggle with brain fog? Have a hard time focusing? Learn what factors go into brain health and how to optimize your diet to boost your cognition. Join Certified Nutrition Consultant, Lila Volkas N.C., in identifying the foods that drain your brain and which ones boost your neurons. Receive practical tips on how to support healthy eating habits at work, so you can boost your productivity and mood.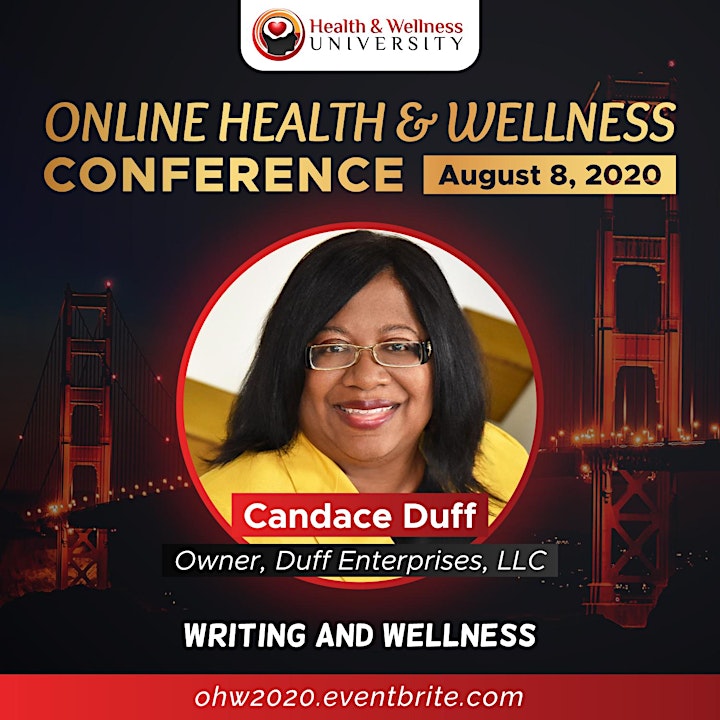 Writing of any type takes a great deal of creativity and brain power. For many of us, this is a task that we must engage in for work. It is important to remember that each of us is most productive and most creative at different times throughout the day. Join Candace Duff as she discusses the importance of scheduling writing during times that we are the sharpest and how this will make us more effective and productive at work. Also, storytelling is crucial to any type of writing or speaking that we do - both on the job and off as people tend to learn best through stories. If we can paint a picture with our words, we can be more productive and effective in communicating with customers and colleagues and get through our day more empowered.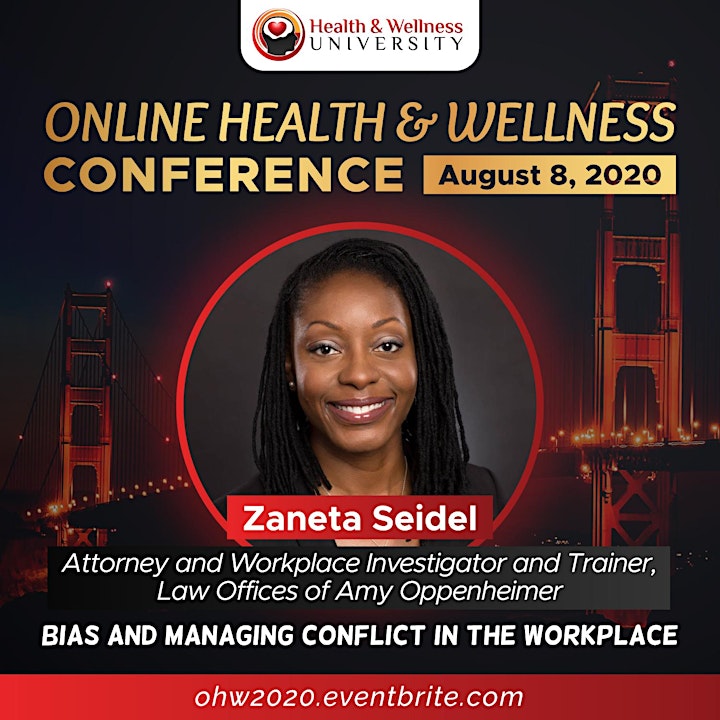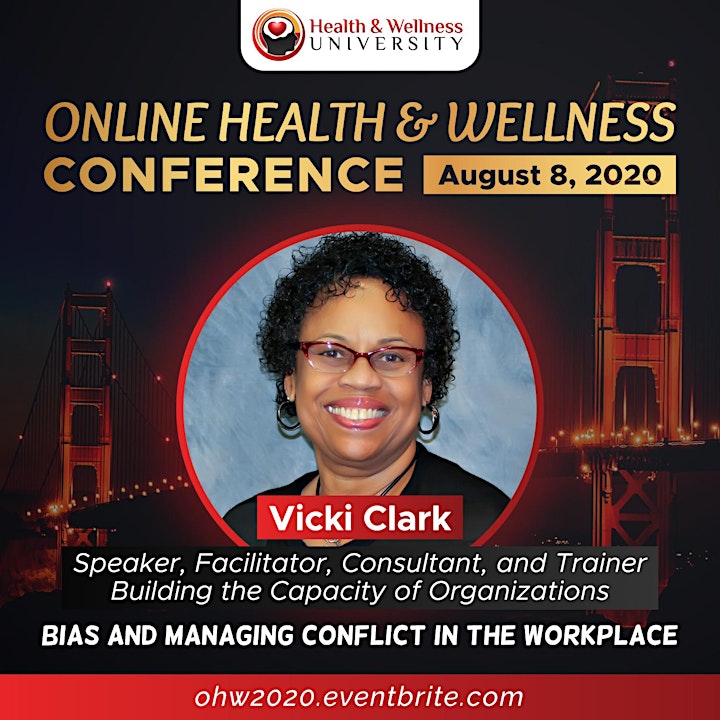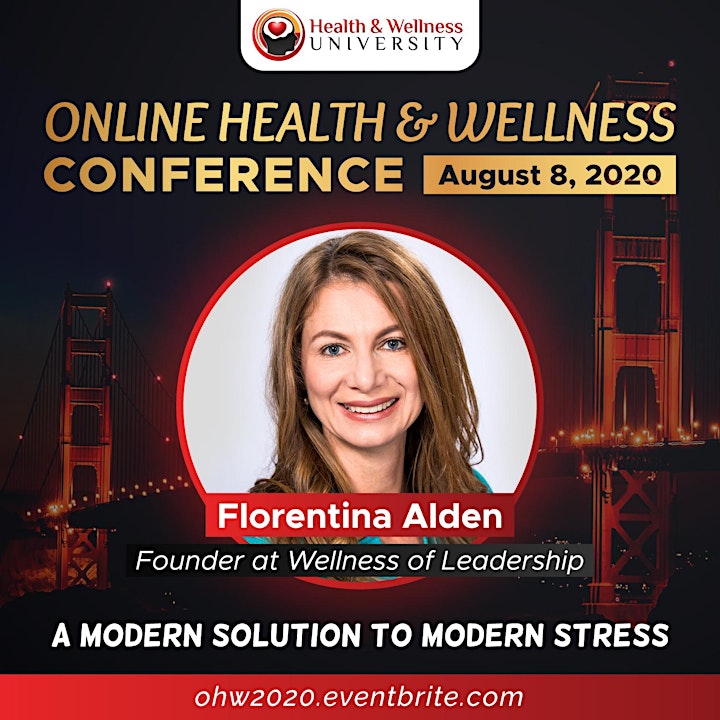 Chronic job stress can be harmful, making it difficult for our bodies to stay healthy. Stress is a mental reaction to difficult circumstances and challenges. Through neuroplasticity, we can re-train the brain to respond to stress. Neurofeedback is a non-invasive, drug-free method that improves brain performance and functions such as agility, flexibility, focus, concentration, emotional resilience, energy, and motivation. Neurofeedback in the workplace gives the individual the mental skills needed to effectively respond and adapt to stress. Join Florentina Alden for this session that focuses on a modern solution to modern stress.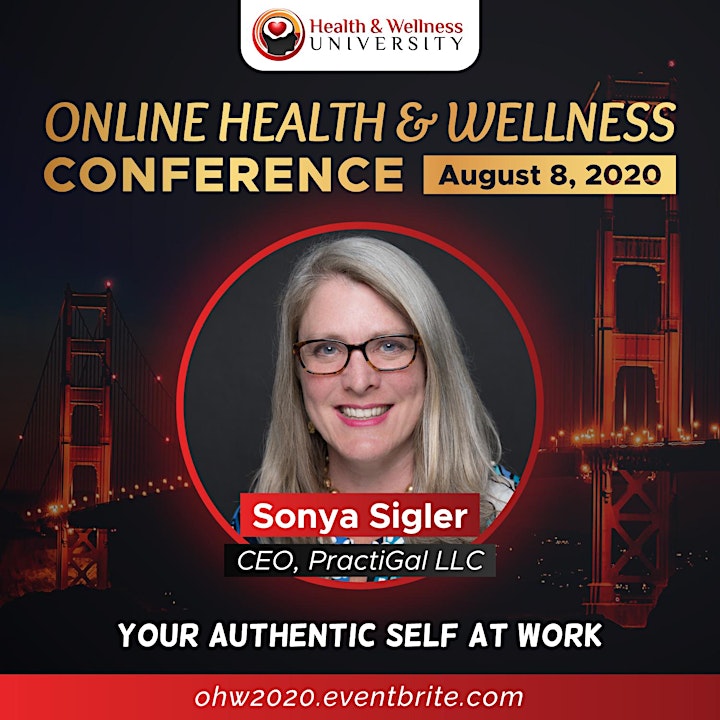 During this highly interactive Know Your Value Workshop you will walk away with transformative tools to build your confidence in talking about yourself and your accomplishments. Your personal brand reflects who you are, your values, your motivation, and your career goal, and this is incredibly important for our health and personal and professional growth. Your personal brand also reflects what is unique about you and your value proposition.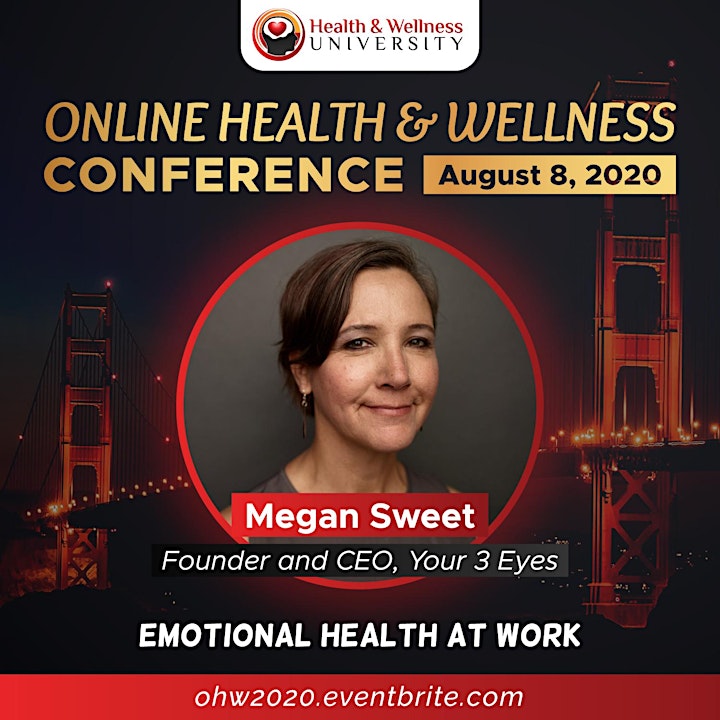 Attending to our emotional health requires us to be aware of how we feel, why we are feeling it, and to manage our response to that feeling skillfully. Whether we're anxious, angry, sad, or happy these emotions will be present in the workplace as well as at home. In order to be both effective in our work and at peace with ourselves we need to know our own emotional landscape well. This panel will discuss emotional health at work and provide insights and learning on how to care for ourselves. The panel will also assess the employer's responsibility and opportunity to strategically commit to creating psychological health and safety in their organizations for everyone's benefit. We will dive into how to hold the employer accountable for the environment at work and thereby not leaving it up to individuals to manage their emotional health on their own.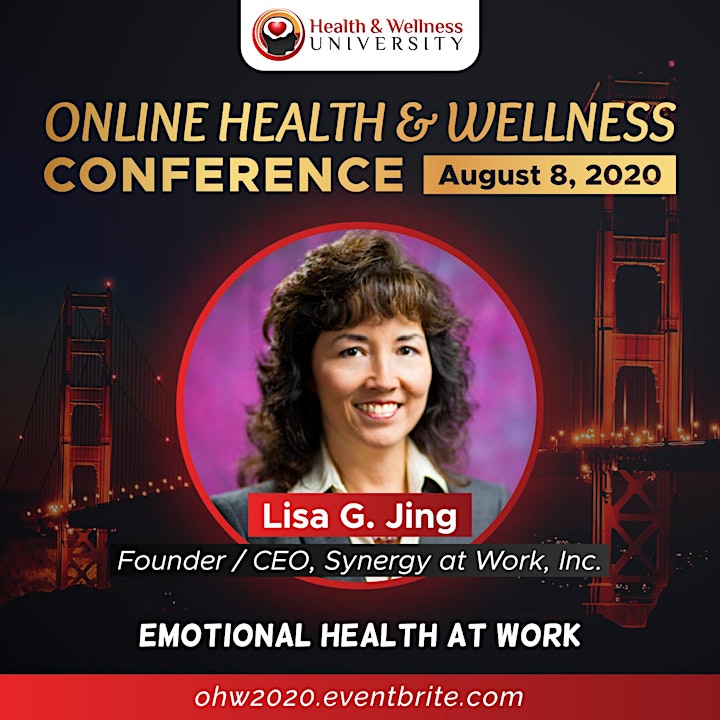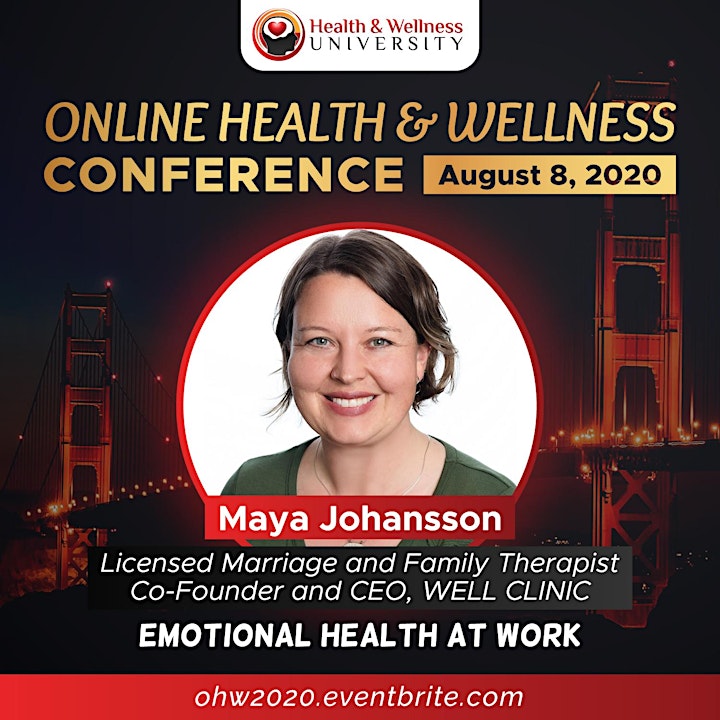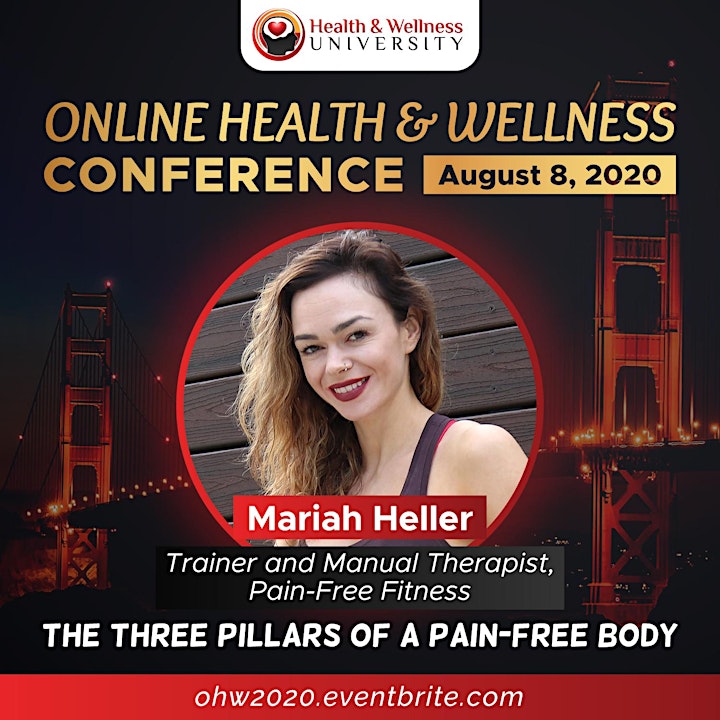 In this session, Mariah Heller will show you the main practices involved in becoming and remaining pain-free, and how to put those practices into a daily routine that works for YOU.