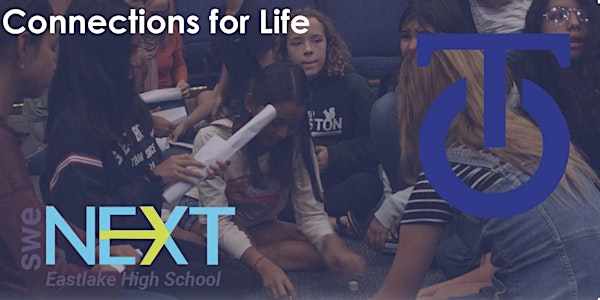 Online G.I.R.L.S. Conference 2022
The online access to the 8th annual G.I.R.L.S. Conference run by Eastlake High School's FRC team #2543 TitanBot and SWENext club.
About this event
If you are on this page, you clicked the link at the bottom of the in-person G.I.R.L.S. Conference registration to take you to the registration page for the online event. After registering to this event, you will gain access to a private Youtube livestream link broadcasting the in-person conference via your email inbox. You will be able to listen to all the professional speakers and panelists present their experiences and struggles. Please make sure to register to recieve the online link. We hope that listening in on their professional and academic undertakings will help you build the skills necessary for building Connections for Life!
Our speakers:
Dr. Marie Zhivago is a professional cartoonist and published children's book author, as well as the founder of Dr. Zhivago Global Branding and Licensing. She has 26 years of experience in business partnership in retail, food, and mobile app development, and she has worked as a consultant and educator in Visual and Performing Arts in local school districts. Additionally, she is highly involved in her community and has been a speaker at Comic-Con, the National Council of Negro Women San Diego, and the San Diego chapter of the Black American Political Association of California (BAPAC SD), among many others.
Christina Deckard is a highly experienced individual with over 30 years of STEM experience after working is acoustics, surveillance, lasers, and many more areas for SPAWAR Systems Center, a DoD research facility. She has received numerous awards from the Navy for her work, and she has authored multiple research papers; she is a strong advocate for STEAM education and has been an instructer of physics and mathematics in local San Diego colleges. She currently works for SAIC as contract support to Biotechnology Modernization.
Justina Eten is a clinical laboratory scientist at UCSD in the Immunogenetics and Histocompatibility Laboratory. She obtained a Master's of Forensic Science from National University and served in the U.S. Navy for 10 years as a hospital corpsman.
Mary "Dr. Mimi" Isaac is a practitioner and researcher interested in improving female engagement and retention in engineering and technology who has earned a BS in mechanical engineering (Union '82), an MA in teaching technology education (NCAT '11), and finally a PhD in education (ODU '15). She has over 30 years of experience in numerous areas within the global energy business General Electric, and has been an avid member of STEM communities such as FIRST, SWE, AAUW, ASEE, and many more.
Additional panelists:
Chelsea Ballinger is a lead systems engineer at Booz Allen Hamilton working as an engineering consultant. She earned her undergraduate degree in physics at UCSD and her masters in mechanical engineering at SDSU, then moved on to work for the Department of Defense, and now Booz Allen Hamilton.
Merilyn Stuck is a senior consultant working in program management and cybersecurity with Booz Allen Hamilton. She earned her B.S. in international security at SDSU and moved on to gain her M.S. in cybersecurity at CSU San Marcos. She has worked through many unique internships and has been at General Atomics developing drone technology for the U.S. Marine Corp; she then moved on to Sony, and finally Booz Allen Hamilton.