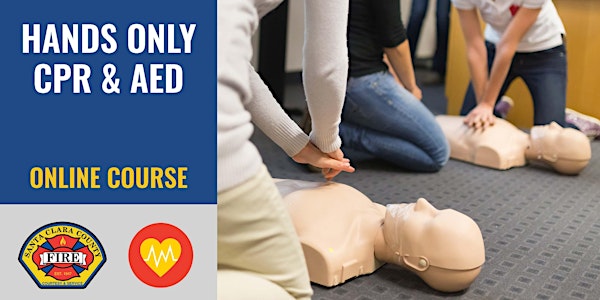 ONLINE: FREE Hands Only CPR & AED Class | Cupertino | 1.5 hrs | 2022
ONLINE: Hands Only CPR AED Class
About this event
Most often, citizens will need to perform CPR on a family member, friend, or co-worker. Learn how to perform proper compressions and how to use an AED in the precious moments before first responders arrive.
This class follows the American Heart Association (AHA) CPR/AED curriculum.
Participants will learn:
How to perform chest compressions
Learn what an automatic external defibrillator (AED) is and how to use it
How to aid an adult or child who is choking
To participate in this class, please ensure you have the following ready:
Access to the Zoom Application via a computer, laptop, or iPad (the link to join the class will be sent prior to the class via Eventbrite)
Ability to turn your camera ON so the AHA Instructor can view you performing proper chest compressions
Access to a pillow or large stuffed animal to practice actual chest compressions
NOTE: Participants will NOT receive a two-year CPR/AED certification card. Participants will not learn the breathing (head tilt, chin lift) technique OR infant CPR/choking in this class.
If you would like to learn these skills, enroll in a Heartsaver CPR/AED class, visit:
_________________________________________________________________________________________
This training class is open to individuals who live or work within the communities served by County Fire: Campbell, Cupertino, Los Gatos, Los Altos, Los Altos Hills, Monte Sereno, Saratoga and the unincorporated surrounding areas.
_________________________________________________________________________________________
Follow Santa Clara County Fire Department on Eventbrite to stay informed about upcoming safety classes and community events: http://sccfd.eventbrite.com