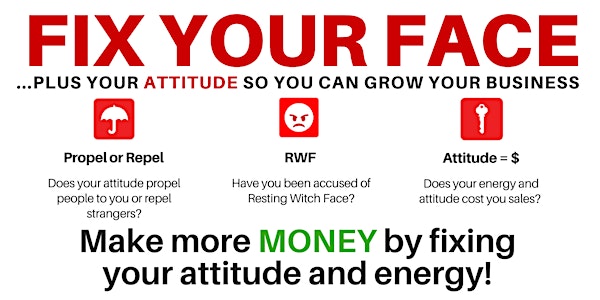 Online: FIX YOUR FACE (& your attitude so you can make more $$)- 3/26/20
Refund policy
Refunds up to 7 days before event
Description

Over the past four years, people have asked me for help them with making that first impression their BEST. They know they are blowing it regarding "how they first come across to others," yet struggle with what to FIX.
In their hearts they want to be the best version to make that amazing positive memorable impression, but they keep missing how to do it.
Do you know this person?
When a person's low confidence and apprehension appears too noticeable, it confuses others.
This definitely affects how others connect (or don't connect) with us. Together all of that determines if they will do business with us after we network.
It's ok! We have some help with ways to best connect!
Join this lively zoom seminar the evening of March 26th to address those areas holding you back from making more money and connecting in a great memorable way with strangers and prospects.
Let us help you make more $$$
Two dynamic professional trainers will be your speakers. They joined forces to bring this practical solutions seminar!
Grab a ticket quickly to get the best deal...
-Elizabeth