Online First Responder Safety Training for Electric Drive Vehicles
Sales Have Ended
Registrations are closed
Thank you for registering for this course. Please allow up to three business days to receive your scholarship login information. Thank you, The NAFTC
Sales Have Ended
Registrations are closed
Thank you for registering for this course. Please allow up to three business days to receive your scholarship login information. Thank you, The NAFTC
Description
Course Description:
Online First Responder Safety Training for Electric Drive Vehicles

Learn important procedures and acquire critical information on how to safely deal with electric drive vehicles at the scene of an accident.
Take advantage of this award-winning First Responder Safety Training Electric Drive Vehicles online course

Not all firefighters are able to participate in classroom-based training because of location, cost and time constraints. Because of this, the National Alternative Fuels Training Consortium (NAFTC) is excited to provide this online Electric Drive Vehicle First Responder Safety Training.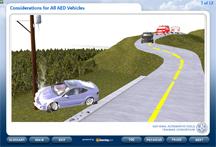 The NAFTC's award-winning Electric Drive Vehicle First Responder Safety Training online course will equip firefighters with the knowledge they need to safely respond to automotive incidents involving electric drive vehicles, including:
Hybrid Electric Vehicles
Plug-in Hybrid Electric Vehicles
Battery Electric Vehicles
Fuel Cell Electric Vehicles

Participants in the Electric Drive Vehicle First Responder Safety Training Online Course will learn about different electric drive vehicle configurations and their built-in safety systems; how to identify an electric drive vehicle at an accident scene; battery technologies; electric vehicle systems; and how to approach, assess, and secure electric drive vehicles. Participants will also complete online modules for personal protective equipment and gear, crash and fire, and extrication.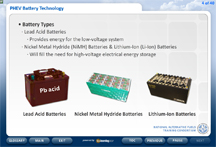 This course takes place 100% online and does not require classroom participation. A certificate can be printed by the students at the completion of the course. This is a self-paced course that the participant can take as their schedule allows in one, or mulitple online sessions. Students can leave the course at any time and return to the place in the couse at a later date to continue their study.


Important note: Please make sure the email address entered during the application process is valid, as your online login information will be forwarded to you via email. Please allow for three business days to receive your login information.

Courses are offered through the NAFTC in Morgantown, WV. Customized classes can be brought to your doorstep and designed to meet your particular needs. Please contact micheal.smyth@mail.wvu.edu for customized training details, course pricing and for NAFTC membership information.