Event Information
Refund Policy
Refunds up to 7 days before event
Eventbrite's fee is nonrefundable.
Description
Welcome to the sixth Online Facilitation Unconference (OFU), the week-long international online gathering exploring the art and practice of facilitating in virtual environments.
Join us October 7–13, 2019 to explore, share, learn, and connect with colleagues of all skill levels and from many different backgrounds from around the world.
Once again, the event will be held alongside and as part of International Facilitation Week.
Members of the International Association of Facilitators (IAF) qualify for a 30% discount. Check the IAF website to find your discount code.
To learn more, check the list of frequently asked questions (FAQ).
To receive the latest updates, please subscribe to the OFU email newsletter and follow us on Facebook, Twitter or Instagram, or join our LinkedIn group.
See you there!
Event timeline
Here's what to expect:
Late August – Event registration opens
Early September – Draft schedule rolls out (with more details to be added over the coming weeks)
Late September – Online forum launches (start meeting fellow attendees, brainstorm session topics, find collaborators and co-hosts etc.)
October 7, 8 & 9 – Join one of several live welcome sessions (each approximately 45 minutes long via videoconferencing) as well as several other pre-scheduled sessions. More details soon!
October 10, 11 & 12 – Unconference sessions
October 13 – Room for spill-over sessions (if needed)
Later in October – Event follow-up
We will publish a more detailed agenda, including dates and times for pre-scheduled sessions, in early September. Stay tuned!
Schedule & session time slots
Here's a rough overview of how the event will unfold:
The start times for the 3-4 welcome sessions will be announced no later than September 25.
The schedule for the unconference sessions will emerge once the event kicks off, October 7.
Once again we will try our best to concentrate sessions during three daily time slots optimized for trans-continental collaboration:
Mornings (Americas + Europe overlap)
8-11am Pacific Time (that's 5-8pm in the afternoon/evening in Berlin)
Evenings (Americas + Australasia overlap)
4-7 pm Pacific Time (that's 10am to 1pm in the morning in Sydney)
Nights (Europe + Australasia overlap)
12-3am Pacific Time (that's morning in Europe & afternoon/evening in Sydney)
Please feel free to block these times in your calendar (for the three days of the unconference, October 10, 11 & 12), see below.
As a session host, you are free to schedule your sessions outside of these recommendes slots. Just be aware that it may be harder for participants from other continents to attend your session.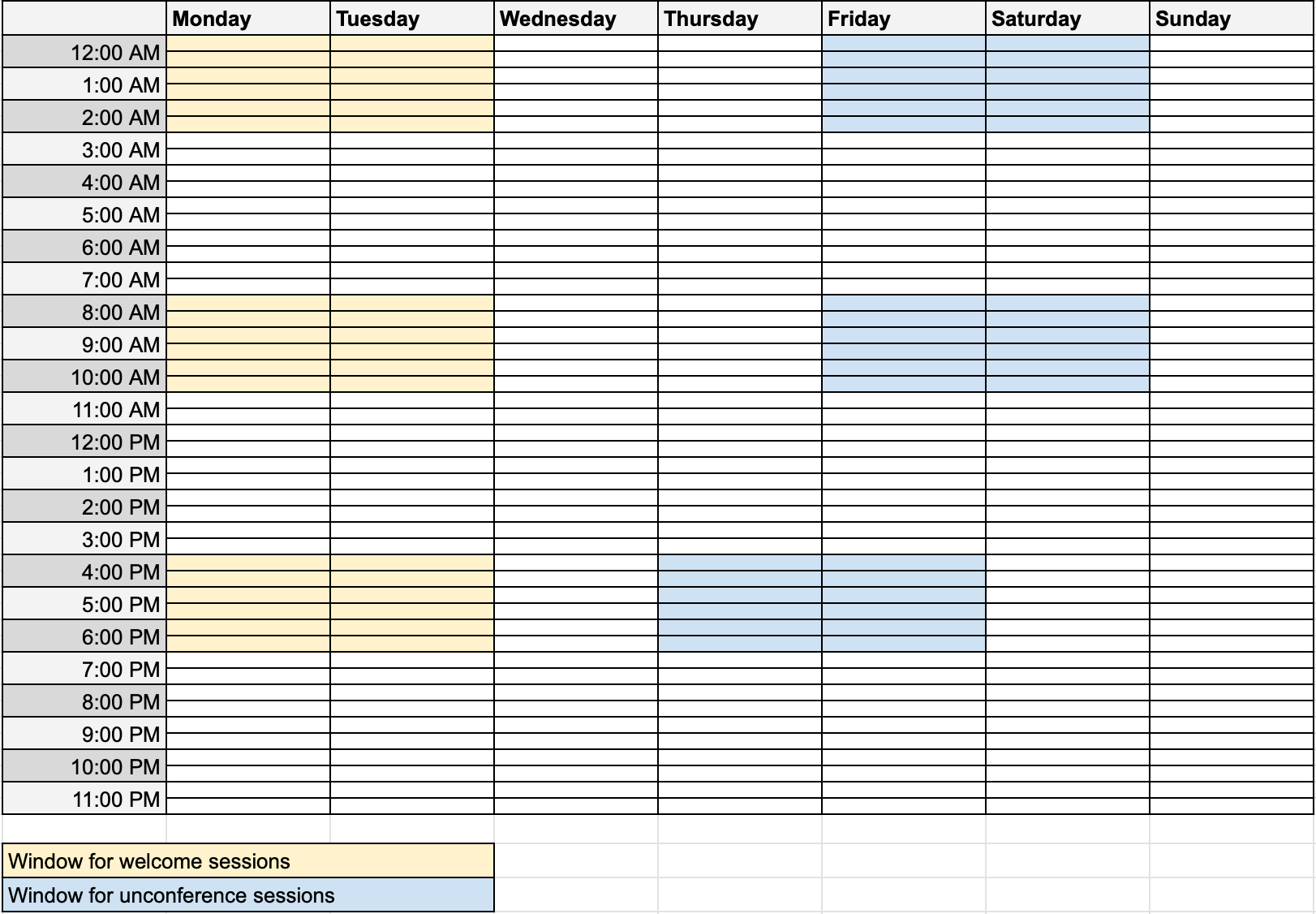 Key things to know
Here's what makes OFU special:
The Online Facilitation Unconference (OFU) is an annual learning exchange on the art and practice of facilitating in virtual environments. It is a community-driven event that brings together people from diverse backgrounds from all around the world whose woFrancencludes, or who otherwise have an interest in, facilitating in the virtual realm.
OFU is an event for newbies and experts alike. Whether you are a seasoned facilitator pro or a beginner, whether you are already highly skilled using technology for this work or still trying to figure out the possibilities – OFU provides a venue where you can ask and answer questions, share and solicit advice, discuss your latest project, challenge or idea, explore new tools, discover new tricks, and find like-minded colleagues.
Aside from a handful of pre-scheduled sessions, OFU is an unconference (an event where the participants co-create the agenda). OFU is a blank slate for you to pitch your ideas in collaboration with fellow attendees. The agenda will emerge based on your and everyone else's needs and interests.
OFU is a not-for-profit event. It is important to us to keep the event open and accessible for everyone who is passionate about the topic. If you aren't in a position to pay full price, please make use of our low income options and encourage others to do the same.
Sometime in early September, we will announce a more detailed schedule that will specify the various main time slots during which the majority of unconference sessions are expected to be held. These time slots are optimized for trans-continental collaboration and sharing (Americas, Europe/Africa and Asia/Australia). We highly encourage our session hosts to schedule their sessions within these designated time slots as much as possible so as to maximize global participation.
Session hosts are encouraged to record or otherwise document their sessions. Following each session, any available recordings or documentation will be posted to the OFU website in a timely manner.
OFU works best the more people contribute. Don't miss this unique opportunity to learn and share about facilitation in virtual environments and bring along your friends and colleagues from around the world!
Countries represented
As of September 6, our first 50+ registrants hail from the following 16 countries:
Australia

Canada

France

Germany

Greece
India
Italy
Netherlands
New Zealand
Romania
South Africa
Spain
Sweden
Turkey
United Kingdom
United States
This number is likely to go up as we add more participants from around the world!
Topics of interest
Here's what some of our registrants have expressed they'd like to see at the event:
Techniques for online facilitation

New techniques and working in different environments

Tips and tricks for hosting online sessions

Tips for keeping people engaged

Facilitating challenging conversations
Best ways to develop policies without face-to-face meetings
Accelerating trust in virtual spaces
Facilitation in AR/VR/MR
Use of different tools without depending on them
Latest tools for collaboration and engagement
Useful features of some common/affordable platforms
Low bandwidth tools
GDSS software

Technical setups
Make sure to add your topics of interest when you sign up. Thanks!
Date and Time
Refund Policy
Refunds up to 7 days before event
Eventbrite's fee is nonrefundable.