Sales Have Ended
Registrations are closed
Thank you! We look forward to seeing you at the Online Facilitation Unconference 2019! Please watch out for further updates via email.
Event Information
Refund policy
Refunds up to 7 days before event
Eventbrite's fee is nonrefundable.
Sales Have Ended
Registrations are closed
Thank you! We look forward to seeing you at the Online Facilitation Unconference 2019! Please watch out for further updates via email.
Description
Welcome to the sixth Online Facilitation Unconference (OFU), the week-long international learning exchange exploring the art and practice of facilitating in virtual environments.
Join 125+ practitioners from 30+ countries to share, learn and connect.
Please read below to find out all you need to know!
Thanks,
Your OFU19 Team
---
Get updates
To receive the latest updates, please subscribe to the OFU email newsletter and follow us on Facebook, Twitter or Instagram, or join our LinkedIn group.
International Facilitation Week + IAF discount
OFU is part of International Facilitation Week.
Members of the International Association of Facilitators (IAF) qualify for a 30% discount. Check the IAF website to find your discount code.
Low income discounts
We are proud to offer low/no income options. Nearly 15% of registrants to date have taken advantage of this opportunity (and so can you). If you are interested in the exciting world of leading groups in the virtual realm – we really want you to attend and share your perspective!
Who should attend?
OFU aims to connect people from these three broad groups:
Facilitators
Practitioners from other fields whose work also includes facilitation
Technology providers
We welcome participants from all backgrounds and across all levels of expertise regarding facilitation and the use of online technology.
For example:
You are a senior facilitator who has just recently started to deliver your services in virtual settings. Do you have questions or roadblocks you'd like to discuss?
Or maybe you are already an expert in virtual facilitation. Are your currently exploring some cutting edge method and would like to try it out in a friendly, constructive environment?
Or maybe you work in an entirely different field (e.g., business management, education, the non-profit sector) and you are frequently tasked with leading productive online meetings or expect your staff to be able to so. Do you have insights you can share? Or are you looking for approaches to training that fit your needs?
What to expect?
OFU provides an opportunity for attendees to explore, share, learn, and connect with colleagues from around the world. We hope you will:
Explore a wide range topics related to online facilitation
Find answers to questions or challanges you have encountered in your work
Discover new tools, methods, resources etc.
Make new connections with colleagues from around the globe!
Come away with new energy and plenty of new ideas to try out next!
As is the nature of unconferences, our attendees are active partcipants who will create the agenda collaboratively based on their shared interests and needs. Yes, you will help shape what will be talked about!
Pre-event timeline
Late August – Event registration opens (this page)
Early September – Draft schedule rolls out (see below)
Late September – Online forum launches (start meeting fellow attendees, brainstorm session topics, find collaborators and co-hosts etc.)
Event timeline
October 7–9 – Join one of several live welcome sessions (each approximately 45 minutes long via videoconferencing) as well as several other pre-scheduled sessions. More details soon!
October 10–12 – Unconference sessions
October 13 – Room for spill-over sessions (if needed)
Later in October – Event follow-up
Schedule & session time slots
We will start off with a few welcome sessions at the beginning of the week. We have scheduled two and will add more based on demand:
Welcome session I
Monday, October 7 at 12am Pacific (9am in Berlin)
Welcome session II
Monday, October 7 at 8am Pacific (5pm in Berlin)
We also have a "trainer track" this year, consisting of a few pre-scheduled sessions with trainers in the field of virtual facilitation:
Milda Latakaite: "Deep Self Discovery Through Games Using POY"
Wednesday, October 9 at 11am Pacific (8pm Berlin)
Let me invite you to a game. A game which is not about winning or losing. It is a game about looking at yourself from a different perspective, getting more curious about people around you and maybe.. just maybe – inviting something new in your life. Our brain loves to have fun. It is even scientifically proven by quite well known neuroscientists that we learn faster, we tend to open our curiosity for new things while playing games. So probably there is no surprise that quite unexpectedly deep and rewarding process is happening within in the moment where heart and brain meets games. During this session we will play with cards. Not any kind of cards. We will open Points of You cards and have fun with it. These are tools created by people who have a mission to positively impact the world through empathy, connection and acceptance. There is no magic behind it. But there is an invitation to look at everything around including yourself from a different angle. We will first have a look at ourselves. Learning more about others around us will follow. And in the end we will reflect towards our learnings and opportunities that different methods can bring to us in order to grow emotionally at least a centimeter.

Herve Tunga: "The Virtual Road"
Wednesday, October 9, 10pm Pacific (October 10 at 7am in Paris/Berlin)
What happens when you have work to do and, for whatever reason, you can't meet in the same physical location? Beyond advocating for virtual tools, this session will address how to practically transpose to the virtual world the known and validated facilitation techniques. The goal being to maximise the efficiency of online gathering to generate quality work.
Amy Lenzo: "The Practical Magic of Online Hosting"
Thursday, October 10, 9–11am Pacific Time (6-8pm in Berlin)
What's possible today was almost unheard of even a few short years ago - working online now we are able to connect with one another across space and time and transcend many of the challenges that would have kept us from knowing and working with one another in the past. If this freedom necessitates a new level of responsibility and the need of our times is to be more fully human together, in conversation about what matters most to each of us, our online meetings and events need to offer opportunities beyond the "one-to-many" webinar format that has become ubiquitous in our field. But what does it mean to host truly participatory calls in an online medium, to create the conditions for real connection? What kind of presence is called for in a host or facilitator? What could a generative relationship with technology look like? Join Amy in a collective inquiry and experiential exploration of these and other questions on October 10th.
Nathalie Sabourin and Hector Villarreal Lozoya: "From Face-To-Face to Virtual: How to Kick-Start Your Journey into Virtual Facilitation"
Friday, October 11 at 7.30am Pacific (10.30am Eastern, 4.30pm Berlin)
Explore the evolution of the role and the competencies of the facilitator in today's fast changing environment as well as the possibilities of online facilitation, by understanding how to incorporate digital engagement strategies. Review key questions to make your headway into online facilitation. Experiment collaborative tools to kick-start your virtual journey.

From the conversations on the online forum, the schedule for the unconference sessions will emerge once the event kicks off, October 7.
Once again we encourage everyone to concentrate their sessions during three daily time slots optimized for trans-continental collaboration:
Mornings (Americas + Europe overlap)
8-11am Pacific Time (that's 5-8pm in the afternoon/evening in Berlin)
Evenings (Americas + Australasia overlap)
4-7 pm Pacific Time (that's 10am to 1pm in the morning in Sydney)
Nights (Europe + Australasia overlap)
12-3am Pacific Time (that's morning in Europe & afternoon/evening in Sydney)
Please feel free to block these times in your calendar for the three days of the unconference, October 10, 11 & 12, see image below.
As a session host, you are free to schedule your sessions outside of these recommendes slots. Just be aware that it may be harder for participants from other continents to attend your session.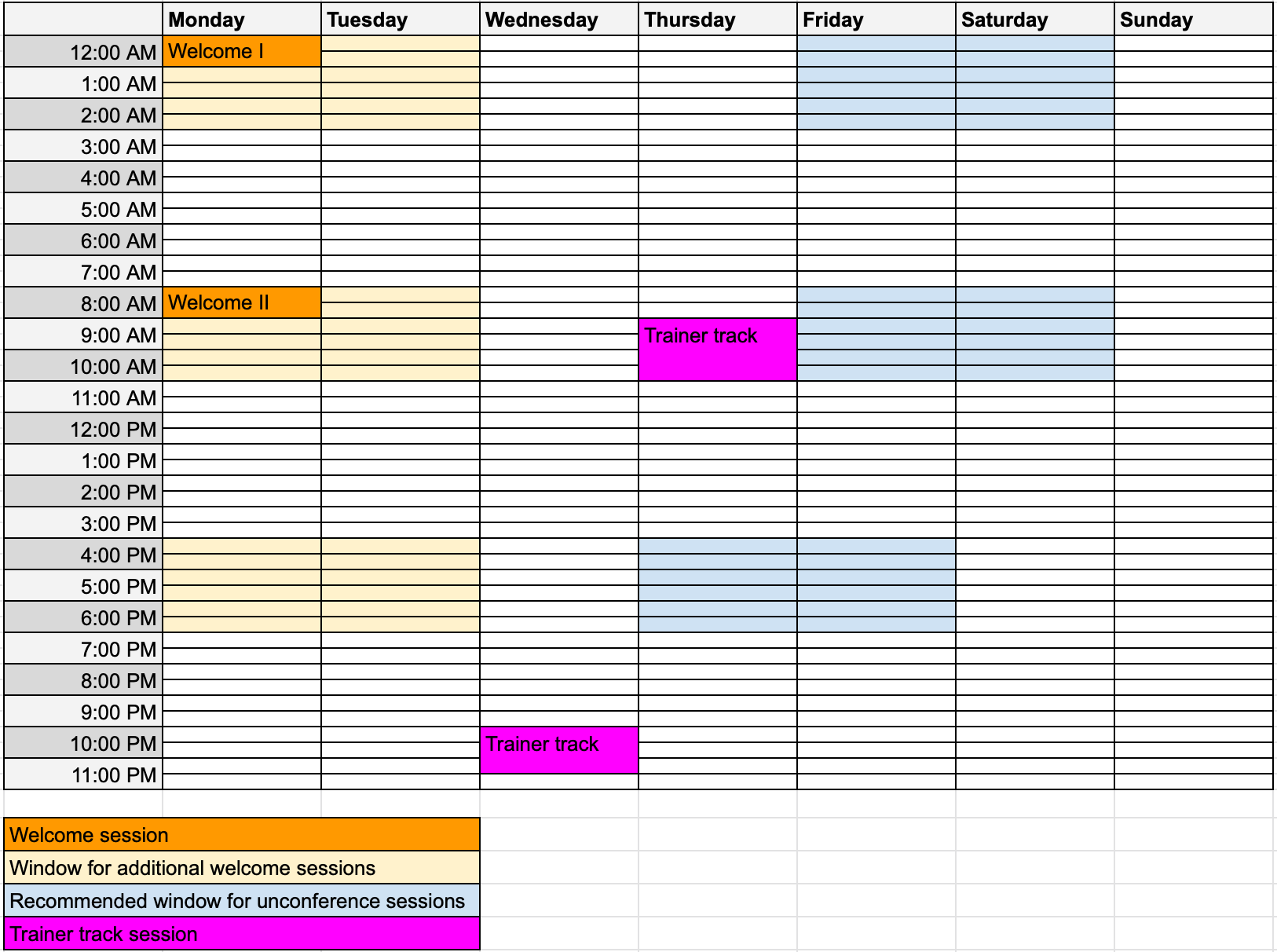 What makes OFU special, anyway?
A few key things to note:
The Online Facilitation Unconference (OFU) is an annual learning exchange on the art and practice of facilitating in virtual environments. It is a community-driven event that brings together people from diverse backgrounds from all around the world whose woFrancencludes, or who otherwise have an interest in, facilitating in the virtual realm.
OFU is an event for newbies and experts alike. Whether you are a seasoned facilitator pro or a beginner, whether you are already highly skilled using technology for this work or still trying to figure out the possibilities – OFU provides a venue where you can ask and answer questions, share and solicit advice, discuss your latest project, challenge or idea, explore new tools, discover new tricks, and find like-minded colleagues.
Aside from a handful of pre-scheduled sessions, OFU is an unconference (an event where the participants co-create the agenda). OFU is a blank slate for you to pitch your ideas in collaboration with fellow attendees. The agenda will emerge based on your and everyone else's needs and interests.
OFU is a not-for-profit event. It is important to us to keep the event open and accessible for everyone who is passionate about the topic. If you aren't in a position to pay full price, please make use of our low income options and encourage others to do the same.
Sometime in early September, we will announce a more detailed schedule that will specify the various main time slots during which the majority of unconference sessions are expected to be held. These time slots are optimized for trans-continental collaboration and sharing (Americas, Europe/Africa and Asia/Australia). We highly encourage our session hosts to schedule their sessions within these designated time slots as much as possible so as to maximize global participation.
Session hosts are encouraged to record or otherwise document their sessions. Following each session, any available recordings or documentation will be posted to the OFU website in a timely manner.
OFU works best the more people contribute. Don't miss this unique opportunity to learn and share about facilitation in virtual environments and bring along your friends and colleagues from around the world!
Countries represented
As of September 30, our first 100+ registrants hail from the following 25+ countries:
Australia

Belgium


Brazil

Canada

Czech Republic

France

Germany

Greece
Hungary
India
Italy
Jordan
Lithuania
Netherlands
New Zealand
Nigeria
Norway
Portugal
Romania
Russia
Singapore
South Africa
Spain
Sweden
Tanzania
Turkey
United Kingdom
United States
This number is likely to go up as we add more participants from around the world!
Topics of interest
Here's what some of our registrants have expressed they'd like to see at the event:
Techniques for online facilitation

New techniques and working in different environments

Tips and tricks for hosting online sessions

Tips for keeping people engaged

Facilitating challenging conversations
Best ways to develop policies without face-to-face meetings
Accelerating trust in virtual spaces
Facilitation in AR/VR/MR
Use of different tools without depending on them
Latest tools for collaboration and engagement
Useful features of some common/affordable platforms
Low bandwidth tools
GDSS software

Technical setups
Make sure to add your topics of interest when you sign up. Thanks!
Trainer bios
Coming soon, stay tuned!
Date and time
Location
Refund policy
Refunds up to 7 days before event
Eventbrite's fee is nonrefundable.
Organizer of Online Facilitation Unconference 2019
The Center for Applied Community Engagement, LLC is a private institute serving the growing professional field of community engagement and public participation practitioners from around the globe through market research, content publishing, industry events and other services.