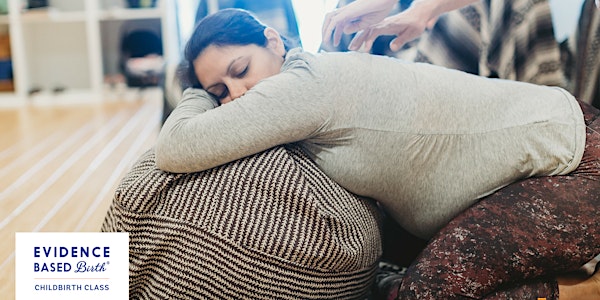 Online Evidence Based Birth® Childbirth Classes - 6 Sessions - Fall 2020
Fall Online EBB Classes
About this event
Get empowered with a Childbirth Class you and your partner will LOVE! 
Start learning evidence-based info today—register now!
A message from Cindy, your Evidence Based Birth® Instructor:
"I have had four births, and each of my births were unique. My first son was a late term preemie, coming at 35 weeks, five days gestation, and was in the NICU a few days.  I had taken classes and prepared best I could- but I honestly felt steamrolled by his birth and there were many things that went in ways I could not have predicted.  I knew I wanted better for my future births, so I started taking classes and learning and along the way I fell madly in love with the idea of becoming a birth professional.  I wanted to help folks have what I wished I did during that first birth- evidence based information so I could make the most informed decisions for myself and my babies possible.  
I went on to have three more births, one accidental unassisted, and two planned homebirths with midwifery care, including one waterbirth.  Having such varied experiences gives me unique perspective and enriches the instruction and doula services I offer.  
Over the past decade I've joyously worked with hundreds of birthing and lactating families.  I'm asked to speak at conferences across the country and have been chosen to become a Doula trainer with two top doula training organizations.  I am also one of the original folks to become an Evidence Based Birth Instructor, and was honored to be part of the Advisory Team who helped make these Childbirth Classes a reality. Working as a birth professional who helps families and other birth and lactation professionals is my passion, eclipsed only by my love of being a parent myself.    
I would be honored to work with you along your path to and through parenthood. To help you form your toolbox of comfort techniques, evidence you can rely on, and to celebrate with you as you add a little person to your family."  
Listen to what some of the first students of the Evidence Based Birth® Childbirth Class have had to say: 
"This class is a total gamechanger for us. I'd heard negative stories…I was scared and very on edge. Then once we started taking the class, and when we learned about interventions that I was apprehensive about… It brought us together in that [my partner] understood birth more, and I understood it more. And as soon as I went into labor, we were on. We were a team." 
"I really appreciated how informative it was. I knew a lot about the biology of birth and babies, but what we learned was just very impressive. It was a really good experience—fairly chill, fairly laid-back, and not nearly as stressful and awkward as I thought it might be. All the information—I never would've thought there was that much information out there!"
 *If you are a Birth Professional seeking to audit the class, information is available at the end of the page.
When you take the Evidence Based Birth® Childbirth Class, you will:
Get mentored by your own Evidence Based Birth® Instructor!
Learn about evidence based care, comfort measures, and advocacy
Get prepared, get answers, get empowered!
Your Childbirth Class includes:
Mentorship from Cindy Calvano, MSEd, CPDT, CD, BMCE, CBS, LLLL, experienced EBB Instructor
Two two-hour classes to practice your labor skills
First two-hour class is Wednesday, September 30, 7:00pm- 9:00pm
Comfort Measures Rehearsal Wednesday, Nov 11, 7-9pm
Five weeks of online videos for you and your partner to watch together
BONUS: Breastfeeding and newborn care videos
BONUS: Four additional video chats with your Instructor and classmates! Wednesdays Oct 7, 14, 28 & Nov 4 - 7-8pm (skipping Oct 21)
BONUS: Earn points throughout the class to redeem for prizes at the end! 
BONUS: This class has been approved to count for those choosing to birth at New Jersey's first free-standing Birth Center, Our Birthing Center.
Ready to Get Empowered? Register for Your Class Now! 
Spots in each class are limited (6 couples per class), do not wait to schedule.
This class is open to both local and distance learners.  You do not need to be local to the instructor to take the class!
What are the registration options?
Choose the package that works best for you!
Standard package: Includes 3-months access to the online portion of the class, spiral bound workbook or PDF if not available, six awesome video-chats with your class. Priced at $375.
Deluxe package: Includes 6-months access to the online portion of the class, spiral bound workbook or PDF if not available, six video-chats with your class, and an additional private Zoom session with Cindy to discuss your birth plan or other birth topics. Priced at $415.
Private Series package: This series will include everything in the standard package but each session will be private with just you, your partner, and your mentor, Cindy.  It cannot be the same exact time as the above group class as Cindy can't be in two places at once, so we will book our six sessions based on your needs and our mutual schedules.  Priced at $515.
Birth Professional Audit
There are only 2 Audit spots for birth professionals each group series, so do not delay in booking your spot.  All auditors will be required to sign an agreement from Evidence Based Birth before class begins. 
Basic Audit: Includes weekly zoom call access with students. There is no access to the online content with the Basic Audit. Investment ~ $175
Professional Audit: Includes weekly zoom call access with students, 7 weeks access to the online content. Investment ~ $200
Deluxe Audit: Includes weekly zoom call access with students, 7 weeks access to the online content and a 30 day trial to the Evidence Based Birth® Professional Membership with opportunities for additional CEUs. Investment ~ $240
Inclusion Policy:
Evidence Based Birth® is committed to creating an inclusive and welcoming environment for pregnant persons of any age, religion, race, sexual identity, gender identity, or relationship status.
Refund Policy:
Your payment reserves a spot in the class and is non-refundable, but tickets are transferable with adequate notice and approval from Cindy.
Questions?
If you have questions, just email me at cindy@treeoflifenj.com
More information on Cindy's services for parents can be found at TreeofLifeNJ.com.
Information on her services for professionals can be found at NJDoulaTraining.com.