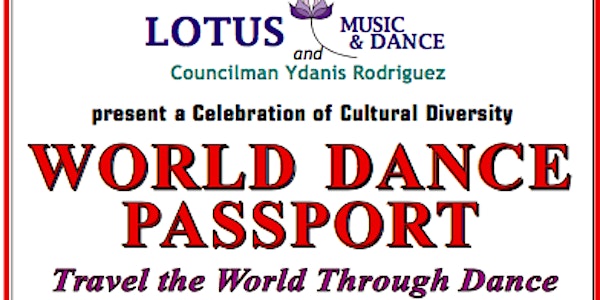 Online Event! World Dance Passport: Travel The World Through Dance
** Online Event ** World Dance Passport: Travel the World Through Dance Sunday May 3rd, 2020 at 4PM
About this event
The World Dance Passport Event is scheduled on Sunday, May 3, 2020 at 4pm. This event will be online. You can go to www.lotusmusicanddance.org to view the video.
Lotus Music & Dance is pleased to present World Dance Passport, as part of the Cultural Immigrant Initiative with support from NYC Councilman Ydanis Rodriguez featuring Bahar Dance, Calipulli Mexican Dance, and Oyu Oro Afro-Cuban Dance. These artists will share their cultural heritages through dances as well as share their immigrant stories. Many of these groups have settled in NYC for more than 10 years, and are passing on their respective traditional art forms to the next generation.
Featured artists include Bahar Dance Ensemble, a group of master dancers who will perform an excerpt from Persian and Mystic Suite, a display of Persian Classical, Persian folk-pop-styling, and a contemporary poetic and spiritual ritual, based on tradition of Whirling Dervishes; Oyu Oro Afro-Cuban Dance Ensemble with its mission to preserve Afro-Cuban culture through dance, song and music using traditional dance forms that derive from the Yoruba, Congo, Carabali, and many more, and Calpulli Mexican Dance Company, a vibrant dance ensemble that brings various interpretations of traditional Aztec dances and other regional dances of Mexico.
This program is supported in part, by public funds from the New York City Department of Cultural Affairs in partnership with the City Council. This event is not sponsored or endorsed by the NYC Department of Education.
Lotus Music & Dance, a non-for-profit 501 (c)(3) organization, was founded in 1989 by master Bharatanatyam dancer Kamala Cesar. It is a center for the preservation and education of traditional and indigenous performing arts. The mission is to keep alive and accessible the music and dance traditions of all world cultures. Lotus Music & Dance remains the only institution of its kind in New York City where master artists from India, Korea, Japan, the South Pacific, Middle East, the Mohawk Nation, West Africa, Bulgaria, and Spain collectively strive to keep their art forms alive and accessible. Aside from its varied schedule of unique, multicultural performances, Lotus offers instruction in traditional world dance and music as well as Arts-In-Education programs to schools throughout the tri-state area. Lotus Music & Dance also presents Manhattan's only open-air pow wow, the annual Drums Along the Hudson®: A Native American and Multicultural Celebration.