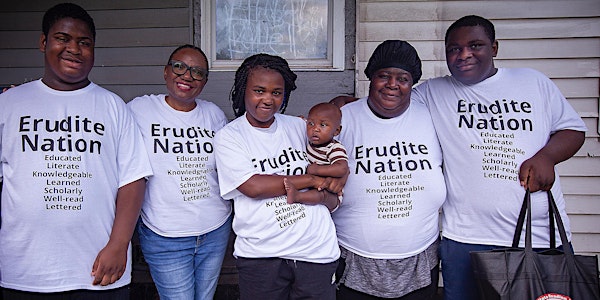 Online Encouragement Team Volunteer Monthly Training for Family Literacy
Help Families Transform Their Lives Through Literacy
About this event
Erudite Nation is more than a t-shirt slogan. It's an identity, a declaration, a change in the narrative of our communities. It's a family's pledge to have 100 books in their home by 2025. It's putting a stop to book deserts. It's a mindset that understands that Literacy is Liberation! It Takes You Higher.
Will you help build Erudite Nation? The Metro East Literacy Project is looking for Encouragement Team Volunteers (ETVs). Every family gets a bag of 25 books. What happens next is a game-changer. ETVs will encourage families along their literacy journey. ETVs will reach out to families seven times throughout the year to support them in their strengths, using positive, affirming words. They play an important role in capturing the family's story. They will also offer community literacy resources and nominate families for the annual Roberta Morris Family Literacy Award. Attend the online training to learn more about becoming an ETV.
Trainings are held the fourth Saturday of each month except November and December. The online trainings are via Zoom.
Here's what some attendees said about the training.
"Linda's training class, presentation and encouragement to address the need for literacy skills is an amazing opportunity. The training taught me how great of a need there is, and how I can help change the lives of families who are waiting to be encouraged in developing valuable reading skills. I am excited to be an ETV member." --Debra
"The training inspired me to try to help reverse the frightening trends we are seeing concerning illiteracy in our area. It showed me that assisting in this effort is fairly easy and incredibly rewarding." --Cynthia
"The training for the Metro East Literacy Project is exceptional. The director, Linda Mitchell, walks you through the challenges of literacy failure via discussion and a PowerPoint presentation that includes very helpful and impacting video clips. The presentation is thorough, professional and will motivate you to connect with this important work."--Kathy