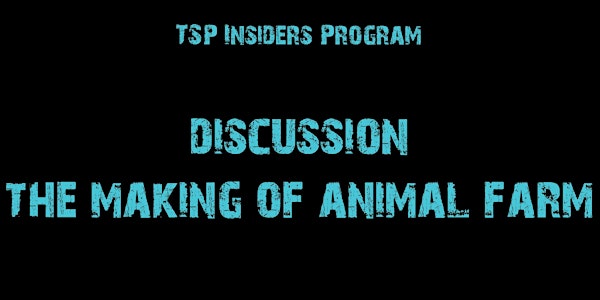 ONLINE! Discussion: The Making of "ANIMAL FARM"
Description
A discussion about the creation of TSP's top-selling and most crititcally-acclaimed production, ANIMAL FARM. Led by co-directors Erin Cronican and Brandon Walker and actors William Ketter and Laura Browne, hear about how the play was adapted from the novel including what challenges we found along the way, as well as fun behind the scenes anecdotes and stories. Included will be a Q&A with the artists.

For more information about our production, visit www.seeingplacetheater.com/shows/10-animalfarm.html

This event is free, but a donation is appreciated - proceeds go directly toward our education program.
This discussion is perfect for those who saw the production, those who love learning about devised theater, and those who were unable to attend but wanted to.
A Zoom link will be sent via email the day-of the event.