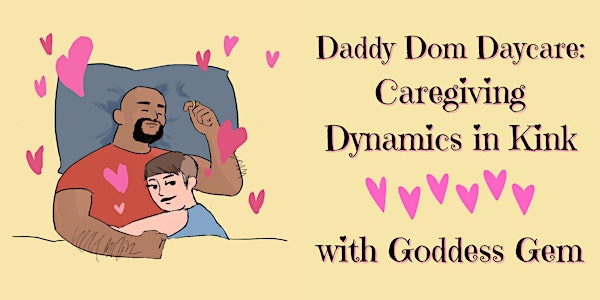 ONLINE: Daddy Dom Daycare - Caregiving Dynamics in Kink with Goddess Gem
In this online workshop, learn how you can add CareGiver/little dynamics to your lifestyle, power exchange, or kinky play!
About this event
Zoom link sent at 6:00pm / Class starts at 7:00pm EST
Do you naturally take on a caregiving role in your relationships? Does the idea of owning, nurturing, and protecting a partner appeal to you, or being owned and protected? Are you interested in BDSM, with a touch (or a heaping cup!) of sweetness? If so, caregiver dynamics (Daddy Dom/little girl, Mommy Domme/baby, etc) might be right for you! In this online workshop, learn how you can add CG/l dynamics to your lifestyle, power exchange, or kinky play.
Daddy Dom and other CG/l dynamics aren't just for heteronormative couples. They can be applicable to any and all gender identities and sexual orientations, including asexuality. This workshop is for anyone who is wondering if the archetypes of Dominant, submissive, Daddy, Mommy, Caregiver, little, babygirl, babyboy, etc, might apply to them and want to learn more about those roles. Expect to explore BDSM principles, gain an understanding of different variations on CG/l dynamics, and learn practical tools for applying it to your relationships.
Even if the specific Caregiver/little roles don't feel applicable to you, this workshop will be a great primer on how to grow any D/s practice from bedroom only to 24/7, or anywhere in between, taught from the lens of a caregiving dynamic.
We'll explore topics like:
- How do you know if a Caregiver/little dynamic is for you?
- What struggles might come up when building a power exchange/kink dynamic?
- What is the nuance between kink and power exchange?
- How do you grow and practice this type of dynamic?
- What is age regression? Is it a required part of Daddy Dom dynamics? (Spoiler alert on this one, no, it's not required!)
- And much more
This lecture-based class is beginner-intermediate level.
CW: This workshop will include some mentions of age regression and trauma.
Discussion of CG/l dynamics is only applicable to consenting adults over the age of 18. You do not need to be identified as little or participate in any form of age regression to adopt caregiving dynamics into your life!
Goddess Gem (she/her) is a queer pro-Domme and lifestyle kinkster. She will lead the class along with her Daddy, Maxwell Fierce (they/them). They have been immersed in the kink lifestyle since 2017, and are based in Brooklyn, New York where they run a tattoo shop and have three fur babies together.
Date and time
Location
Refund policy