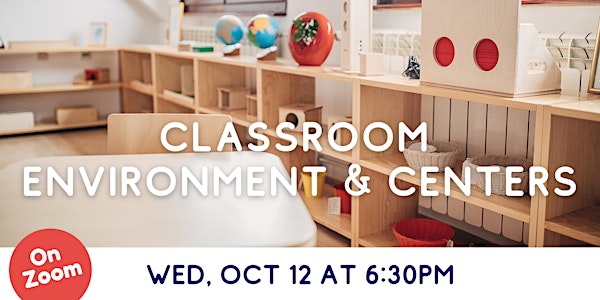 ONLINE: Classroom Environment & Centers
Learn how to make the most of your early childhood classroom environment.
About this event
This class will take place online on Zoom. Please see the FAQ below for more information.
Join Kristin Miller, M. Ed., to learn how to make the most of your early childhood classroom environment!
The environment a child learns in should be set up for success of all levels of development and styles of interest. The environment should include all interest levels of children, play-based learning activities, responsive interactions between teacher and child, and be created in an organized manner for children to work both independently and socially in the center of choice during free play as a second teacher to support development and growth.
This training will address the importance of and provide participants with effective tools for creating developmentally appropriate spaces in the classroom environment through the use of play-based center station areas set up for each age group. Utilizing this strategy and center instructional tools in early childhood settings will allow for classroom learning and instruction to be accommodating, fun, and effective for all children and staff.
FAQ:
Will I get a certificate for attending the class?
Yes. We will email certificates within a few days of your class. If you don't receive a certificate within a few days, please email registration@georgetownproject.org.
How do I use Zoom?
Please read our Zoom Info & Tips sheet here.
How will I get the Zoom link?
Eventbrite will send a confirmation message and reminder messages that include the link to the online event page. You will be able to start the Zoom workshop by clicking the link.
Other questions?
Feel free to email registration@georgetownproject.org. We're happy to help!