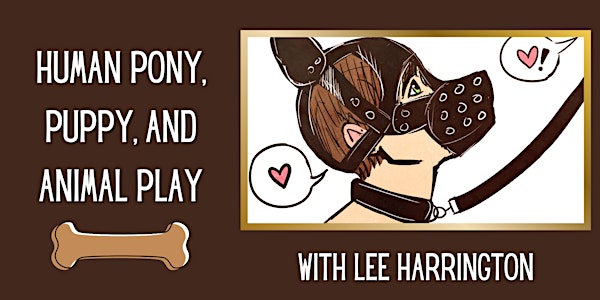 ONLINE CLASS: Human Pony, Puppy, and Animal Play with Lee Harrington
Whether you're a curious handler or an experienced beast, join us as we examine the wide varieties of scenes, toys, lifestyles, & amusement!
About this event
Zoom link sent at 6:00pm / Class starts at 7:00pm EST
Many of us have a conscious or unconscious desire to be a noble human equine, a happy puppy dog, an oily pig in a pen, a lazy cat that gets fed, petted and… but what about those of us who have to take care of these "creatures?" Let's look at the fantasies, desires, and passions behind this richly varied form of identity exploration! Not everyone has the same take on this diverse category of interest: from firm training to shamanic interactions, passive pets to feral monsters, sadistic veterinarians to kids with their favorite pet, cuddly creatures to hard-working guard dogs… there is a little something for everyone. Whether you are a curious handler or an experienced beast of burden, join us as we examine the wide varieties of scenes, toys, lifestyles, and amusement; diving into these practicalities and passions with an open heart and open mind.
Lee Harrington (he/him) is an internationally known spiritual and erotic authenticity educator, gender explorer, eclectic artist, and award-winning author and editor on erotic and sacred experience. He's been traveling the globe, teaching and talking about sexuality, psychology, faith, desire, and more, and brings a combination of playful engagement and thoughtful academic dialogue to a broad audience. A nice guy with a disarmingly down to earth approach to the fact that we are each beautifully complex ecosystems, he examines the human experience from that lens. Lee has been a passion instigator, academic, adult film performer, world class sexual adventurer, outspoken philosopher, kink/bondage expert, and has been blogging about sex and spirit since 1998. Read more about Lee at PassionAndSoul.com.
Date and time
Location
Refund policy