Event Information
Refund Policy
Contact the organizer to request a refund.
Eventbrite's fee is nonrefundable.
Online Chakra Yoga, Meditation & Cacao Journey to Deepen into Self Love on Saturdays Jan 16-Mar 13. Drop ins welcome!
About this Event
Online Chakra Yoga, Meditation & Cacao Journey: Deepen into Self Love
"Set your Heart on Fire with the Eternal Flames of Love of your Sacred Heart"
Saturdays, 16 Jan 2021-13 March 2021, 12pm UK via Zoom
This is a 9 week Sacred Ceremonial online Yoga, Meditation & Cacao Journey to Deepen into Self Love. This journey is for men & women that feel called to open more to the Love of their Self using Yoga, Meditation, Cacao & sacred Ceremony. Drops ins are welcome & each session can be done as a stand alone session. As we remember how to Love ourselves more we begin to embody more of our Higher Self and radiate the Light from our Heart into the world. We begin to live a life of Inner Alignment & Self Connection. My invitation to you is to "Set your Heart on Fire with the Eternal Flames of Love of your Sacred Heart". May the Flames of your Heart Fire Awaken & provide you warmth.
The course is aligned with the lunar cycle. We start on Jan 16 with the Capricorn New Moon to welcome New Beginnings & we work also in Ceremony in each session with the sacred plant medicine of Cacao (raw chocolate) to open the Heart & assist with healing. The course ends with a New Moon Cacao Ceremony & Heart Blessing on March 13 to integrate the energies from the course & expand the Heart to more Self Love. The number 9 also signifies completion & Unity as we journey together over 9 weeks in a sacred group. When this course ends, another mini Yoga online journey will begin on March 20 with the Spring Equinox in the Northern Hemisphere & Autumn Equinox in the Southern Hemisphere.
Dispel the darkness of the ego and open more to the True Love of your Higher Self. Learn to see yourself as Love sees you, through the eyes of Love. Open to more Self Love & Self Compassion. As we fill up our own inner cup with Love we can extend more Love outwards. Our capacity to Love another is determined by our capacity to Love ourself.
Rumi, an inspiring 13th Century Sufi poet says, "Your task is not to seek for love, but merely to seek and find all the barriers within yourself that you have built against it."
Especially channelled & created for YOU, to help you go deeper at this powerful time on the planet! Exploring a different THEME each week to open more to Self Love. We will also consciously work with the lunar, astrological & planetary energies as we approach the Spring Equinox. Expect grounding, Heart-opening, Balancing, Unifying & energising Yoga! You can attend the sessions on a monthly cycle or as a drop in.
Humanity is currently going through a shift in consciousness as we transition into the Age of Aquarius following the Winter Solstice Great Conjunction & the returning of the Golden Age on Earth. This is a powerful offering, intended to support you more deeply at this pivotal time in our collective evolution. The planetary energies of 2020 have bought heightened ascension energies & we can consciously work with these energies in 2021. These ascension energies are supporting us to restore Balance & Harmony within ourselves and on the planet & to open to the full Love of our true Selves.
It's important to stay grounded, connected to your Heart, sacred bodies & the Earth. I invite you to step up your healing process & acceleration into the Light! The power of your Light & Heart are much needed at this time.
** Drop ins are possible and replays available for 7 days if you miss a session live/ want to practice again. There is a DISCOUNT for joining the 9 week course, and FRIEND DISCOUNT - see below under "Energy Exchange" **
💖WHO IS THIS FOR? 💖
For men & women interested in a more spiritual /energetic/ mystical/self-development approach to Yoga working with the Chakras & looking to open to more Self Love, open their Heart & connect more deeply with themselves. Those looking for more depth to their Yoga practice. And those perhaps wanting to harness the lunar, planetary/astrological energies for inner transformation & healing to become the best version of themselves.
Bring the Sacred into your Yoga practice & create time & space to connect to YOU!
Also those looking for more relaxation, reducing stress & anxiety, Heart-opening & connection to their Higher Self. And those looking for more Inner Peace, Joy, Balance, better Health & Harmony.
This is a rare opportunity to dive into the more esoteric aspects of Hatha Yoga, not often taught in the West. A ceremonial & spiritual approach to Yoga, working with your energy & the Chakras in sacred ceremony. This provides a potent alchemical container for healing.
💖 THE JOURNEY 💖
This 9 week journey starts on Saturday Jan 16, working with the Capricorn New Moon and ends on 13 March, working with the Pisces New Moon energies. More info on the THEMES below. Open to more Self Love, accelerate your connection to your Higher Self & make the most of the planetary energies that are supporting your healing & awakening. Welcome deeper connection to your Intuition, Compassion, Flow, Bliss, Creativity, Courage, Confidence, Clarity & Harmony in your relationship with yourself & others! Drop-ins possible.
This journey is focused on opening to more Self Love so that you can connect more deeply to your Higher Self & open your Heart, bringing yourself into deeper Alignment with your Self. It will include space for healing from this life, past lives, ancestral healing and healing the collective consciousness.
Each session includes a short Transmission/Teaching on the theme & Intention-Sharing circle with Cacao, Yoga Asanas (poses), a Heart Meditation & Activation, Pranayama (breathing) and a deep final relaxation (sarvasana). The last session will be an integration session with a New Moon Cacao Ceremony & Group Heart Blessing to open the Heart to giving & receiving more Love. Email or text support in between sessions will also be available and the course includes suggested weekly Follow up Practices between sessions to deepen your healing & help with integration. The 8th session will include a closing Sharing Circle.
This online journey runs on Saturdays. All sessions start at 12pm UK via Zoom, with the Opening & Closing sessions being 30 mins longer due to the longer sharing circles & the final New Moon Cacao Ceremony is longer. Drop ins are possible and replays available for 7 days if you miss a session live/want to repeat (everything except for the sharing circles is recorded). It is recommended to attend the first session live if possible as this includes an Opening Cacao Ceremony, to share Intentions for the course (which are not recorded), to help with group bonding and to amplify the group energies.
Open to Self Love, balance and harmonise your Chakras, awaken & heal your Heart, safely release trauma, ground & Open to the Love of your Higher Self- the highest version of your self. Yoga ultimately helps us to unite with our Essence & to live from our Infinite Potential. To live a life of Grace, Flow & Ease!
Relax into meditative Chakra Balancing Hatha Yoga where poses are held for a few minutes. Inhale deep restorative connection, calm your nervous system, quieten your mind, open your Heart, balance your Feminine & Masculine energy & connect to your inner Self. This is a sacred Ceremonial approach to Yoga, honouring your divinity. Different from a regular Yoga class! Suitable for all levels. More info on the Yoga is at the bottom of this page.
No previous knowledge of Yoga, Astrology or Meditation necessary. Just a willingness to release fear, open to Love, be present & dive more deeply into your blissful Higher Self! Journeying together with others amplifies the healing energy & transformation. Connect with like-minded souls!
These sessions take place online via Zoom. The Zoom codes, guidance & Cacao Recipe are included within the Eventbrite registration email & emailed again the day before the first session.
💖 THEMES OF EACH CLASS 💖
The course will include Asanas (poses) for all the Chakras to have a balanced & unifying practice. There will be an emphasis on opening the Heart & opening to more Self Love & Compassion.
☼ 16 JAN, 12- 2.45pm UK - NEW BEGINNINGS + BALANCE: EMBRACING YOUR DIVINE SELF
- WITH OPENING CACAO INTENTION-SETTING CEREMONY + Yoga & Meditation
- Rebalance & Open your Heart. Know Who You Truly Are & Stay Loyal to this. The Sacred Heart. Understand the Egoic Mind & the Duality of Experiences. Only Love is Real. Choosing Love over Fear.
- Capricorn New Moon (Jan 13)
☼ 23 JAN, 12- 2.15pm UK - FAMILY HEALING & THE SACRED ROLE OF FAMILY
- Loving your Parents & Understanding the Sacred Role of Family. Family as Sacred Teachers.
☼ 30 JAN, 12- 2.15pm UK - HEALING THE WOUND OF NOT BEING GOOD ENOUGH
- Release this life, past life & ancestral wounds relating to belief that you are not good enough. Heal yourself & the collective. Transmute & transform with the healing firey Leo Full Moon energies. Come into Balance.
-Full Moon in Leo (Jan 28)
☼ 6 FEB, 12- 2.30pm UK - FORGIVENESS OF SELF & OTHERS
- Open your Heart to Forgiving yourself & others. Dissolve blocks in the Heart. Expand your capacity to Love yourself & others.
☼ 13 FEB, 12- 2.30pm UK- NEW MOON CEREMONY: NEW BEGINNINGS: OPEN TO SELF COMPASSION & LOVING SELF TALK
- Open to more Self Compassion & loving Self-Talk. Expanding into Unity Consciousness.
- New Moon Aquarius (Feb 11)
☼ 20 FEB, 12- 2.30pm UK- LOVING AS NATURE LOVES
- Learn to Love the way Nature loves. Nature as a Teacher.
☼ 27 FEB, 12- 2.30pm UK- FULL MOON CEREMONY- OPENING TO THE SUPPORT ALL AROUND
- Working with your Spirit Guides for Support. You are not alone. Power of Prayer & asking for Support. Ask & you Shall Receive.
- Full Moon Virgo (Feb 27)
☼ 6 MAR, 12- 2.45pm UK- OPEN TO GRATITUDE & PRESENCE, with final Closing Circle
- Power of Gratitude & Presence. Learn to live with an open Heart in Gratitude for yourself & all that is around.
☼ 13 MAR, 12- 3pm UK- NEW MOON CACAO CEREMONY & HEART BLESSING- NEW BEGINNINGS & EXPAND INTO SELF LOVE & THE LOVE OF OTHERS
-(No Yoga). Expanding into Self Love & Unity Consciousness. Receive powerful Heart Activations in a healing Group Heart Blessing with recorded music to Open the Heart to Give & Receive Unconditional Love.
- New Moon Pisces (Mar 13)
💖 ENERGY EXCHANGE 💖
Alot of Love & care has been put into creating this 9 week journey. You can either join (i) all 9 weeks (highly recommended to dive more deeply & heal), or (ii) drop-in, or (iii) bring a friend.
Choose the option that feels right for you! Any questions email frjavaid@gmail.com.
☼ Earlybird 9 weeks (ends 12 Jan): £175 / 158 concessions (unemployed/student)
☼ Standard 9 weeks (ends 12 Jan): £194 / 180 concessions (unemployed/student)
☼ Drop in: £23/ 21 concessions (unemployed/student)
☼ Bring a Friend: £20 per session each
For Drop In/Friend Discount: book via Paypal to frjavaid@gmail.com with the friends & family option & a reference. Or email frjavaid@gmail.com to pay via bank transfer.
If you are in financial difficulties or still financially affected by the corona situation & unable to otherwise join, please get in touch. Payment in instalments is also possible.
☼ Email any queries to frjavaid@gmail.com
💖 TESTIMONIALS 💖
Online 4 Week Unite the Divine Feminine & Masculine: Sacred Union Yoga Meditation Cacao Course, Dec 2020
"Fouzia's Sacred Union Course was absolutely amazing! Each week I looked forward to attending the gathering. I felt so connected and it really created a beautiful setting for my week. Fouzia has a beautiful gift of being able to create wonderful grounding, loving, centering gatherings where we feel supported and nurtured. The sessions have many different elements to them; learning, sharing, meditation, yoga and inviting mama cacao to support us. Via Zoom, it still feels so so powerful, which is testament to Fouzia's abilities and to her true divine connection and love for what she does. I really appreciated all the learning and sharings and feel I have been able to release and grow with this course, thank you again!" Jenny, London
"This sacred union course has helped with integration of the previous divine masculine and feminine courses and deepened my relationship with both. The weekly focus on Self is so needed in these times and I don't know of any space more mystical than the ones Fouzia creates." F, London
"Oh Fouzia thank you so much, your words are like medicine. That last little meditation after the sharing and before the asana practice brought tears to my eyes and joy to my heart. Thank you again for shining your light so beautifully and sharing your gifts. I'm blessed to know you and to be part of this journey with you." Sarah, London
"The course is beautiful and has helped me to relax and connect to myself. The course structure is also very good, and Fouzia is an excellent teacher, very loving and helpful." Katya, Switzerland
"I joined the Sacred union course with Fouzia following on from the divine feminine and divine masculine courses. All together they are a very powerful journey... Fouzia holds the space beautifully and assists you in the process of weaving yourself together. I wouldn't be doing this work without her guidance. It's such a blessing to have her wisdom and knowledge and companionship along what can be a difficult journey. Her sessions can be done as stand alone ones, but I'd recommend doing the whole set, as a commitment to yourself. It's hard work, but the benefits will last a lifetime and beyond. The wonderful thing is you don't have to do it alone. The community Fouzia brings together by her loving energy and offerings is an honourable spiritual community of like minded souls to journey together with. The sharing aspect of each session allows you to see our commonality and mutual challenges, as well as support along this journey of healing to wholeness and back to our heart and higher selves. Thank you dear Sister for your continued presence and work. It helps so much, to feel we are not alone in our spiritual experiences of being human and the challenges but also joy of this journey. It's not all pain and suffering really when we have others around us on a similar path and to accompany each other. We're all just walking each other home. Only you can do your inner work. But you don't have to do it alone. Thank you. Until the next course." Charlotte, Bristol
Online 4 Week Awaken the Divine Masculine Yoga Meditation Course, Nov 2020
"Thank you for chanelling the powerful energies of Samhain yesterday. I had several ancestors visiting during the class and a lot of pain of generations got swept away." Karina, London
Online 4 Week Awaken the Divine Feminine Yoga Meditation Course, Oct 2020
"Focusing the attention on the womb and learning to honour my feminine side has allowed for healing and clearing of deep seated wounds. Every session and course with Fouzia gives space for powerful transformation." Felicity, London
"Fouzia created the most beautiful space to connect with the Divine Feminine and Womb. Prior to doing the 4-week course, I often felt that feminine and masculine values and at-tributes were in battle with each other, and that living in a modern patriarchal culture threatened the stability of my connection to feminine strengths. However, by the end of the course, I felt anchored in her wisdom and was able to grant myself permission to take time and space to embrace my feminine, heart and womb being. Fouzia's thoughtful and heart-centred teaching combines meditation, asana and breathwork, along with yoga and spiritual philosophy. She meets participants wherever they are at and offers so much love and trust that it cannot help but reverberate good energy through the cosmos. I encourage anyone to surrender to the journey and see where it leads you." Fiona, London
"Fouzia's classes and courses are spot on. I highly recommend every offering she has. Each comes from the heart, with pure intention and understanding of what's needed at the moment individually and collectively. Her recent four week chakra yoga and meditation course to awaken the divine feminine was incredible. A beautiful space created even online. It's wonderful to have the continuity and group journey together with so much mutual learning and connection, especially during this time when we are somewhat disconnected in physical form from each other. The upcoming courses to awaken the divine masculine and then to integrate both are perfectly timed to close this turbulent year, heal old wounds and set intentions for the coming year. I will continue to journey with Fouzia for as long as she continues to offer classes and workshops and I highly recommend anyone else to as well. Thank you for all your beautiful space holding, guidance, healing, nourishment, community and embodied wisdom you offer Fouzia.❤ It is very much appreciated." Charlotte Bamber, Bristol
"It was so lovely to attend Awaken the Divine Feminine sessions with Fouzia, and so grateful for the access to replays. The sessions are via Zoom, but it feels so connected, like it would be in person. The energy was so special and held in a safe container where we are able to share and feel held. I have attended many of Fouzia's yoga and meditation courses and really like that she is working with astrology also and find journeying with just women extra sacred and special. The yoga was very restorative and healing and I felt revitalised and grounded in myself, and reminded to also rest and for more self love and self care. Fouzia has such a beautiful spirit, her smiles and the love she shares are so genuine and full of such purity of love. I'm really looking forward to Awaken the Divine Masculine following this course and definitely recommend joining!" Jenny, London
"Some time ago I recognised that my feminine energy is not flowing as I would've liked it to flow. I could see some blockages that were preventing me from expressing myself. This course helped me to open up and resolve a lot of things that were due to be let go. It was very emotional at times and I realised that not everything I had been carrying was entirely mine. At the same time it was a very beautiful journey of self discovery and evolution. I'm happy I took this opportunity." Karina, London
Last Online 7 Week Chakra Yoga Astrology Journey:
"I participated in Fouzia's 7 Week Online Chakra Yoga Astrology course and I absolutely loved it. Each session was very profound and transformational. I could feel energies moving in my body. I literally felt that I was shedding the old and welcoming the new. I did the last three sessions from recordings as I couldn't participate and the effect was exactly the same. I can't wait for the next course to start!!!" Karina, London
"I've loved being part of this group and have felt so connected in the heartspace with you all ❤. There has been so much moving and transitioning the last few weeks and these yoga and meditation sessions with you have been a beautiful anchor during various challenges and such a gift, thank you Fouzia. I love the way you beautifully share yoga aligned with the astrological influences and chakras." Sarah, London
"Thank you for holding such a beautiful circle and for all of the love, grace & beauty you pour into your offerings. It's bought me comfort to connect recently. Your laughter and beautiful smile is very contagious ❤". Emily, London
"Chakra yoga astrology: The whole course was thoughtfully aligned with the astrology of each week. This meant that major shifts and healing were helped along with the energy of Fouzia, the group and the planet. A gentle but incredibly powerful course. "
"Wow what a shift on Saturday. Thank you so much for the space that you give for such powerful healing to take place." Felicity, London
"I thoroughly enjoyed both the mediation and the yoga course and felt I could go in deeper with myself as I have noticed some shifts. What was helpful was doing the meditation and the yoga together. The meditation allowed me to drop deeper and connect with my spiritual heart - doing this consistently developed a relationship with my heart so I can continue connecting with it beyond the course in my everyday life. The yoga helped to bring in shifts and helped me to deal with some of the discomfort that were bought with the asanas. Fouzia's guidance in the sessions helped me to allow for this healing to occur." Sumaera, London
"Thank you for the yoga and meditation yesterday. I got a lot out of it and felt a lot more grounded after! I also have quite a few unfinished projects and connecting with the chakras in the sequence yesterday helped me to take action, thank you!"
"Just finished the first class and feel so much more grounded and focused with a sense of calm and clarity, thank you! I watched the replay as I was unable to attend the live session and am so grateful for this option. As the classes are online it means I can do the class from anywhere I want so I may do it in my local park next time! Was such a beautiful flowing class, definitely recommend joining. Looking forward to the rest of the course! " Jenny, London
"Thank you for the yoga session it was so good. I feel great today and ready to work on bringing out my feminine side more & starting to feel more balance already." Ciro, London
Live Yoga Meditation sessions:
"I really love the sessions you do, they are the most powerful I have ever experienced." Arabella, London
"Fouzia is a fantastic teacher, very patient and attentive. Her classes are very gentle but incredibly powerful with a focus on the spiritual side of yoga that is often sadly neglected in the west. I feel like I've had an amazing healing after her classes. Highly recommended!" Suzanne, London
"I've been doing yoga for most of my adult life, and with it I've found a sense of balance and self, in some of the toughest of times. But your session on chakra meditation has opened me up to an awareness I always somehow knew I was missing. This feels like the beginning of something new, the next phase of my journey. I felt touched by the simple, direct way you speak from the heart. Thank you." Bruno, London
"I love the way Fouzia's yoga classes really give you an understanding and feel of the spiritual/ energetical side of yoga and teaches you how to integrate this with the physical aspect. And to say her guided meditations are amazing would be an understatement. I have had many revelations and cleared blockages several times whilst being guided by Fouzia." Louis, London
"I highly recommend Fouzia's classes for anyone wishing to go deeper on their path and leave calm and relaxed, where the feelings stay with you for a good few days after class. You will leave with a deep sense of peace as well as grounded, something much needed in hectic London life. Thank you. " Tasha, London
"Really appreciate your wisdom, kindness and style of teaching. I can't wait to learn more!" Sam, London
" Today's class on the Root chakra was EPIC!!! Fouzia held space beautifully and the asanas really really were felt in my whole being, can't wait for next Sunday!!!" George, London
Online Cacao Ceremonies:
" These ceremonies are limitless in their power to leave you feeling connected with your own light and that of the collective. Thank you Fouzia for providing space for us to connect in a genuine way, especially during times where many are experiencing uncertainty." F, London
"Thank you for offering online ceremonies Fouzia. I have felt just as connected, healed and grounded as during in-person ceremonies. It has been amazing to feel the connection between people joining from different parts of the world. Powerful stuff, as always."
" Thank you so much for this beautiful ceremony. Your beauty, light, inner guidance shines inside and outside.. so so beautiful. Even though I didn't have any cacao, as we were going through the online ceremony I could taste and smell and feel mother cacao & feel sensations gained from the other (in-person) ceremonies. It was so powerful and so lovely :-)."
"I used to go to Fouzia's cacao ceremonies in London regularly and I always liked the wonderful healing energy that was transmitted through connection to Mama Cacao and though heart meditation. When the lockdown started I didn't know when I would be able to participate in one of her wonderful ceremonies again. Luckily Fouzia decided to do a New Moon Cacao Ceremony online. At first I wasn't sure how it would work, but having been there and participated I can say that it was absolutely amazing! It was a very deep and profound experience and the bond between all participants was so strong that it really felt as if we were in the same room. Thanks to the moon and Mama cacao energies I could feel a deep connection with the highest energies of the universe which made the ceremony very special. I can't wait to attend the next ceremony! It's a great way to reconnect, ground and heal, especially at the present time." Karina, May 2020
💖 ABOUT ME 💖
My approach is Heart-centred, welcoming & compassionate. It's my intention to support you in awakening your Feminine energies, discovering more inner peace, balance and harmony and connecting to your true, blissful, joyful nature! As we find more peace within, the world becomes more peaceful. One Heart at a time.
I Love nothing more than to enable people to become more aware of their Divine Heart Self and to remember the powerful creator that they are. We each have the power to manifest Infinite Possibilities. To truly know ourselves is, I believe, the greatest gift we can offer to humanity. My passion for empowering people to remember their Divine Infinite Self takes me to teaching Yoga, Meditation, facilitating wellbeing Workshops, Cacao Ceremonies, Festivals and Retreats & working 1:1 in Intuitive Coaching and Heart Healing sessions, Reiki & Spiritual Healing, Breathwork and Indian Head Massage.
See: http://fouziajavaid.eventbrite.com
💖 MORE ON THE YOGA FOR THOSE INTERESTED! 💖
We practice a slow-paced, Meditative form of Hatha Yoga. Postures are held for a few minutes and work deep into the muscles and connective tissues. This allows for the mind to move away from the body, so that the physical body is allowed to release layers of tension, relax & heal, increasing your sense of wellbeing. The practice ultimately helps to cultivate Self awareness of your Divine Self.
This is an energy-based yoga practice. We move energy through the body and activate the Chakras, which are potent energy centres that govern different physical, emotional/energetic aspects of our being. The result? A deep sense of inner awareness, calmer nervous system, quieter mind, and improved health & flexibility! Suitable for all levels, it provides wonderful balancing and harmonising qualities to our busy lifestyles and perfectly complements more active styles of yoga.
This is a gentle approach to Yoga poses in which we move slowly, in a non-competitive environment that is welcoming to all. You will feel a deep sense of inner calmness, relaxation, connection to your Divine essence/Higher Self and a state of increased well being. Yoga ultimately opens the path towards health, contentment, and inner transformation.
Connect on FB & Insta Inner Peace Wellness:
https://www.facebook.com/groups/192482951090117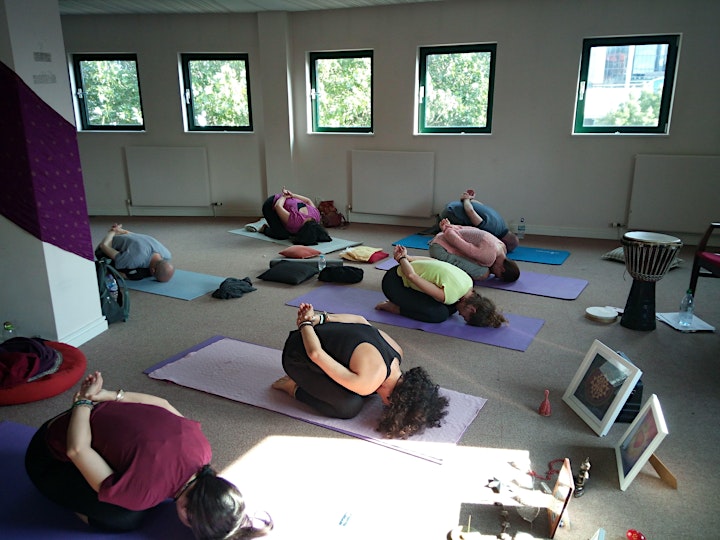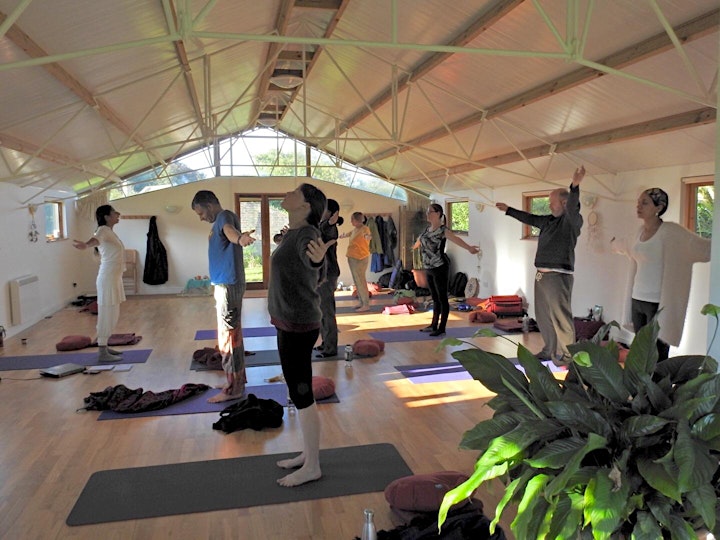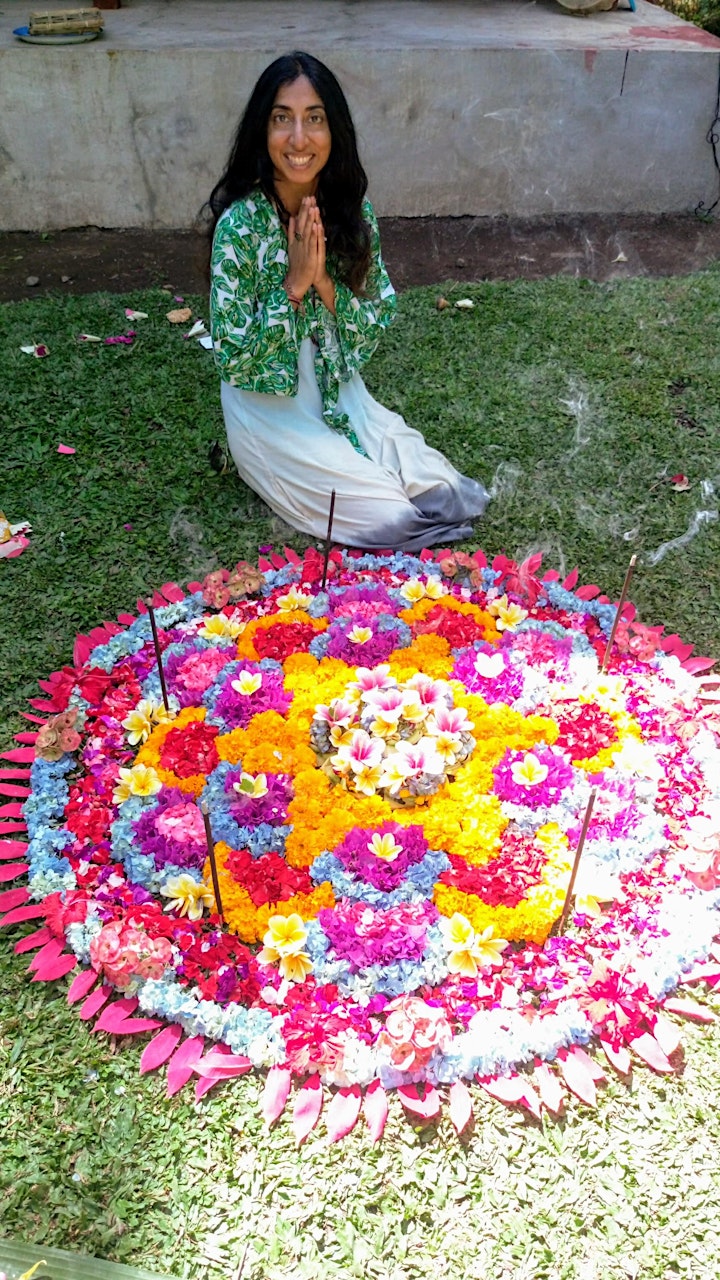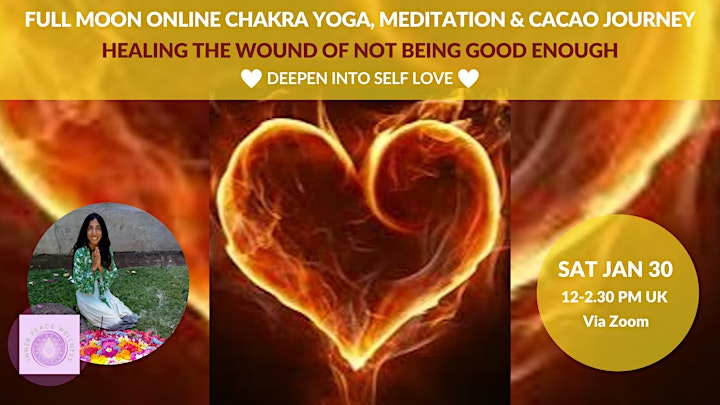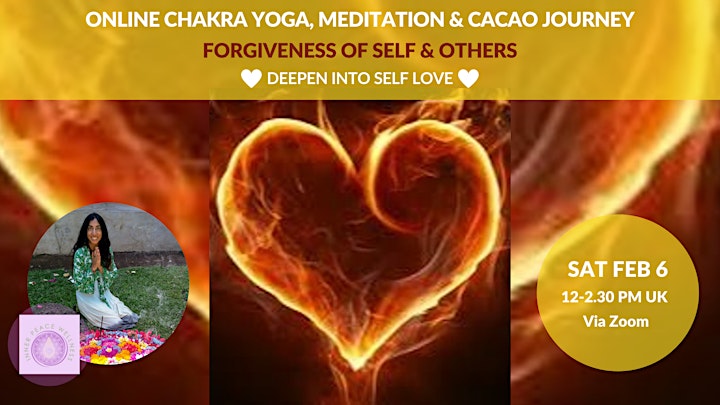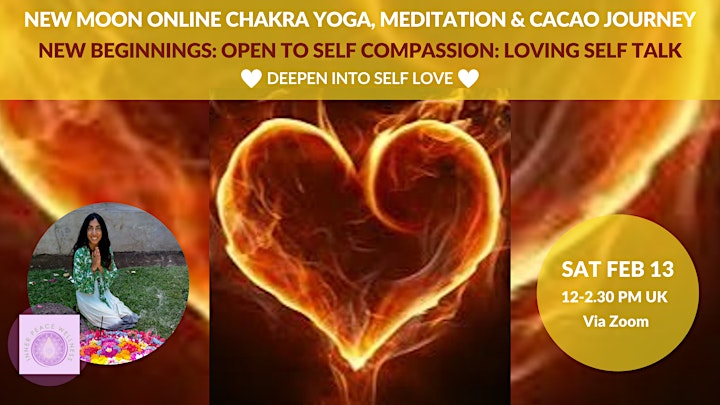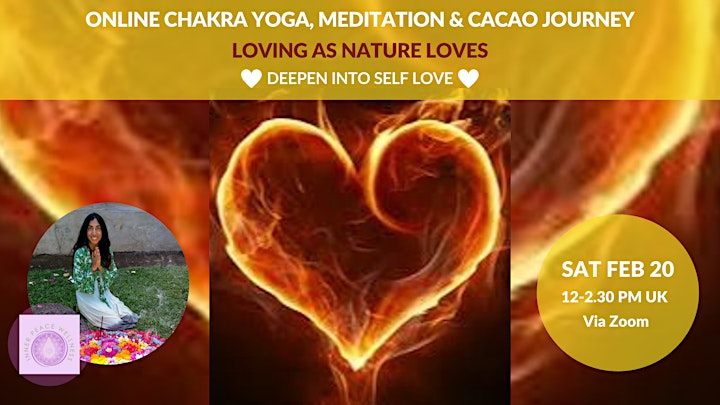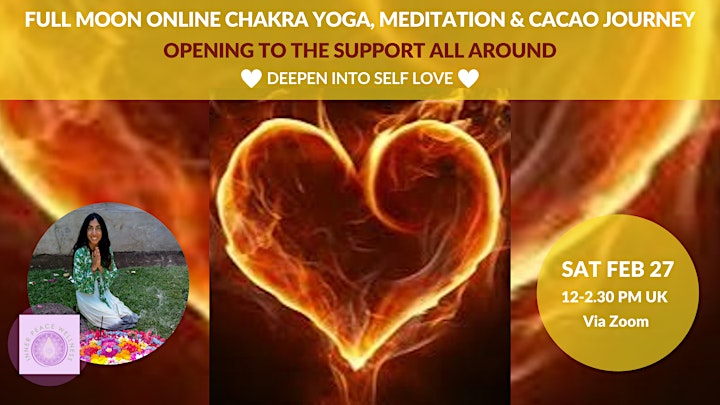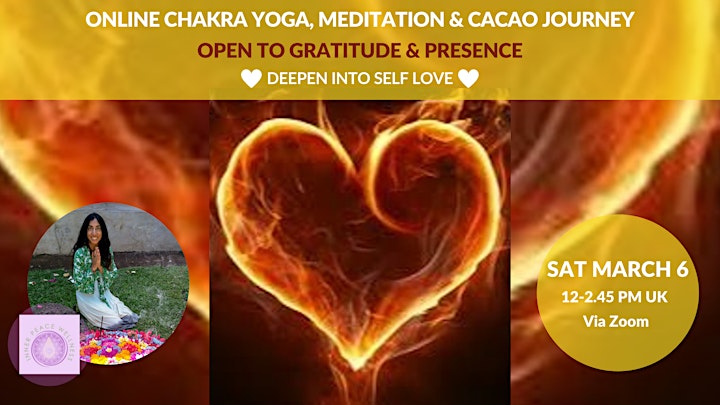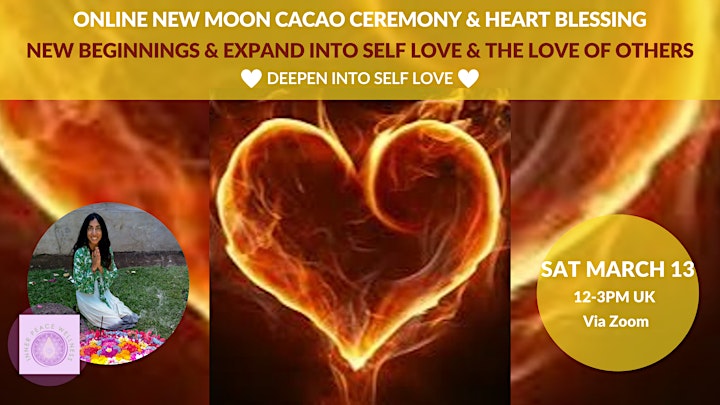 Date and Time
Location
Refund Policy
Contact the organizer to request a refund.
Eventbrite's fee is nonrefundable.