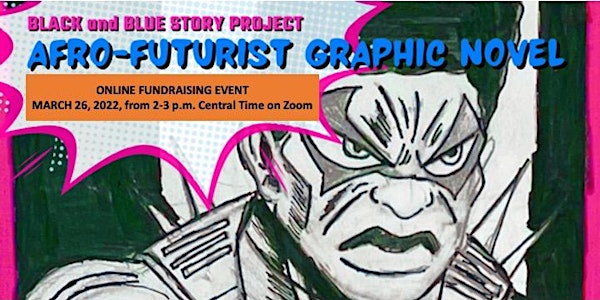 Online Celebration to Support Black and Blue Comics #1!
Online Celebration to Raise Funds for Black & Blue Comics #1 hosted by KEITH KNIGHT
About this event
Keith Knight
* cartoonist, anti-racism educator and creator of the TV Series "Woke" on * Hulu* hosts this online celebration to raise funds for Black & Blue comics #1!
• In January 2022, Black and Blue Story Project commissioned an intergenerational team of five African American artists to create the first in a series of comic books designed to help middle and high school students reimagine the future of policing and public safety. Our creative team (ages 16-46) is currently hard at work mapping out a heroic tale set in New Orleans of the future that features three teen protagonists and a major character inspired by the Black and Blue Story Project's matron saint, Yvonne Oliver Bechet, one of the first African American female officers in NOPD history. Her philosophy ("Love, Trust, Consequences") forms a basis for the story.
• This 100% LIVE ZOOM event will include an interactive tour of the project with the five-member creative team, special guests from New Orleans and around the nation (including Angelique Roché, co-author of MY SUPERHERO IS BLACK) and a not-so-silent auction to bid on an exclusive "Woke Season 2" Watch Party with Keith Knight for you and up to four of your friends, and more!
• Here's a link to DONATE now (and get some cool rewards)!
• Here's a link to BID on our two auction items now!
• This project is supported by grants from: Alternate ROOTS, Fertel Family Foundation, New Orleans Jazz & Heritage Foundation, and SouthArts, in partnership with National Endowment for the Arts & Louisiana Division of the Arts.