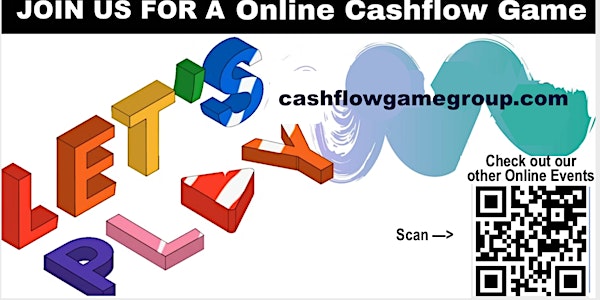 Online CASHFLOW Game- "Think Monopoly on Steroids"
One of the reasons to play the game is to "learn why investment 'risks' aren't so risky when you know what you're doing!
About this event
JOIN US FOR A CASHFLOW GAME ONLINE - SUNDAY AT 4PM CST
You are invited to join us ONLINE from the comfort of your home. Sunday Funday to play a game of Cashflow at 4 pm CST
Have you ever played Monopoly? I loved the the game as a kid. Cashflow is like Monopoly on Steroids :) Winning the game at the first stage is dependent on having enough passive income to cover your expenses.
This event is designed to introduce you to the world of Real Estate Investing, Entrepreneurship, and Financial Literacy, in a safe and fun environment for young and old!
The basics are simple: you start with a job in the "rat race" (doctor, janitor, teacher, etc.), and along with your job you get an income statement (this includes income, expenses and liabilities), then you are offered deals (big and small) as you move around the board. All in an effort to get out of the rat race and onto the "fast track." Once you are on the fast track, the game continues with more deals and pitfalls.
One thing I love about the game is one requirement in the beginning is to pick, and write down, a dream. Your dream can be financial, (like earn a million dollars) or silly, (like own an alpaca farm). I can't even begin to tell you how Really Powerful that is to Me! I mean putting pen to paper and writing down your dreams and claiming them. "is the first step to making your dreams come true".
We don't think as big as we should. And there are things we DON'T have in life because we haven't asked. I believe that with my whole heart. And... I want my children to believe it too.
The game creators you should know! Robert Kiyosaki
Whether this is your 1st time or your 100th time, come join us.
We use the Zoom Platform Download the Zoom app beforehand.
"You will need a Zoom account to attend the event".
When you attend this event, you have a chance to win our Real Estate Investing Workshop ticket (3rd Weekend of the Month - A full day of actual Training).
The zoom link will be provided once registration is complete and sent directly to your email.
Looking forward to meeting you online.
Frances Gomez-Lira/Event Organizer
1- 847-595-1514 Question or Concerns call or send Text Message Frances
Check-out our Facebook Page https://www.facebook.com/thenextrealestateworkshop
To schedule a 15 minute phone call with us, click below: https://calendly.com/meetwithfrancesgomezlira
#francesgomezlira #cashflowgame #realestateinvesting #onlinegame