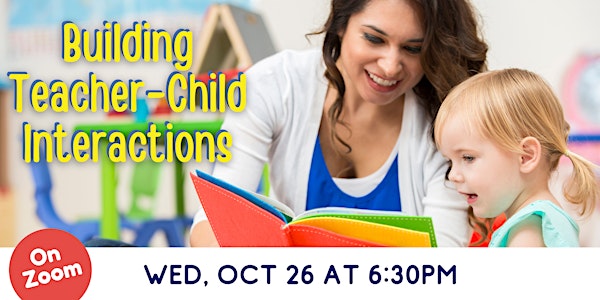 ONLINE: Building Teacher-Child Interactions
Learn how to build quality interactions with your early childhood students.
About this event
This class will take place online on Zoom. Please see the FAQ below for more information.
Join Kristin Miller, M. Ed., to learn how to make the most of the interactions with the kids in your classroom!
This training will help early educators build and foster positive interactions between themselves and their children in the classroom. We will also look at ways we can facilitate peer-to-peer interactions between our children. You will be provided strategies, evidence-based information, tips and strategies, and resources to help understand and implement this topic back into your programs. Participants will also enjoy collaborating ways we can turn simple conversation starters into critical thinking ones for your children! Throughout this session, you will be empowered to build meaningful interactions within your classroom interactions, practices, and classroom environment.
FAQ:
Will I get a certificate for attending the class?
Yes. We will email certificates within a few days of your class. If you don't receive a certificate within a few days, please email registration@georgetownproject.org.
How do I use Zoom?
Please read our Zoom Info & Tips sheet here.
How will I get the Zoom link?
Eventbrite will send a confirmation message and reminder messages that include the link to the online event page. You will be able to start the Zoom workshop by clicking the link.
Other questions?
Feel free to email registration@georgetownproject.org. We're happy to help!