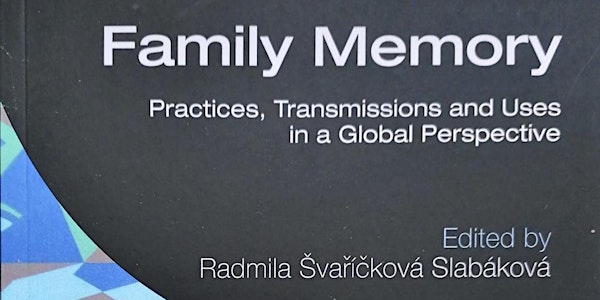 Online Book Launch & Get Together: Family Memory
Online Book Launch: Family Memory: Practices, Transmissions and Uses in a Global Perspective Keynote Address: Alessandro Portelli
Date and time
Monday, July 11, 2022 · 1 - 2am PDT
About this event
Dear colleagues,
We invite you to the online book launch of "Family Memory: Practices, Transmissions and Uses in a Global Perspective". In this recent edited book, researchers from five different continents explore the significance of family memory as an analytical tool and a research concept.
Family memory is the most important memory community. This volume illustrates the range and power of family memories, often neglected by memory studies dealing with larger mnemonic entities. The contributors explain how family memories can be a valuable resource across a range of settings pertaining to individual and collective identities, national memories, intergenerational transmission processes and migration, transnational and diasporic studies. Family memory of violent events and genocide is also looked at, with discussions of the Armenian Genocide, Russian Revolution and Rwandan Genocide.
The online book launch will start with a keynote address delivered by Alessandro Portelli, Sapienza University Rome. And Anna Green, University of Wellington, Ashley Barnwell, University of Melbourne and Alison Light, University College London will comment on the volume and its approach.
We are looking forward to welcoming you to discuss this recent edited book and the potential of family memory research for understanding societies'past and present.
All participants will receive a discount code to purchase the book.
Family Memory Working Group