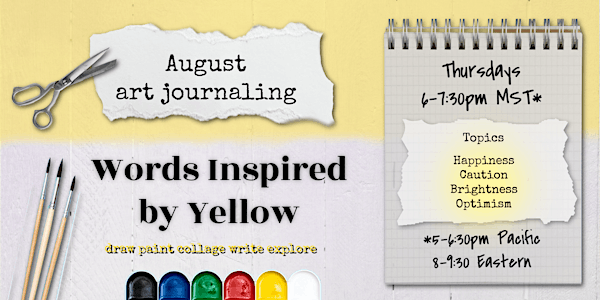 Online Art Journaling: Brightness
An art journal is a visual diary. It can combine art in many mediums, and include imagery, words. It's an exploration into YOU. Join us!
About this event
Join me Thursday evenings on Zoom, and each week we'll create art while exploring a word, topic, or idea.
Here's how it works: I give the group a topic to reflect on, and writing prompts to get you started. Then we will create art with that topic in mind.
This is not an instructional class; the art each person makes is individual...personal. I'll have my camera pointed at my worktable, so if you need inspiration, you can watch what I'm creating, and ask questions if you like.
Sign up for my art journaling group and save 25% each month! Get a 3-day free trial RIGHT HERE.
August topics are words that are associated with the color Yellow:
August 18: Brightness
August 25: Optimism
At the end of the class, we share our art and experience. While it is not mandatory to join in the end-of-class reflection, it is strongly encouraged.
Supplies: You are free to use whatever you have on hand. Everyone creates their own art, and uses some combination of collage (images or words pasted to the page), acrylic or watercolor paint, pastels, pencils, markers, and of course a journal or some sort of paper or canvas to work on. (Really, there are NO rules!)