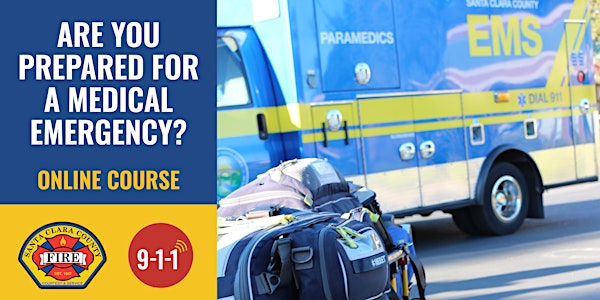 ONLINE: Are You Prepared for a Medical Emergency? - Host: Campbell - 2023
ONLINE: Are You Prepared for a Medical Emergency?
About this event
Learn how to recognize medical emergencies and when to call 9-1-1. Learn how to report emergencies and what to do before help arrives. Be prepared with completed medical documents and explore resources that can assist caregivers.
Participants will learn:
Emergency Medical Services (EMS) Overview
Understand ambulance and fire services within Santa Clara County
How to safely respond to emergency vehicles lights and sirens
9-1-1 Dispatch Centers & Phone Technology
Public Safety Answering Points (PSAPs) aka Dispatch Centers
Understand Phone technology differences when calling 9-1-1
Medical Emergencies
Identify life threatening medical emergencies
How to quickly react during a medical emergency
Calling 9-1-1 in an Emergency
Questions asked by 9-1-1 dispatcher
Text to 9-1-1: Call if you can. Text if you can't.
Be prepared for the arrival of emergency responders
Be Prepared...Be Ready!
Important medical emergency forms: LIFE File, POLST, DNR
Create an emergency contact list
CPR/First Aid Certification Information
Community Resources
Learn about important local community resources and organizations
____________________________________________________________________________________________
This training class is open to individuals who live or work within the communities served by Santa Clara County Fire Department: Campbell, Cupertino, Los Gatos, Los Altos, Los Altos Hills, Monte Sereno, Saratoga and the unincorporated surrounding areas.
____________________________________________________________________________________________
Follow Santa Clara County Fire Department on Eventbrite to stay informed about upcoming safety classes and community events: http://sccfd.eventbrite.com