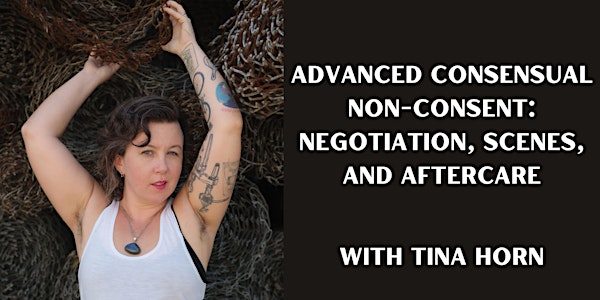 ONLINE: Advanced Consensual Non-Consent: Negotiation, Scenes, and Aftercare
BDSM is about bringing your fantasies to life and every fantasy tells a story. In this class we'll discuss the Before-During-After of kink!
About this event
Zoom link sent at 6:00pm / Class starts at 7:00pm EST
BDSM is all about bringing your fantasies to life, and every fantasy tells a story. To experience our fantasies as fully as we desire, we must look to the fundamentals of storytelling: the three act structure, character archetypes, tension building, and more! In this class we'll discuss the Before-During-After triumvirate of kinky play. How to ask for what you want, and listen to your partner/s with curiosity. How to roll with everything that can come up when your lust-fueled dreams are finally coming true. And how to reintegrate your whole sexual self into everyday life with aftercare and more. We'll emphasize power dynamics, reclaiming taboos, and how to turn your fetish into a scene.
This class is designed for people who have attended Tina's consensual non-consent workshops and want to deepen their communication skills in role play scenes involving physical and psychological force (because we never seem to have time to get to everything!). It would also function as a perfect intro to Tina's theatrical, queer, slutty, sex-work informed, kinky teaching style.
Anyone who attended Tina's consensual non-consent or role play classes in 2021 or 2022 gets a special discounted price!
In her fifteen year career as a professional dominatrix, pornographer, podcaster, sex culture reporter, and comic book writer, Tina Horn has developed a style of teaching that will help you to confront taboos head on. Her purpose is supporting her communities in deepening our respect for ourselves and one another, to share arousal, and to experience the satisfaction we crave.
This workshop will take a VERY intersectional approach. We will be discussing what it means to fantasize and/or role play about overpowering and/or being overpowered by another person while living in white supremacist cis-heteronormative ableist cultures.
This workshop is for anyone who wants to learn more ways to communicate in the bedroom, dungeon, deep dark forest, kitchen counter, or wherever you play! It's for tops, bottoms, sadists, masochists, dominants, submissives, vers switches, partnered, solo, and non-monogamists of all kinds.
Tina Horn hosts and produces the long-running kink podcast Why Are People Into That?!. She is also the creator and writer of the sci-fi sex-rebel comic book series SfSx (Safe Sex). Her reporting on sexual subcultures and politics has appeared in Rolling Stone, Playboy, Hazlitt, Glamour, Jezebel and elsewhere; she is the author of two nonfiction books and has contributed to numerous anthologies including the queer horror collection Theater of Terror and We Too: Essays on Sex Work and Survival, which she also co-edited. Tina has lectured on sex worker politics and queer BDSM identities at universities and community centers all over North America, and works as an on-set consultant for theater and television including the dominatrix scenes of Pose. She is a LAMBDA Literary Fellow, an AVN nominee, the recipient of two Feminist Porn Awards, and holds an MFA in Creative Nonfiction Writing from Sarah Lawrence. Tina is currently working on her first scripts for film and television. You can follower her on Twitter and Instagram @TinaHornsAss or visit TinaHorn dot net