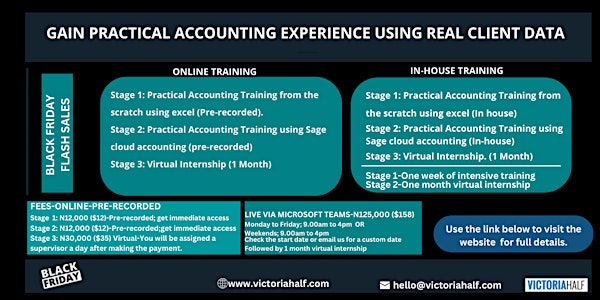 ONLINE ACCOUNTING EXPERIENCE AND INTERNSHIP FOR THOSE WITH NO EXPERIENCE
This program will train you from the scratch and increase your chances of getting a job.
Refund Policy
Contact the organizer to request a refund.
Eventbrite's fee is nonrefundable.
About this event
Three is the weekday or weekend option for the live training, i.e five weekdays or weekends , followed by one month internship.
What you'll learn
STAGE 1 ACCOUNTING PRACTICAL TRAINING FROM THE SCRATCH
Introduction to accounting
Understanding chart of accounts.
Understanding the principles of double-entry
Setting up the account of a customer
Setting up the schedule of sales
Treating customers invoices
Setting up the account of a supplier
Setting up the schedule of purchases
Treating suppliers invoices
Preparing the ledger account of the organization
Ledger account balancing
Cash payments and receipts allocation
Bank payments and receipts allocation
Matching supplier's payments and customer receipts against the correct invoices
Performing petty cash and bank reconciliation.
Debtors and creditors control account reconciliation
Reviewing aged debtors and aged creditors reports for credit review purposes.
Processing journal entries
Understanding prepayments and processing the journal entry
Calculating depreciation using the straight-line method
Processing accruals and prepayments
Treating Director's loan account
Suspense account reconciliation
Treatment of dividends and other income
Preparing VAT using Standard VAT Scheme and Cash Accounting Scheme
Preparing the schedule of closing stock
Preparing closing entries
Preparing the ledger account
Preparing the Trial Balance
Preparing the extended trial balance
Preparation of monthly financial statements
Preparing the financial statement using excel.
STAGE 2: ACCOUNTING PRACTICAL TRAINING USING SAGE CLOUD ACCOUNTING
What you'll learn
Signing up to sage cloud accounting
Company setup
How to add items to sage.
How to setup customer's account
Setting up supplier's account
Process customer's invoices and credit
Processing supplier's invoices and credit notes
Generating customer's invoices report or statement
Generating suppliers invoices report or statement
Add a Bank or credit card
Upload or post Bank statement transactions to sage
Allocate Bank receipts and payments
Splitting Bank expenses
Attach a document under ; 'allocate invoice"
Spool the schedule of closing stock
Spool the schedule of debtors
Spool the schedule of creditors
Spool the Income statement (profit and loss account)
Spool the statement of financial position (Balance sheet)
STAGE 3: VIRTUAL INTERNSHIP
A virtual internship is a work placement with us suitable for people that wants to gain valuable employability skills. It is remote, and participants can communicate with their supervisor via Microsoft Teams.
The program is for a month, and it is intense. A virtual work experience makes your CV attractive and will give you valuable work skills necessary for job interviews and functions.
Participants will be working on real client projects with a twist to protect our clients' information. You will be ready for the labour market at the end of the intense program.
What you'll do
Prepare 12 months financial statement using sage cloud accounting (100% practical)
Prepare 12 months financial statement using Excel (100% practical)
The online presentation is very important; you will be asked to present using any software. E.g Microsoft teams or zoom
Questions can be sent to your supervisor weekly via Microsoft teams, and you should get a response within 24 hours.
CV Review and feedback
Final exam
Certificate of participation.
Who is this work experience for?
If you lack practical work experience in accountancy which is stopping you from getting a job, this work experience will be perfect for you.
If you are fed up with working in a non-accounting-related role and want to start your accounting career, this course is for you.
If you are getting a lot of rejections from employers and recruitment agencies, then you should be part of this course.
If you want to know how to properly prepare a year-end or month-year account from the beginning to the end, this course is definitely for you.
If they are sacking you because of your poor performance, this course is for you.
If you are a fresh graduate with no experience, then you should join this training.
If you want to be a full-time freelancer, you should take part in this course.
ONLINE TRAINING
Stages 1 & 2 will be done online via teams and stage 3 will be done virtually by you. Our online training combines both Microsoft teams training and the virtual internship , i.e. one week in class and access to online tutorials. It also comes with the following advantages;
Online intensive practical training.
Course documents
Ask the tutor questions directly.
Access to the online course.
CV review section with immediate feedback.
Networking section.
Reference to employers
Increase your chances of employment, which means we consider you first when employers seek a trained accountant.
Certificate of completion
Introduction to entrepreneurship.
Upon completion, there will be a graduation lunch or dinner buffet party at a fee in a luxury hotel, usually held at the Sheraton, Lagos continental, or Marriot hotel.
Virtual internship with us (Compulsory)
Throughout the job placement, you would be given a role as an Account Assistance with Victoriahalf. The job placement would be remotely where we will assign a client to you to prepare the year-end account monthly for 12 months using excel and sage cloud accounting and the result will be submitted to your assigned supervisor. Once you complete the job placement, you can include it in your CV to stand out and beat the competition.
Questions can be sent to your supervisor once a week and you should get a response within 24 hours.