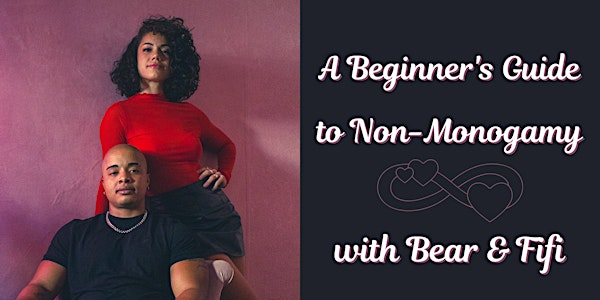 ONLINE: A Beginner's Guide to Non-Monogamy with Bear & Fifi
In this workshop, we're going to go through relationship paradigms outside of monogamy to welcome new possibilities into your intimate life!
About this event
Zoom link sent at 6:00pm / Class starts at 7:00pm EST
Are you curious about non-monogamy? Just starting? Experienced in non-monogamy, but still not really sure what all the options are?
The majority of us are taught that the only way to be in romantic and intimate relationships is within the parameters of compulsive monogamy - monogamy that is assumed for us based on structural expectations, instead of by our own choice.
The truth is, there are a variety of other relationship paradigms to explore, designed BY AND FOR YOU!
In this workshop we are going to go through the basics of relationship paradigms available to you outside of monogamy, and the Pro's & Con's of each from our perspective as non-traditional relationship specialists and relationship coaches.
Our intention with this event is to assist in expanding your awareness and invite you to welcome new possibilities in your intimate relationships.
Kabir Brown (Bear) is a Black queer transgender man, born and raised in Brooklyn, New York. He has 7 years of experience being a mentor and coach to a variety of different communities and demographics. A clinical case manager for underserved communities, and a private intimacy coach + sex positive space curator, he uses his professional background and intersectional experience of identities to create affirming spaces for his clients.
Sofia Mojica (Fifi) is a pansexual Puerto-Rican cis woman from The Bronx, NY. She has 6 years of experience as an erotic healer, a mentor and coach, and sex positive space curator. Using trauma-informed neo-tantric techniques, spiritual technologies, and somatic exercises, Fifi guides her clients to develop compassion toward themselves and remove barriers they may have around sex, intimacy, connecting to their physical bodies, and experiencing joy.
Together they provide private coaching services to individuals and coupled/partnered clients as well as consult Intentional Sex Positive Communities on Diversity and Inclusivity. They run monthly workshops, which cover a range of topics pertaining to intimacy, communication, and relationship dynamics.
Their mission is to support people in designing and creating the kind of intimacy they crave for themselves.
Date and time
Location
Refund policy