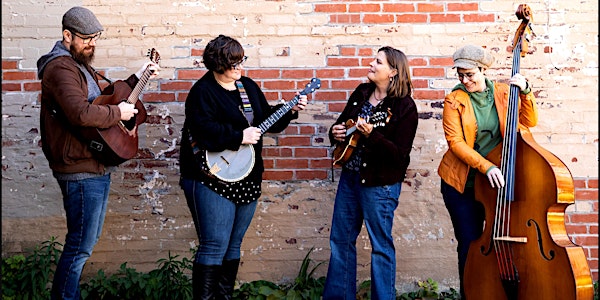 Onion Honey with Allison Brown - Patillo Apple Orchard Concert
Onion Honey with Allison Brown - Outdoor Concert at Patillo Road Apple Orchard Folk, Acoustic, Stringband, Old Time Music!
Date and time
Fri, Jun 23, 2023 6:00 PM - 10:00 PM EDT
Location
Patillo Apple Orchard 156-180 Patillo Road Windsor, ON N8N 2L9 Canada
About this event
Kitchener's Onion Honey brings echoes of the musical past forward to the present; early blues, bluegrass, folksongs and mountain music finely distilled through their modern approach to traditional songwriting that reflects their roots in the Grand River Valley. This summer, they bring their new take on old fashioned string-band sounds to Essex County's Patillo Apple Orchard for a foot-stomping, toe-tapping, hoedown in concert with their longtime local pal, roots songstress Allison Brown. The Orchard Boys (Doug and Ryan Patillo) will also perform a special opening set.
Doors open at 6:30pm, Concert at 7:00pm, Bring Your Own Lawn Chair or Blanket.
Tickets: $15.00 in advance, $20.00 at the door.
Kids under 12 are free, Youth 12-18 $10.00
The Patillo Apple Orchard is on Patillo Road in Russell Woods, between Conway Crescent and Corbett Drive. Look for the driveway at 156 Patillo Road and follow the long driveway all the way to the back. A parking attendant will direct you as you approach the orchard. Parking is limited, cycling and carpooling is encouraged.
Bring Your Own Lawn Chair Or Blanket.
Washroom facilities are Port-A-Potties; for anyone requiring mobility assistance, alternate facilities can be arranged.
In case of rain, the concert will be held in the orchard barn. In case of dangerous weather conditions, refunds may be requested and the concert will be postponed to a later date.
Patillo Road Apple Orchard: https://www.facebook.com/patilloorchard
Onion Honey: https://onionhoney.com/
Allison Brown: https://allisonbrown.ca/home
About the organizer
"a gorgeous voice that seemed way too big for one person" ~ No Depression Magazine