Onion Creek's 8th Annual BEER + BIKE + BASH

Saturday, October 19, 2013 from 12:00 PM to 7:00 PM (PDT)
Event Details

ONION CREEK'S 8th ANNUAL BEER BIKE BASH
This years event includes:   
THE CREEK CRAWLSCAVENGER HUNT with KARBACH's Cycling Director Adam LeSage
YOU NEED A BIKE, A COUPLE OF FRIENDS, HELMET, AND A CAMERA PHONE
The hunt starts at Onion Creek and ends at Onion Creek with lots of fun and adventure in between
1. PURCHASE YOUR TEAM TICKET HERE
2. You will receive your CLUES, ROUTE, and RULES the DAY OF THE EVENT.
3. Your full team must arrive at ONION CREEK no later than 12:30pm for final registration, and to receive your team packet which with include rules, route, and clues.
4. Each Team MUST complete tasks together.
5. You will need ONE camera phone for recording your anwsers to clues. Your Team Capitan will be responsible for the presenting clue answers to judges upon your return to Onion Creek.
6. Your ride with be marshalled by 4 ride marshalls. However you are will complete scavenger crawl at your own pace.....you wanna be first, right? Safetey is of the utmost importance and ALL traffic laws must be followed.
7. You will have 2 hours to complete the Scavenger Crawl.
The object of the game is to complete route, solve clues, and get back to Onion in the required timeframe and place 1st, 2nd, or 3rd! 
Scavenger Hunt Starts at 2pm and ending at 4pm. No teams will be excepted after 4pm HOWEVER if your clues answers are correct you may be eligible for other surprises. 
EACH TEAM will need:
       A MINIMUM of 2 members and MAXIMUM of 4 members
       A CAMERA PHONE
       WEAR A HELMET
       WEAR BRITE CLOTHING
       DRESS FOR THE ELEMENTS
       REQUIRED TO FOLLOW ALL TRAFFIC LAWS
Most of all, RIDE SAFELY and HAVE A BADASS time!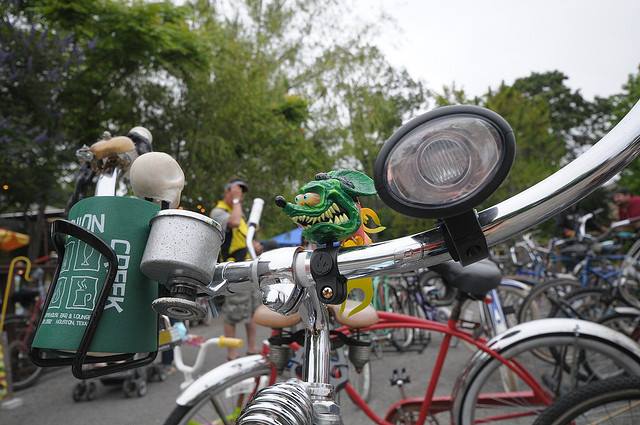 When & Where

ONION CREEK
3106 White Oak Dr
Houston, TX 77007


Saturday, October 19, 2013 from 12:00 PM to 7:00 PM (PDT)
Add to my calendar
Onion Creek's 8th Annual BEER + BIKE + BASH