OneWorldMMA pres. DC;MAX 6 - The Legacy Fight Series

Saturday, July 2, 2011 at 6:00 PM (EDT)
Event Details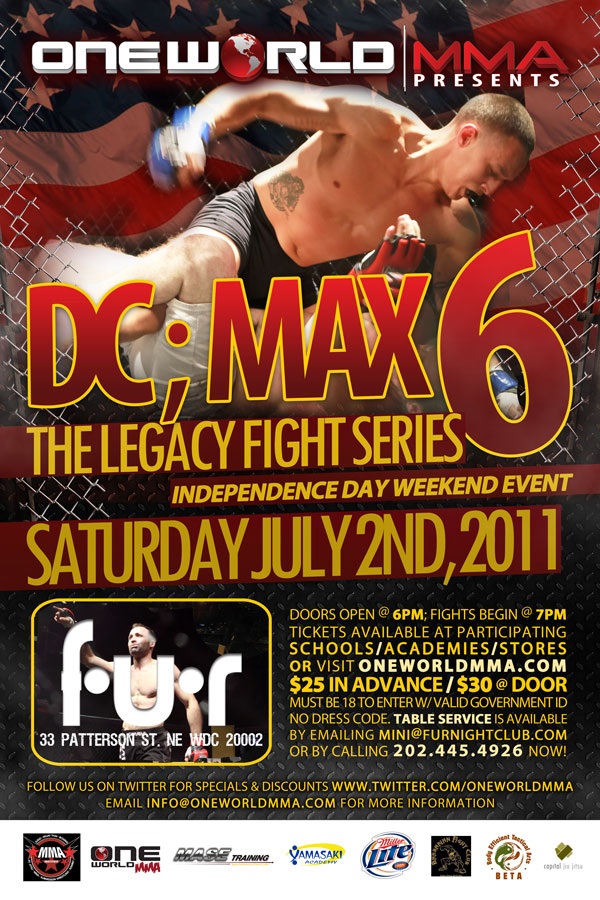 Our Main Card bout has just been set to go for DC;MAX VI, another Legacy Fight Series of amateur Mixed Martial Arts and Muay Thai fighters from around the region.
The fighters…
-In the Feather Weight Division-
Alejandro Zea  4W-1L        Yamasaki Academy
vs. MMA 140lbs
Chris Piriz         4W-3L        HL3 Elite Fighting
OneWorld MMA brings you the sixth installation of the LFS on July 2nd, 2011, at Fur Nightclub in downtown Washington, DC.  A war among warriors,
Chris Piriz 4-3 representing HL3 Elite Fighting will be making his debut in an OWMMA Cage.  A native of the Northern Virginia area, he's always wanted to fight close to home and be considered for a title shot in the near future or possibly a step up to the Pro circuit soon after.  A Rising star out of the Alexandria area , Chris "The Phenom" Piriz will be competing against a returning fighter well known in the Legacy Fight Series and the local region.
Alejandro Zea 4-1, the fresh face coming out of the Yamasaki Academy is prepped to take the challenge once again, after defeating Michael Murphy in DC;MAX 3 back in September of 2010 with a TKO/Referee Stoppage due to strikes.  Alejandro has moved on to a remarkable streak, with only one loss on his rising record of 4-1.  Zea plans to show OneWorld MMA just how serious he can get when all eyes are on the winner for a title shot in September of 2011.
Also in the females Bantam Weight Division, a debut for both competitors; a tough fight to claim a win has been reconfirmed.  Betty Huck out of PurePerformance Martial Arts Center, will be competing against MMA Institutes Julia Ho.  This also being the first female MMA bout in an OWMMA Cage, both camps and fighters are gearing up to put on as great of a show then can.
Multiple bouts are expected to commence, at a count of 14 to date, we hope that all teams, camps, fighters and fight fans understand the chance of competitors being injured, called to duty or worse is always there.  Thru careful examination of submitted fighter applications and implementing contractual requirements even for the amateurs its to hold everyone accountable for last minute drop outs.  There will always be a small percentage of fights that fall off an amateur card, but every measure and then some is being taken to make it an even less of a chance.  We at OneWorld MMA value your patronage and support, along with every other legitimate promotions putting on officially-ranked sanctioned fights across the country and fight camps across the U.S..  These are the building blocks to a bigger MMA scene tomorrow.  We hope to see you July 2nd, 2011.  Arrive early!  For more bout info, please visit the "Bouts Are In" link or reference below:
Updated June 24th; 5:55pm
Alejandro Zea – Yamasaki Academy
vs. 140lbs
Chris Piriz – HL3 Elite Fighting
Betty Huck - Pure Performance MAC
vs. MMA
Julia Ho - MMA Institute
Matt Coleman - PurePerformance MAC
vs. 185lbs. MMA
Steve Wall - Mase Training
Anthony Cordero - Mase Training
vs. 185lbs. MMA
Justin Grubby - Frederick Fight Club
Douglas Hilton, Jr. – XFW MMA
vs. 170lbs MMA
Brian Pardini - Yamasaki Academy
Scott Oswald - Mase Training
vs. 170lbs MMA
David Bell - Frederick Fight Club
Replacing the Litchenburger – MMA Institute vs. Kenlay – Beta Academy bout
Jonathan Escalona - Yamasaki Academy
vs. 165lbs Muay Thai
Jake Tran - PurePerformance MAC
Bryan Brewer - Royal Tiger Academy
vs. 155lbs. MMA
Jonathan Hughes - Mase Training
John Smith - MMA Institute
vs. 155lbs MMA
Kristian Motta - Yamasaki Academy
Francisco Isata - PurePerformance MAC
vs. 155lbs. MMA
Ryan Groft - Combat Sports Center Maryland
Carlos Lopez - Mase Training
vs. 145lbs MMA
Mitch LeMay - Frederick Fight Club
Kevin Valentine - Mase Training
vs. 135lbs MMA
Scott Beane - MMA Institute
Roberto Ford - MMA Institute
vs. 125lbs Muay Thai
Khalid Mustafa - BlackBelt Academy
Eric Kronstadt - Shingitai Jiu Jitsu of Maryland
vs.
Dustin McGaha - Mase Training
The Fight Card is now closed.  Interested amateur and professional fighters may contact us at matchmaker@oneworldmma.com.  Please arrive early to ensure entry.
When & Where

Fur Nightclub
33 Patterson Street NE
Washington, DC 20002


Saturday, July 2, 2011 at 6:00 PM (EDT)
Add to my calendar
Organizer
OneWorld MMA, LLC
OneWorld MMA hosts Professional MMA Fights, Submission-only Grappling, Amateur MMA & Muay Thai competitions, as well as training seminars.  Contact us at info@oneworldmma.com for any additional info.
OneWorldMMA pres. DC;MAX 6 - The Legacy Fight Series